Author's take
The Flemish have a saying: 'you can't sell the skin off a bear before it's shot'. Visitors would do well to abide by this when considering the merits of visiting Flanders. For too long Belgium's northern region has been sold out as 'dull,' 'small-minded,' and 'characterless'. Flanders is anything but. It may lack the pomp and pride of French regions, or the self-assuredness of German states, but Flanders has a good thing going and doesn't feel the need to boast.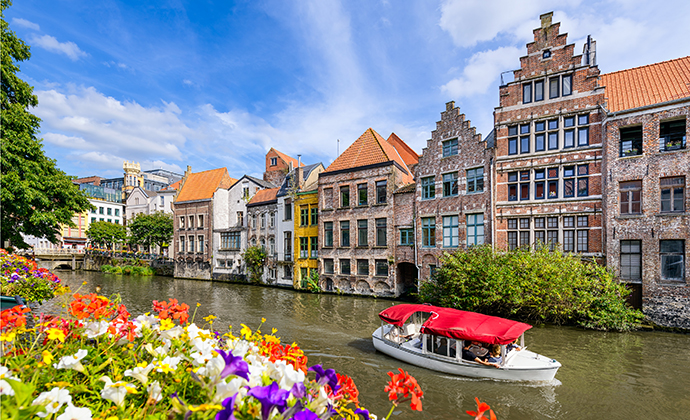 Ghent's canal is a classic postcard shot © Mapics, Shutterstock
Invaded, occupied and ransacked, it has been the site of numerous battles between successive foreign powers over the centuries, but it is no longer just a stepping stone between France and Germany. The tables have turned. Brussels is home to NATO headquarters and the European Union and frequently hailed as Europe's business capital, while towns such as Antwerp and Zeebrugge are pulling in the heavyweights of European industry. This influx of wealth has propelled the region forward and progress is everywhere. But these achievements fail to capture what draws her fans back to her cobbled streets and cosy cafés time and time again.
Flanders' appeal lies in its ability to satisfy life's fundamental desires: thirsts are quenched (or drenched?) with the choice of over 800 beers, hungry tummies are filled with home-cooked food, and bodies tired from wandering can sink into the four-postered comfort of a welcoming bed and breakfast. Take the time to experience the heavy, warm whiff of the yeast-filled air in the brasseries; to taste the custard-filled creations of the pâtisseries, and feast upon the works of world-renowned artists and cartoonists.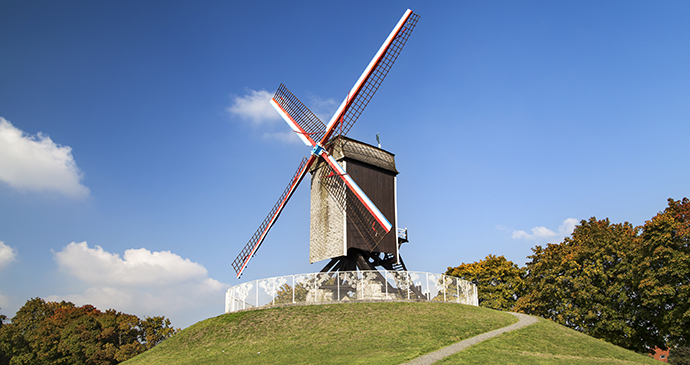 Flanders has its own character and appeal that sets it apart from the rest of Belgium © Santi Rodriguez, Shutterstock
Recent reappraisals have redefined Flanders; what was once criticised as fuddy-duddy is now considered hip. Its refreshing mix of cosmopolitan towns and rural villages allows you to spend one day enjoying galleries, theatre, dinners and dancing 'til dawn amid Art Nouveau districts and medieval town squares, and the next visiting rural communities where life slips back a gear.
But why Flanders, not Belgium? Well, while the whole country is worth exploration, Flanders has its own unique character that sets it apart from the south. The region is small, but it's brimming with such a wealth of things to do that it warrants individual attention. This is, of course, thanks to the grit and good humour of its citizens who have influenced world culture in more ways than common opinion allows for. Few know that Hollywood starlet Audrey Hepburn hails from Brussels; that the Big Bang theory was actually devised by Leuven professor and priest Georges Lemaître in 1927; and that Flanders is home to Walter Arfeuille, a man who can pull eight railway coaches with his teeth. Such quirks set Flanders apart from its neighbours and place it in a league of its own. She is not a perfect place, but one you quickly learn to love because of her eccentricities, not in spite of them.
Every trip offers up something new. Prepare to develop a life-long devotion.
Author's story
Like all good stories, mine starts in a bar.
Like all good stories, mine starts in a bar. Not a Flemish one, mind you, but the slightly more prosaic setting of Watford, north London. I was working as a cocktail bartender and one day in walked our new boss: a Flemish fellow called Bart – and that, as they say, was that. Within a month I was standing in Brussels' Grand' Place gawking at the gold-fringed guildhouses winking in the sun – a convert.
That was 16 years ago and, in truth, I've been researching this guide ever since: jotting down a great restaurant or some nook-and-cranny bar on each successive trip. Researching this guide proper, then, was a treat because it allowed me to delve deeper than ever before. However, it also made me nervous. From the get-go I was acutely aware of the stereotypes equated with 'boring' Belgium and her northern Flanders region. My former Bradt colleagues were quick with the quips: 'Flanders? I think I've driven through it on the way to Germany' or 'Quick, quick … name five famous Flemings!' I feared it would be an uphill struggle to convince everyone to the contrary. But I want to state it loudly here: Flanders is nothing like the clichés. She remains quirky in some quarters but achingly hip in others. In fact, her curious blend of character has won the hearts – and pens – of many a heavyweight travel writer.