Eating and drinking
Accommodation
Eating and drinking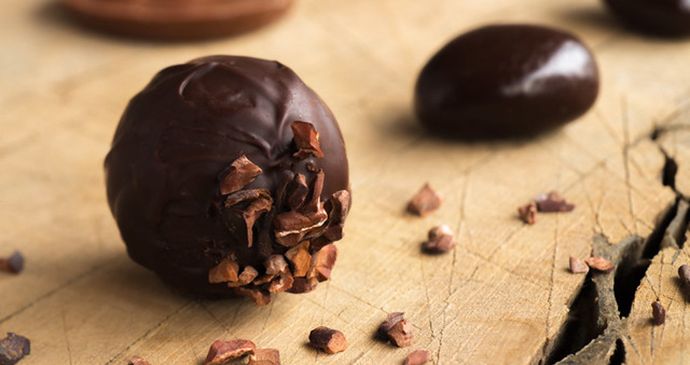 The region is renowned for its chocolate © VisitFlanders
Flanders might be best known for fries, beer and chocolate, but foodies have long since cottoned on to its dense concentration of Michelin stars – there are more starred restaurants in Bruges alone than in the whole of Denmark – and this trickles down to a huge glut of high-class bistros and, latterly, street-food pioneers reinventing traditional snacks. It's quite possible to let your nose and appetite guide you around the region, sampling fresh fish on the North Sea coast and beer-soaked stews in cosy, wood-panelled establishments in the countryside. When all this can be washed down with award-winning beers or a cheeky shot of jenever, the appeal of Flemish dining is irresistible – gastronomes prepare to let a notch out of your belt.
Food
When it comes to dining, there are two types of Flanders meals: traditional meals based around meat and fish – often filling fodder that would have kept farm hands happy until dinner time in the old days – and the entirely different experience offered by fine-dining restaurants, which proliferate in villages, suburbs and cities. National favourites are undoubtedly steak-frites – the meat is of high quality and usually from a local butcher – and mosselen-frieten/moules-frites; mussels and other shellfish are in season between September and March, or – according to the adage – any month whose spelling contains an 'r'. In winter, the Flemish like to tuck into witloof in de oven (chicory wrapped in ham and covered in a creamy cheese sauce); waterzooi (a broth containing fish/chicken and vegetables); stoemp met prei (mashed potato mixed with leeks); stoofvlees (beef stew made with brown beer); konijn en pruinen (rabbit cooked with prunes and beer); and paling in 't groen (young eel cooked in a green sauce of spinach, sorrel, mint, thyme, tarragon, bay leaf and white wine).
Belgian waffles need no introduction and come in two varieties: the Brussels and the Liège. The latter (and tastier) is a dense, doughy mixture laced with sugar and served piping hot. The yeast-leavened Brussels variety, on the other hand, may contain fewer calories but is similar in weight and taste to polystyrene, perhaps the reason why they cover it in icing sugar, chocolate sauce, ice cream or fruit. Also look out for the marzipan-flavoured mattentaart , cinnamon-flavoured speculaas biscuits and Diksmuide's custard-filled IJzerbollen. Most cities produce chocolates referencing the nickname of inhabitants.
Drink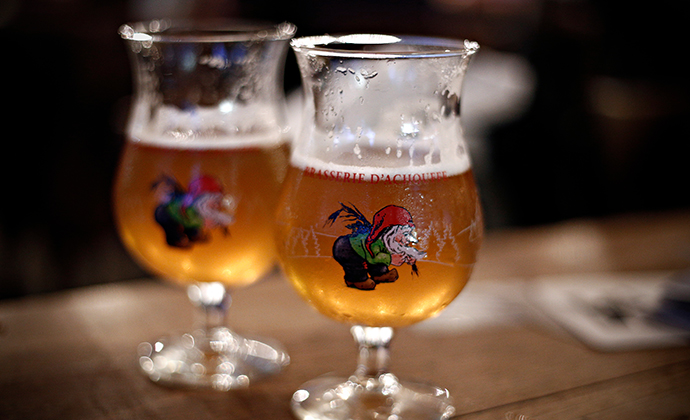 Beer is an essential part of Belgian daily life © Alexandros Michailidis, Shutterstock
Beer is to Belgium, what wine is to France – a daily essential, with UNESCO recently recognising Belgium's entire beer tradition – from the brewing to the drinking – as a slice of intangible cultural heritage. The two have a long and distinguished relationship and it's invariably the first word people associate with the country. With over 800 varieties, the production and consumption of beer are a source of national pride and their breadth and quality have had beer aficionados fizzing with delight for years. Like a fine wine – and treated with the same respect – the majority of these beers should be sipped slowly and savoured, which is no bad thing when alcohol percentages reach 12%.
Also high in the alcoholic stakes is jenever, a juniper-flavoured spirit unique to Flanders and the Netherlands. Traditionally developed from the distillation and fermentation of malt, this liver-warming shot drink comes in two varieties: oude (old) and jonge (young). In fact, the differentiation has nothing to do with age, but rather varying distillation recipes; younger jenevers are made from grain and are served chilled, tasting similar to vodka; old jenevers have a higher concentration of malt, are aromatic like whisky and are served at room temperature. Alcohol percentages range from a hefty 20% to a toe-curling 40%. Hasselt is particularly renowned for its production and has a dedicated museum.
Surprisingly, Flanders also has a modest sprinkle of vineyards, including Genoels-Elderen on the outskirts of Tongeren, and award-winning DIY outfit Schorpion, situated just outside Hasselt and renowned for its sparkling and white wines.
Accommodation
Flanders is bursting at the seams with exciting accommodation options. You can sleep in a monastery one night and be lording it up in a 17th-century mansion the next. The gamut of beds on offer – from bunk to boudoir – ensures there are styles to suit all budgets and tastes, though inevitably this is going to be your main expense.
During the summer (May–September) and at Christmas, establishments get booked up very quickly, so booking a few weeks in advance is advisable. If you are travelling on a tighter budget it pays to stay in the larger towns and cities over the weekend, when rates drop in response to the mass exodus of businessmen heading home. If you do arrive without a booking, head to the nearest tourist information office; the staff will ring round to see which establishments have vacancies. You may have to pay a small deposit but this fee will be deducted from your room rate on arrival at the hotel.
Hotels
The medieval layout of Flanders' oldest towns and cities has thankfully prevented many mega-chains from squeezing in and as a result smaller establishments, oozing character, have managed to stay. Given the Flemish flair for design, boutique hotels are particularly exceptional, though you'll also find international luxury chains. Rates range from around €60 for a double in a low-end hotel outside of the major cities to €300 plus for a double in the top-end establishments.
B&Bs
From remote hamlets to big cities, Flanders excels at the B&B. Whether or not your room is part of the proprietor's home, you'll avoid hotel anonymity and are likely to get brilliant local tips too. Often excellent value for money, prices range from €60 for a double to roughly €250 for an en-suite double in a luxury establishment. As with hotels, special rates are usually offered to those staying two or more nights. Conversely, some offer only a minimum two-night stay.
Hostels
The extensive network of hostels throughout Flanders ensures that only in the smallest and most off-the-beaten-track towns will you be without a budget bed, whether young or not. Many are affiliated with Hostelling International, and run locally by Vlaamse Jeugdherbergen, so it makes sense to join the scheme before you go to avoid surcharges, though you can also do so on site. Dorm beds start at €20 (breakfast is usually included, but sheet and towel hire often cost extra); doubles start at €40. Flanders' hostel scene has come a long way, with some award-winning properties offering more boons than many hotels.
Camping
Campsites are graded on a one- to five-star basis: five being the best, but one–two being the most common. Slightly gloomy places off-season, they come alive during summer with numerous activities on offer and entertainment programmes for kids. Prices are usually calculated on individual payments for a site, cost per adult, cost per child, any pets and a car. You will also pay extra for electricity and in some instances hot showers. I wouldn't advise camping rough. Flanders may be flat, but the majority is assigned to farming and you may anger local landowners.