Climate
When to visit
Highlights and itineraries

Climate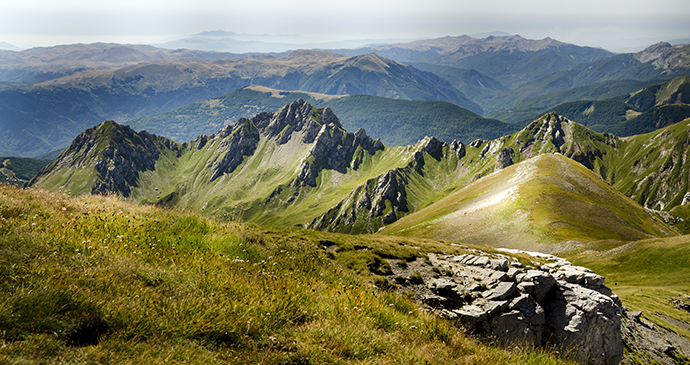 In mountainous regions of North Macedonia, the altitude tempers the seasons © Jakub Fryš, Wikimedia Commons
North Macedonia has a relatively dry Mediterranean climate with the full array of four seasons, although spring can be quite short, and each season is tempered by the altitude. In the Vardar Valley, Ovče Polje and the lower Pelagonia plains, temperatures are roasting hot in the summer and relatively mild in the winter. Skopjites tend to empty out of the capital during the hottest months of July and August, when temperatures can reach 40˚C. These summer highs are infrequently punctuated by summer storms, but they do occur, especially in the mountains. Favourite summer retreats to the cool and welcoming mountains are Mavrovo and Pelister national parks, Popova Šapka, Kriva Palanka, Berovo and Kruševo. Bitola, a mere 380m above Skopje, is usually a good 10–12°C lower in temperature year round than the city itself.
Although the winters are mild in the low areas along the River Vardar, rarely getting below freezing, there are occasionally freak winters, such as in 2001–02, which saw Skopje come to a standstill when snow and ice blocked the roads for weeks. The mountains, however, regularly see 1–2m of snow. This makes for decent skiing, limited only by the standard of facilities or a skier's own abilities to go off-piste. Regions above 2,000m will see pockets of snow as early as August, and the peaks are certainly dusted with a light coat of snow by early November.
September and April may see longer spells of cloud and rain. In general though, the weather is warm and sunny from March through to November and perfect for outdoor sports. October to November is when the mountain trees turn colour before they shed their leaves and this is the time to take a drive or hike through the ravines of Mavrovo, the Radika, Treška, Babuna and Maleševo. Skopje can get caught in fog during this time, but 20 minutes outside of the capital usually reveals bright sunny weather.
When to visit
Located so far south in Europe, North Macedonia is great to visit most of the year round. It is particularly welcoming during spring and autumn, outside the high tourist seasons and when the weather is at its most pleasant. It can be warm and sunny during the day from as early as March until as late as November, while skiing is usually available from December through to early April. July and August can be very hot, sometimes getting up to 40°C during the day in Skopje and along the Vardar Valley. This can be particularly unpleasant if taking lengthy journeys by public transport where there is no air conditioning and the local population fears getting ill from a breeze from an open window. The mountains remain pleasantly cool, however, and even Ohrid is relatively quiet midweek in the summer.
Highlights and suggested itineraries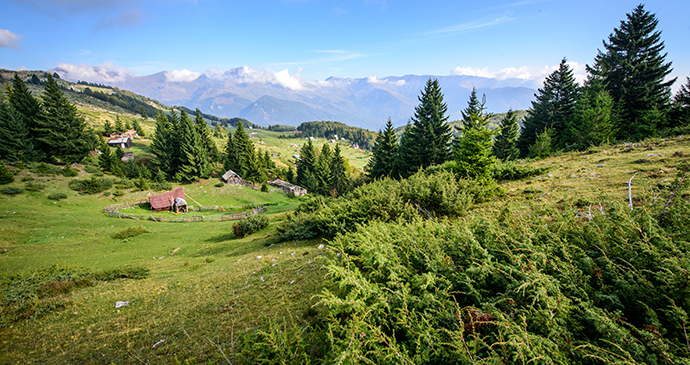 Šar Planina offers excellent opportunities for hiking in summer and skiing in winter © Toshe Ognjanov, Shutterstock
Highlights
Scenic outdoors

The lake and town of Ohrid are seen as the jewel of North Macedonia's crown, and it is not without reason that Ohrid's medieval architecture and pristine natural setting are preserved by UNESCO as a place of historic, cultural and scenic significance. Outside the height of the summer season it remains a wonderful little getaway spot, and should not be missed on any trip to North Macedonia. The back route from Skopje through Debar to Struga and on to Ohrid is worth the extra time.
All three of North Macedonia's national parks – Pelister, Mavrovo and Galičica – offer many marked hiking trails, and beautiful scenic drives on improving roads. The one hike not to miss is the 10km route from Mount Vodno just outside Skopje down to Lake Matka, which also offers rock climbing, caving, camping, kayaking and yet more scenic hikes to local monasteries and beyond. There are also many attractive hikes to waterfalls, glacial lakes and other scenic spots and along the Via Egnatia. If you'd like to tandem paraglide or learn for yourself, this is one of the cheapest places in Europe. Mountain biking, horseriding or a hot-air balloon are also great ways to experience North Macedonia.
Wine and rakija tasting
North Macedonia has a very old history of wine making going back to Philip II, and there are some indigenous grapes in the country that make a very quaffable vino. It's difficult to find Macedonian wines outside the Balkans so make the most of trying them here. North Macedonia's eau de vie is rakija. For most, rakija is rakija is rakija, but Alchemist is leading the way in producing rakija differentiated by grape, such as their very smooth Black Muscat. In Skopje visit Skovin wine cellars, or the rakija bars, wine bar and Old Town Brewery Temov in Čaršija. If you get the chance though, go to Tikveš Wine Cellars in Kavadarci, the home of Macedonian wine, or take the opportunity to stay at Popova Kula vineyard. Two wine festivals not to miss are Sv Trifun on 14 February and the harvest festival in September, both in Negotino.
Architecture and archaeology

Don't miss out on the 16th-century villages of the Macedonian minorities. Galičnik of the Mijaks hangs on the edge of a deep ravine and every July holds the biggest wedding party you'll ever go to. Malovište, located in Pelister National Park, is an old Vlach village, formerly housing rich traders, which is now being renovated to preserve its heritage and is a beautiful example of the rich variety of Macedonian culture. There are hundreds of other fine old villages off the beaten track that have yet to be fully discovered and you'll find that taking a trip away from your main route will always reap a reward.
North Macedonia's Turkish history is well worth looking into, and is best preserved in Skopje's old town, Čaršija. There are some fine Ottoman mosques in Bitola, too.
North Macedonia is literally buried in archaeological ruins, which are becoming more accessible every year: Neolithic villages can be found on Lake Ohrid and in Skopje; Cyclopean fortresses at Prosek and Mariovo; Roman towns at Heraklea and Stobi; and World War I battlefields at Dojran and outside Bitola. It's also possible to take part in archaeological digs through the Balkan Heritage Field School.
Spiritual inns

Orthodox
A trip to North Macedonia would be incomplete without at least visiting one monastery. They are renowned for their intricate woodwork and delicate architecture and for some of their remote but beautiful locations. The country boasted over 1,000 churches and monasteries at the zenith of Orthodox ministry in the region during the 14th to 16th centuries during which time Ohrid was the centre of the Orthodox Church and still has over 200 churches and monasteries overlooking its shores. Some of the most spectacular working monasteries to visit are Sv Joakim Osogovski near Kriva Palanki; Sv Jovan Bigorski near Debar; the World Monuments Fund-listed Treskavec Monastery near Prilep; Sv Gavril Lesnovski Kratovo; Kališta Monastery for its nearby cave churches looking over Lake Ohrid; and Zrze Monastery set high on a cliff.
Muslim/dervish
True to the religious variety of North Macedonia, there are also some beautiful mosques and dervish teke worth seeing. Marvel at the Motley Mosque in Tetovo, beautifully painted like a house of cards outside and like a tea tray inside, or admire the blue artwork of the Mustafa Pasha Mosque in Skopje. Also in Tetovo is the best-preserved dervish Arabati Baba Bektaši Teke, and in Struga the best preserved Halveti teke.
Suggested itineraries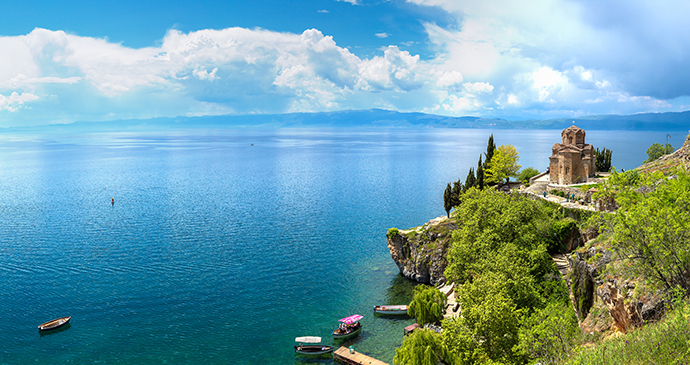 A visit to Lake Ohrid is a must on any trip to North Macedonia © SF, Shutterstock
One week
More than likely you will land in Skopje, so take two days to visit the capital before hiring a car to take the back road to Ohrid, lunching at Hotel Tutto in Janče on the way, or take the early bus there direct. Spend two days in Ohrid, one to see the town, the second to hike in the Galičica National Park, tandem paraglide or take the boat to Sv Naum, swim and sunbathe. Finally drive over to Galičica National Park to hike up to Two Lake viewpoint, and down to Lake Prespa. Stop in Bitola for a late lunch on the fashionable Širok Sokok, then journey on to Prilep to visit Treskavec Monastery. Treat yourself to a night at Popova Kula winery and hotel to sample their wines before returning back to Skopje the next day.
Two weeks
After three days in Skopje, including one when you visit nearby Lake Matka and Katlanovska Banja, travel to Ohrid via Tetovo to see the Motley Mosque, Arabati Baba Bektaši Teke and the Tetovo Kale. After two days in Ohrid, make your way to Bitola to spend a full day visiting the Roman ruins of Heraklea, Atatürk's former military school and museum, and the best ethno museum in North Macedonia at Kurklino. Take a day to visit Prilep and pop over to Kruševo, home of the Ilinden Uprising and pop star Toše Proeski. Overnight in Popova Kula winery and hotel before hiking up to Prosek to visit the tiny Demir Kapija Museum. Move on to Strumica and then overnight in Berovo, where you should take a day to hike in the area and breathe in the pristine air. Then make your way to Kratovo to visit the stone towers, see the nearby Stone Dolls, and hike up to Gorni Kratovo to see volcanic bombs. Return to Skopje via the Devil's Wall near Sv Nikole.