The author's take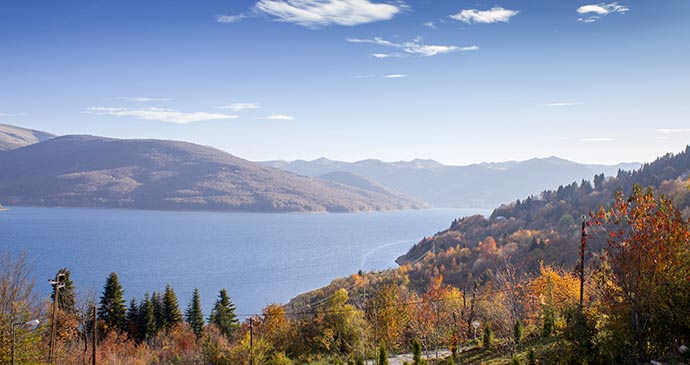 Don't miss the chance to explore some of the truly untouched corners of North Macedonia's natural landscape © BrankoG, Shutterstock
There is so much in this small land. It is not a place of extremes, but it is an area filled with intoxicating untold stories. Its outdoors is its jewel — bijou, pristine and almost untouched. Long lost in the battles of neighbouring states, the tangible evidence of previous rulers is only now being unearthed. Most people don't even know where North Macedonia is and it was once described to me as the greatest 'non-destination' country. But if you care to scratch the surface, you will find a North Macedonia brimming with history, artefacts, rich local culture and beautiful scenery.
Our guide, however, is just a starter kit, leaving plenty to be discovered and much to be created. Geographically and historically there is much more to North Macedonia if you veer off the tarred and hardened road, and you will only ever be rewarded for taking the bumpy side track. A Macedonian friend is invaluable to help you find your way around and introduce you to your own adventure, especially once you wander off the edges of our guidebook. You will pick up many of these friends along the way who will go out of their way to help as if it is really nothing at all, and many of whom will speak excellent English or German. Talk to the people and you will find them a fount of knowledge on the region, happy to give you their version of events – for what is written here is certainly not the last word on the subject.
The author's story
I ended up back in the Balkans (which is another story), with my husband in North Macedonia. Not good at twiddling my thumbs, I had already sought advice from a travel writer friend (Cam Burns) about doing some freelance travel writing. 'Why don't you update a travel guidebook on Macedonia?' he suggested. 'What a brilliant idea!' I replied; and off I went to Stanford's, the biggest map and travel bookshop in the UK, to survey the many guidebooks on North Macedonia and to choose the one closest to my style of writing to update. After about five minutes of research in the Europe section, I quickly came to the conclusion that there was a grand total of zero guidebooks on North Macedonia, and that ipso facto I myself would be writing the very first one! Another five minutes of research led me to the further deduction that the only publishing house crazy enough to tackle such a proposition would be Bradt Travel Guides.
I contacted Bradt, and to cut a very long story short, the then chief editor, Tricia Hayne, wrote back and said 'Yes!' Bradt was looking to expand its Balkan titles and I was very lucky to be in the right place at the right time.
Gathering accurate information on North Macedonia, however, was not easy. In 2003 there was little published in English, and what was on the internet was sparse, outdated and contradictory. More was available in Macedonian, but was hyperbolic and did not meet the needs of an independent traveller. If you asked a Macedonian at the time about travelling independently in North Macedonia, they would look at you as if you were crazy for such an idea 'and what could a foreigner possibly write about North Macedonia?' they would cry. Undeterred, armed with tip-offs, mostly from the international community there at the time, I set off every weekend to conduct primary research. I remember sending the resulting first edition to the then Macedonian Ambassador to the US, a certain Nikola Dimitrov – he recounted to me in a future meeting his surprise that somebody would write a travel guide for his country. Now, as Minister of Foreign Affairs, he is promoting North Macedonia as a tourist destination, a friend in the region, and open for business. Several editions later and with much fact-checking by some very knowledgeable Macedonians, is the guide you have in your hands today. Enjoy!