Eating and drinking
Accommodation
Eating and drinking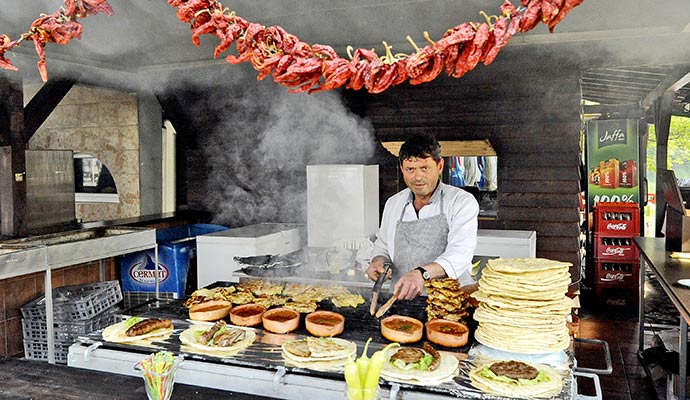 A chef at Sv Naum prepares traditional Macedonian fare © The Visual Traveller, Shutterstock
Food
Macedonian cuisine combines simple, healthy, Mediterranean cooking with centuries of spicy Ottoman influence. It is a celebration of fresh, organic, small-scale produce, and its wine is traditionally made with no sulphites. Summer markets teem with good local fruit and vegetables, while the winter holds crisp pickles (turšija) and jars of tasty red pepper spreads. Restaurants are getting better at offering some of the delicious domašni (home-style) dishes, but outside the main towns simple restaurants might only serve grilled chicken breast or pork chops and a few basic side dishes. Like most of continental Europe, Macedonians have a tradition of going out to eat, and with their children. So you'll find many places (fewer in Skopje) are very child friendly.
Macedonian meze (from the Turkish, and ultimately Persian maze; also known as ordever, literally 'hors d'oeuvre') is the best-kept secret of Macedonian cuisine. Usually served at the start of a banquet, meze is so tasty and varied that it can make a whole meal on its own. The Macedonian meze are a variety of cold 'creamed' vegetable spreads, initially cooked till soft and then hand blended with herbs and spices, onions and garlic, and doused with not too much oil. The most common are ajvar, pindžur (roasted aubergine and peppers), tarator (yoghurt, cucumber, walnuts and garlic), kajmak (a type of clotted cream, often mixed with hot chillis and potatoes), egg and mushroom, and sweet grilled red peppers doused in garlic and oil (the latter usually only available in late summer). Eaten with pitta bread, sarma (stuffed vine leaves), local cured ham, Parmesan and a strong local drink like mastika or rakija, it is a real treat.
The most famous of these meze is ajvar, made every autumn when red peppers are at their most abundant. The best, of course, is homemade (domašni). To be invited into a Macedonian home to make ajvar is quite a privilege (some say it is like being offered the possibility of citizenship), and will give you an idea of the meticulous preparation that must go into preparing this Macedonian speciality.
The main fare of any Macedonian meal is either meat or freshwater fish. Lamb is the most expensive and therefore not often served in cheaper restaurants. It comes roasted either in the oven or on a spit, and served in a big chunk on your plate, usually without rosemary, never mind mint. Otherwise the staple meat dish for most Macedonians is skara: plain grilled pork or chicken, usually salted and basted. Skara is so popular that you can buy it from street stalls by the kilo! Veal (teleško meso), beef, eel (jagula), stroganoff, thinly sliced garlic liver (džigr), schnitzel, fresh pork ribs (svježe rebra), pork chops (kremenadle) and skewered kebabs (ražnič) are also prolific. Kebapči are an extremely popular form of skara, a Balkan speciality of small sausage-shaped burger meat, well seasoned and very tasty with a beer and some good bread. Other popular traditional meat dishes are stuffed peppers, pork knee joint and selsko meso (village meat), which is a stew of different meats and sausages in an earthenware pot. Makedonsko meso is a variation of this with North Macedonia's famous capsicum peppers.
Freshwater fish, either trout or carp (krap in Macedonian), is abundant in North Macedonia. Ohrid is most famous for its letnica and belvica trout, and Dojran for its native carp. These particular fish varieties are peculiar to the lakes and cannot be found outside North Macedonia, and for this reason (among others) Ohrid is protected under UNESCO. Sadly, Ohrid trout, which has been caught in the past at over 20kg in weight, has been over-fished and this is not helped on the Albanian side of the border by lakeside boys selling trout by the bucketful. You may, therefore, want to think twice before partaking too often of this famous and increasingly rare Ohrid dish. It is now illegal to fish for Ohrid trout.
Fresh salads in North Macedonia, especially outside Skopje, are not very inventive. Your four main choices are a green salad (lettuce); a mixed salad (cucumber, tomato, grated cabbage and carrot); a Šopska salad (cucumber, tomato and grated white goat's cheese); and Greek salad (cucumber, tomato, cubes of feta cheese and maybe some olives). Vinaigrettes and salad dressings are almost unheard of, so don't expect a choice of thousand island dressing, blue cheese or ranch, or even salad cream. There is usually olive oil and vinegar served alongside and balsamic vinegar available in Skopje.
The art of breakfast is slowly coming to North Macedonia and traditionally consists of a strong coffee before work possibly with bread and cheese or jam, and at the weekends juvki or tarama (a cereal-based baked dish), then a break at around ten for a gevrek or kifla (sesame bread ring) and plain drinking yoghurt or ajran before settling down for a long lunch around 14.00. In Skopje, bakeries serving delicious pastries are becoming common, but outside the capital it is wise to make sure you have breakfast included in your hotel bill, or buy something in, as you'll find few places on the streets that will serve you anything to eat. In Ohrid you can get sweet and savoury muffins, including proja (corn muffin with spinach) at Dva Biseri café from 08.00 in the morning.
If you're a vegetarian, travelling in North Macedonia need not be too difficult although you'll probably have had enough of meze, turlitava, tavče gravče and pohovani kromid (breaded onions) by the end of your stay. If you're a coeliac, then your time might be more difficult as rice dishes and chips are usually served everywhere. You might want to make sure you ask for everything bez leb in order to avoid the waste of ubiquitous bread.
Drink
The preferred drink in North Macedonia is coffee, either the strong Turkish variety which is a challenge to drink without sugar, served in espresso-size cups, or the usual cappucinos, machiattos and espressos. Turkish tea, served in small glasses, is popular in Albanian areas, and you'll sometimes see servers on bicycles or rollerblades carrying trays of them through the streets to customers. Fruit tea is usually considered a drink for the sick, but don't be deterred! North Macedonia has lots of fruit teas (ovošen čaj) and mint tea (čaj od nane), and their mountain tea (planinski čaj) is a refreshing drink served in all the mountain huts and many restaurants. Majčina dušica (mother's little soul) tea is also a very popular tea of wild thyme. And beware the hot chocolate – it is often a filling warm chocolate mousse served in a cup!
Salep, a drink made of ground wild orchid root and hot milk, is of Turkish origin and usually served with a sprinkling of ground cinnamon. You won't find it everywhere, but it's very tasty and warming on a cold winter's day. Another Turkish drink plentiful in B vitamins and carbohydrates is boza, a thick tart drink made from slightly fermented wheat (4% alcohol content) whose origins go back to Mesopotamia and it came to North Macedonia with the Ottoman Empire. Available in ice-cream parlours and sweet shops, it is also good mixed with blueberry juice (borovnica).
Accommodation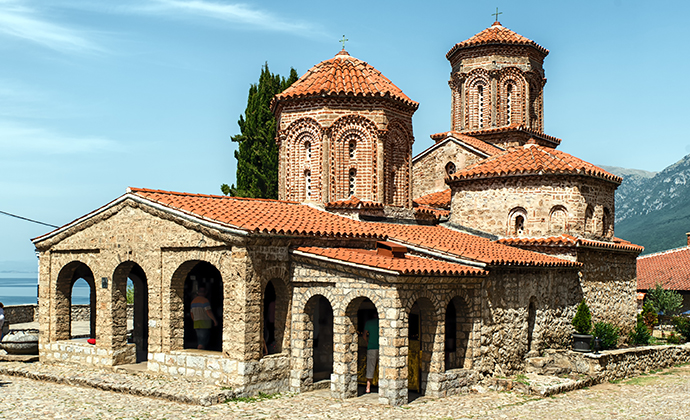 Many Macedonian monasteries offer accommodation for those travelling to remote areas © Atosan, Shutterstock
Accommodation in North Macedonia is generally inexpensive, but the standard you receive for the price you pay is a bit of a lottery.
Hotels
Many state-run hotels are now being privatised and with that will hopefully come some improvements. Between late spring and early autumn (15 April to 15 October), state-run hotels may get a bit cold as the heating is turned off during this period.
Family-run or boutique hotels are excellent value for money and are increasing in number. Many petrol stations have small motels on the side and as most of them have been built fairly recently they are usually clean and tidy if basic, but reasonably priced. Hotel prices usually include breakfast, although only the top-notch hotels will manage to serve a buffet breakfast or provide room service.
All rooms tend to come with an en-suite bathroom, free Wi-Fi and breakfast, and all prices are per room per night. If you ask for a room for two people you will usually get a twin room with two single beds. To get a room with a double bed in, you must ask for 'soba co eden krevet za dvojica' (a room with one bed for two people), sometimes called a 'francuski krevet' meaning 'French bed'. Even if you ask for this, don't be surprised in cheaper and older accommodation if you end up with a twin room in which the hotel staff expect you to simply push the beds together. Or they may give you the apartman which is the Macedonian equivalent of the honeymoon suite and usually much more expensive. Rooms with three single beds are also quite common.
Bed and breakfasts

The collapse of the Yugoslav economy and the 2001 conflict in North Macedonia all but killed off the thriving bed and breakfast scene in North Macedonia, but it has made a real comeback in recent years, especially but not exclusively in Ohrid. Many of the best choices are listed in this book, but you could also browse online booking sites such as Airbnb and booking.com for more and newer options. The nascent tourist industry in North Macedonia is also trying to encourage this sector. Sometimes the bed comes without breakfast, so make sure you ask what your options are. Bed and breakfast usually starts at about €10–15 per night.
Self-catering accommodation
There is actually quite a lot of this in North Macedonia as it is popular with locals, but the properties are not well advertised in English. Some private accommodation (ie: self-catering) is listed at http://hotels.exploringmacedonia.com and local tour operators will also have some contacts.
Monasteries
Monasteries are excellent value for money, even if you are not on a shoestring budget. As most of them were revived fairly recently, accommodation in their new inns is generally better than in most state-run hotels and half the price. Prices range from about 300MKD for a bed in the old quarters with shared bathroom, to 800MKD for a bed in an en-suite room in the new quarters. The monasteries don't usually have a restaurant attached but, as they are remote, they usually have cooking facilities available to guests.
The catch with staying in the monasteries is that they are not always very convenient to book into and as they are popular with Macedonians they are often booked up quite early. Very few of the staff/monks/nuns in them speak any English so you may need to get a Macedonian friend to help you, or a tour operator. If you want to try turning up without a booking, then aim to get there before 17.00 otherwise the inn staff may have gone home already, as they usually only stay around until all the pre-booked guests have arrived. Finally, soon after you arrive, you will need to get a registration card from the inn staff and go and register yourself at the local police station. Unlike in hotels, the inn staff will not do this for you. Some monasteries also expect you to attend a church service if you are staying the night.
Camping

Yugoslav-style camping is not always public transport friendly as people usually come in their car, hence why they are called autocamps. Such campsites are often large, full of old caravans, and not always scrupulously clean. Facilities and amenities, such as showering blocks and shops, are also not good or nearby. They are cheap, however, and 500MKD will usually get you a tent space for four plus your car. Tourism tax is an additional 40MKD per person.
Strictly speaking, wild camping is illegal but many Macedonians do it, especially at a local festival or event. If you are going to camp wild, then please take away all your rubbish and leave the place in a good condition.
Mountain huts

Most of the 30 mountain huts in North Macedonia cost about 300MKD for a bed with bedding. It is best to phone ahead (Macedonian usually required) as most of the huts are not permanently staffed, or go with one of the many hiking and mountaineering clubs. The huts rarely provide food, so you will need to bring all your provisions, but there is always plenty of water.
Backpacker hostels

A number of friendly, efficient and affordable private hostels are available in Skopje, and there are also a few in Ohrid, and one each in Bitola and Mavrovo National Park. Most can be booked directly or through www.hostelworld.com/hostels/Macedonia.