Author's take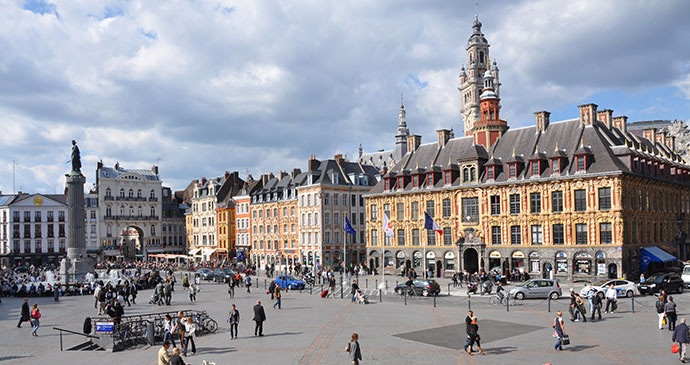 Lille's Grand'Place is home to the statue of Déese, the spirit and symbol of the city © Nord Tourism
Explain to someone you're writing a guide to Nord-Pas de Calais and the average reaction is either to ask exactly where you mean or, worse still, automatically assume you mean Calais. And that means to many the port whose industrial paraphernalia not merely prejudices the motorists who stream onto the southbound motorways, but often leads to it being condemned on hearsay alone! OK, the town is no beauty, but it does provide a handy gateway to the coast and, more importantly, the rural hinterland, which so many miss out on.
Basically Nord-Pas de Calais, though one region, is split into two départements, each recognisable by a number. Pas de Calais is 62 and Le Nord is 59. Both, of course, have their loyalties, but for a region fought over for centuries by warring European powers, not least the English, French and Spanish, it presents a remarkably peaceful and rewarding chequerboard of cultural differences. Just how much so is reflected in the eight areas described in the guide.
If tourism is a key to a brighter future, so, too, is the region's unique location. Already a partner with Kent in an EU Interreg (cross-border co-operation) programme, it is well placed for helping to create an economic corridor to link Paris with Germany, the Netherlands and northern Italy. This is roughly the old 12th-century route between England, Flanders (including France, Belgium and the Netherlands) and northern Italy described on page 7. This, and the role already played by ports such as Calais and Dunkirk, the Channel Tunnel, the Eurostar to Lille and the changing face of its once industrial cities, is already helping tackle the transition of this remarkable, yet often misunderstood, region to one very much in tune with the times.
Author's story
Was I, I wondered, the only travel writer to recognise that Calais is not Nord-Pas de Calais any more than Dover is Kent? Which is why, frustrated by the apparent obstinacy of even the most hardened Francophile to recognise that real France is real close – a phrase adopted by the hard-working regional tourist boards – I jumped at the chance to put pen to paper. Let's be honest. The French, too, know little of Kent, all adding to the pressure to put the record straight.
But conceptions are slowly changing. Not only has the recession and the need to cut our carbon footprint brought a surge of Dutch and Belgian visitors across the border into coastal France and beyond, but a growing band of short-break Brits are heading there too. Arras, for instance, has joined Boulogne, Dunkirk and Le Touquet in being at least recognisable names offering a weekend in La Belle France.Even the French, themselves pretty sniffy about The North, which they traditionally see as a grey, rainy region riddled with old industrial towns, have had their illusions shattered by a blockbuster of a film which has taken France and its neighbours by storm. Written and produced by French superstar Dany Boon, Bienvenue Chez les Ch'tis has not simply outsold Titantic but shed a refreshing new light on the Nord-Pas de Calais region.
Cinderella, it seems, has at long last come in from the cold. But unlike the fairytale, this Cinders is a feisty, even wayward, fighter all too often overshadowed by squeaky clean sisters Normandy and Brittany. Now they have a new kid on the block. She certainly has plenty to offer from the dazzling Giants of Douai to tiny villages tucked away in the tranquillity of the Seven Valleys, close to the coast, or the Avesnois in Le Nord. Small seaside resorts offer the best in sporting activities; flower-filled parks and gardens grace many a town or village and fortified towns add a flamboyancy rarely seen outside of tourist hotspots. Wartime history was created here. So was the industrial power of 19th-century France. If anywhere deserves exploring then it's Nord-Pas de Calais. Its lively traditions, medieval magic and rich country fare come as an added bonus.
Thanks, Bradt, for producing the first-ever guide devoted to the entire region and not just as part of northern France. Let's hope the current crop of tour companies, of which those to France are generally more adventurous, will quickly cotton on …