Eating and drinking
Accomodation
Eating and drinking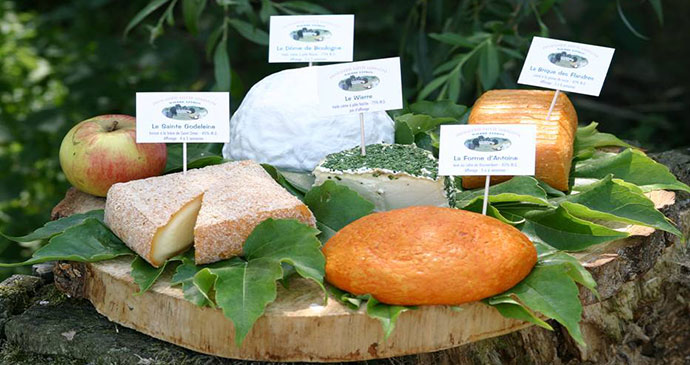 Try the exquisite local cheeses of the region © www.pas-de-calais-tourisme.com
The region's cuisine is a historic hotchpotch of flavours. French, English, Spanish and Dutch invaders have all played their part in creating a cuisine still strongly influenced by its Flemish, British and Picard neighbours. But it's the culinary richness of regional produce that counts most. And this doesn't just mean meals of the hale and hearty type, however tasty; you are in France, for heaven's sake, and the Gallic flair for haute cuisine is there in large spoonfuls, both in swanky city restaurants and small rural inns and eateries.
Nord-Pas de Calais has much culinary expertise to offer:
Nord-Pas de Calais is the third-biggest vegetable growing area in France
The pasturelands of Artois, Flanders, Hainaut and Avesnois make the region an important producer of cheese – there are over 60 varieties
Boulogne, France's largest fishing port, expect plenty of fresh fish, from traditional herring – smoked, marinated or kippered – to sole and turbot along the Côte d'Opale
For dessert try a variety of tarts; tartes aux sucres, topped with brown sugar, or tartes à la rhubarb are popular.
And finally, Nord-Pas de Calais is beer country, and always has been, especially in the old industrial towns.
Accommodation
Where you stay ultimately boils down to what suits you best, both in the pocket and whether you see your bed for the night as part of a French experience or simply as somewhere to sleep. Fortunately Nord-Pas de Calais can satisfy either requirement. But remember, this is short-break country and it's wise to plan ahead rather than face a last-minute panic to find a room. This applies particularly during the school holidays and at peak-period weekends, especially on the coast and during major festivals and Christmas markets.
It is best to book early for B&Bs and gîtes, especially if you're seeking a suitable base from which to explore. Popular peak summertime spots include Montreuilsur- Mer for the Seven Valleys, or Le Quesnoy for the Avesnois. Some properties close during the off-season.
Off-season visits may not always seem ideal but late-autumn or spring city breaks see more rooms available as prices slide. This is also a good time for using B&Bs, of which there are a surprising number in the cities, often close to local eateries. However, the number of rooms can be limited. Prices are pretty well on a par, or a little above, those in the UK, thanks to a rocky pound against the euro at the time of writing. And while this could change rapidly, France will never be as cheap as some of its Mediterranean counterparts. As in most countries, a premium is paid for the convenience of a city or coastal location.