Climate
When to visit
Highlights and itineraries
Climate
Like much of northwest Europe, Luxembourg enjoys a temperate climate without extremes, not dissimilar to the UK. The sea is some 300km away, so its moderating influence is less than in Britain, and the 'continental effect' has marginally more impact. This makes winters slightly cooler and summers a bit warmer. January maximum temperatures in Luxembourg City average 5°C, while July maximums average 23°C. May and June are often the driest, sunniest months, while July and August are the hottest. It can rain at any time however, so come prepared – as with Britain, luck plays a major role in whether you stay dry, no matter what the season.
The Ardennes, being higher, is cooler than the south throughout the year. Winter often brings snow, although with less reliability than in past years. The north is also notably wetter.
Having said that, anyone who's experienced the vagaries of British weather in recent times knows weather trends are no longer as predictable as they once were. Summers may be scorching one year, miserable the next. One winter it might snow heavily and often, the next not at all – the once-thriving cross-country skiing industry (Langlaufen) in the Ardennes has all but vanished now conditions have become so unreliable.
Whatever else: expect the unexpected.
When to visit
You can visit Luxembourg at any time, but bear in mind that the availability of services in some regions varies with the seasons. May, June and September are usually very pleasant months, as the weather is often at its most benign during late spring and late summer. July and August are also recommended, as they tend to be slightly warmer, if marginally wetter and busier.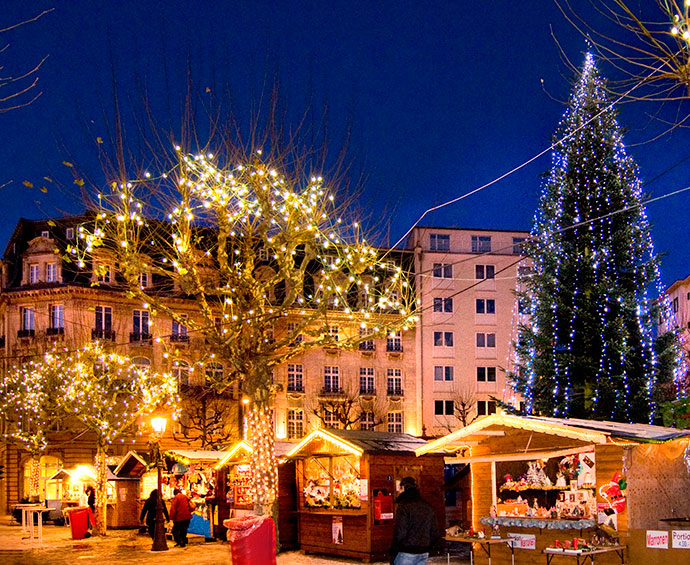 The Christmas market on place d'Armes is not to be missed if visiting Luxembourg City in December © Andres Lejona/VDL/ONT
In much of the Ardennes, mid-July to the end of August is considered 'high season', and it's only at this time of year that everything is fully open. Outside this period some attractions may be closed or have limited opening hours. Many smaller hotels and restaurants shut during the winter months, limiting your eating and sleeping choices. Autumn, however, can be lovely in the north as the weather is not too bad, and the annual turning of the leaves provides a wonderful and free spectacle. Moreover, many country hotels have open fireplaces for warming your feet during colder evenings.
In Luxembourg City, restaurants, hotels and most attractions remain open all year. There's no specific high or low season for tourism, but one big advantage of arriving in July or August is that room rates, especially in top hotels, can drop dramatically as the business trade temporarily evaporates. Hotels tend to fill up around the National Day celebrations (22–23 June), so book ahead if you plan to be in town then. Winters are rarely severe, and indeed December can be a great time to visit the city as it allows you to check out the Christmas Market on the place d'Armes.
Highlights and itineraries
Highlights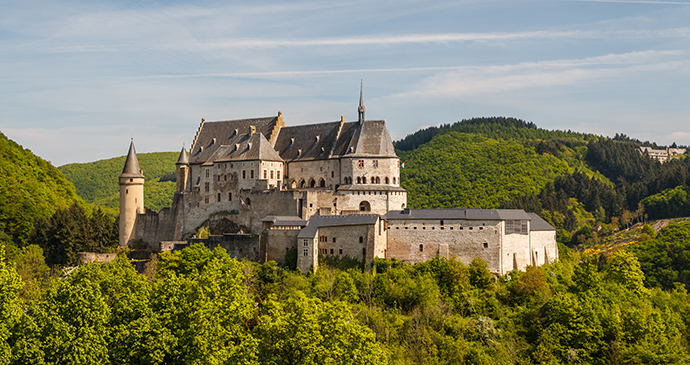 Luxembourg has a wealth of impressive castles, such as here at Vianden © Lev Levin, Shutterstock
Tiny, but perfectly formed, Luxembourg has a little of everything to tempt visitors whatever they're looking for (unless that's golden sandy beaches): cities, castles, steam trains, mines, nature, wine, great food, and more castles. Here's just a small selection of what you'll find:
Luxembourg City
A small capital with a big heart. Not only is the old town on the UNESCO World Heritage List, it's also packed with great restaurants, and wedged between two spectacular gorges.
Vianden
Guarded by one of Europe's most dazzling medieval castles, Vianden's cobbled streets could charm the socks off even the most jaded travellers. It certainly worked its magic on Victor Hugo: he loved it here.
Echternach
The country's oldest town has a centre so delightful you want to take it home and introduce it to your parents.
Little Switzerland
It may not look much like the Alps, but this enchanting landscape of sandstone micro-gorges, dense woodland and rushing streams has more than enough beauty of its own, and a network of walking trails for hikers of any ability.
Clervaux
The castle in the heart of Clervaux is already pretty, but the fact that it also contains 'The Family of Man' – the most culturally important photographic exhibition in the world, bar none – should put it near the top of anyone's to-do list.
Esch-sur-Sûre
A tiny town to take the breath away. Esch's picturesque location, perched on a rock by the river, is what jigsaws were invented for.
Fond-de-Gras
Ride on a century-old steam train and travel to Luxembourg's industrial past – a fun day out for children aged five to 105.
National Mining Museum
Take a trip into the heart of an old iron ore mine in Rumelange, and learn about the lives of miners who once drove the economy and made the country what it is today.
Stolzembourg Copper Mine
Another mine, but on a completely different scale. Time to get your hands dirty – you'll be glad of the rubber boots and the waterproofs they provide.
Upper Sûre Lake
Luxembourg's largest lake doesn't just provide half the country's drinking water, it's also a place for boating activities, and is surrounded by a network of hiking trails bringing you closer to the marvellous scenery of the Ardennes.
Diekirch National Museum of Military History
One of the country's largest and finest museums tells you everything you need to know about the Battle of the Ardennes.
Bourscheid Castle
Sitting on a rocky outcrop in solitary splendour, this medieval castle has arguably the finest view in the country.
The Moselle
Not one place, but a whole region of wine-growing excellence. Take a boat ride on the river, or relax and enjoy the view with a chilled glass of local produce. Or do both.
Suggested itineraries
One day
Visit Luxembourg City, or try the Ardennes double-header of 'The Family of Man' in Clervaux in the morning, followed by Vianden and its castle in the afternoon and evening. Or visit Echternach in the morning, followed by an afternoon walk in Little Switzerland.
One week
Spend three days in Luxembourg City to get a proper feel for the place. On the third day make an afternoon excursion to Fond-de-Gras or the National Mines Museum in Rumelange. Spend night four in Esch-sur-Sûre, with a side trip to the Upper Sûre Lake. On day five, head to Clervaux and 'The Family of Man' in the morning, then to Vianden in the afternoon and overnight. Move on to Echternach and Little Switzerland for day six. Spend the final day in the Moselle Valley sampling and stocking up on essential supplies, stopping overnight in Remich, and detouring to check out the delightful butterfly garden in Grevenmacher.
Two weeks
Two weeks will allow you to absorb the country at leisure. Spend a fourth night in Luxembourg City and trip out to both Fond-de-Gras and the National Mines Museum. On day five, head to Bourscheid, perhaps detouring via the Seven Castles Route (only recommended with your own transport). On day six, make the short hop to Esch-sur-Sûre. Stay in Esch on night seven, and take the day to explore the Upper Sûre Lake.
On day eight take in Wiltz in the morning, before heading to Clervaux for the afternoon and evening. Spend nights nine and ten getting to know Vianden. On the tenth day, go on an afternoon excursion to the copper mine in Stolzembourg. On day 11, visit Echternach and stay for two nights. Spend day 12 exploring Beaufort Castle and walking in Little Switzerland. On day 13 visit the Museum of Military History in Diekirch, before moving to Larochette for the evening. Spend night 14 in Remich on the obligatory wine (and butterfly) tour of the Moselle.