Getting there and away
Getting around
Visas
Citizens of EU countries including Ireland can enter Luxembourg for visits of up to 90 days with a valid passport or national identity card. Nationals of 62 non-EU countries, including the United States, Canada, Australia and New Zealand, need only a valid passport to enter for up to 90 days – but passports must also be valid for three months after your intended departure date.
There are plans to introduce a new EU-wide system to keep tabs on visa-free arrivals via the European Travel Information and Authorisation System (ETIAS), a similar arrangement to the US ESTA. Once it is implemented (likely to happen in 2020), citizens of these countries will get charged (possibly €7) for the pleasure of undergoing an online security check. Another post-Brexit bone of contention will be whether UK citizens will be included in or can gain exemption from this charge.
Citizens of most African states, including South Africa, and some Asian nations (but not Hong Kong, Japan, Malaysia, Singapore or South Korea, whose citizens require only a valid passport), need to obtain a Schengen visa before travelling. These entitle holders to enter one country and travel freely throughout the 26 countries of the Schengen zone, which includes Luxembourg, for stays of up to 90 days within a six-month period.
If you intend only to visit Luxembourg, or Luxembourg is your main destination, you must apply for the visa at a Luxembourg embassy. Applicants living in countries where Luxembourg has no consular representation should apply at the Belgian embassy or consulate. Otherwise you must apply to the embassy of the country that is your main destination. If you intend to visit several countries, but don't have a main destination, apply at the embassy or consulate of the country that is your first point of entry.
Getting there and away
With its handy location at the heart of the continent, reaching Luxembourg from the UK and other points in Europe is a straightforward matter. There is a wide range of transport options available that will get you to the Grand Duchy by plane, train or automobile in a matter of a few hours. From further afield, the lack of direct inter-continental air routes makes life slightly more complicated. Nevertheless, several European hub airports offer easy onward connections for far-flung arrivees.
By air
Luxembourg's Findel Airport has all the usual facilities, including a newsagent, bank, café/restaurant, and information desk. Arrivals are on level –1; check-in, departures and shops on level 0. Level 1 landside has a self-service restaurant with panoramic windows, and a more upmarket brasserie (open: 11.30–14.30 Mon–Fri) that will refund two hours of parking. There are more bars and restaurants airside. The taxi rank is on the right as you exit; the bus stop (9 or 16 for downtown) to the left. The major car-rental firms have offices on level –1, on the left as you emerge through arrivals.
By car
I'd love to be able to tell you to leave your car behind, but for now the most popular and practical way to reach Luxembourg as an independent traveller remains the car. Once you arrive it has the advantage of liberating you from sometimes-limited public transport connections, and fuel prices are relatively low (by northern European standards). On the downside, having your own vehicle may become a burden in Luxembourg City where parking is expensive. Driving times from the Channel ports should be around 3½ to 4 hours.
By train
To reach Luxembourg from the UK by rail you have two choices: one is to take the Eurostar from London to Brussels-Midi and change to an intercity; the other is to ride the Eurostar to Paris Nord, then take a TGV from Gare de l'Est. Both routes take the same time: 5½–6 hours depending on connections. One slight disadvantage of travelling via Paris is that you need to transfer between main line stations to continue (an easy 500m walk, or 5minutes by metro), whereas the transfer in Brussels is within the same building. Another point in favour of Brussels is that you don't have to reserve on a specific onward train, whereas you do for the Paris TGV: if you miss your connection due to a delay you have to re-book.
Getting around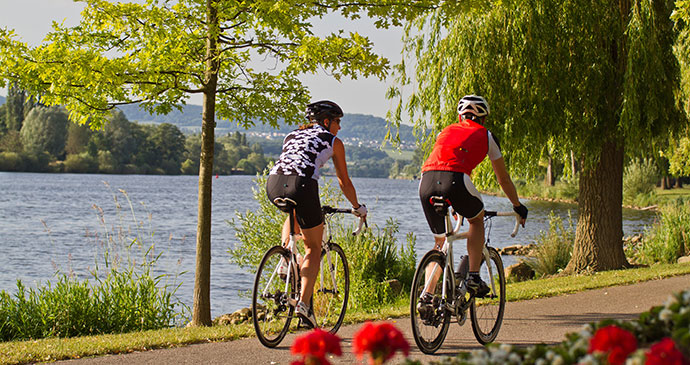 By bike
Cycling has historically been the one sport at which Luxembourg competes on equal terms with the world's best. François Faber (in 1909) was the first non-Frenchman to win the Tour de France, and Nicolas Frantz (1927 and 1928) and Charly Gaul (1958) have also won the coveted race. Half a century later, the country's two more recent heroes, brothers Fränk and Andy Schleck, began emulating these past legends, and their exploits have sparked a new wave of interest in cycling across the country.
It isn't surprising then that there's an extensive network of cycling and mountain-biking routes short and long for you to choose from if you want  to get around under pedal power. Be warned, however, that if you get tired you aren't allowed to take your bike on the bus. Bookshops and some tourist offices sell a map (Luxembourg by Cycle, €5) showing every dedicated cycle path in the country. 
By bus and train
Getting around by public transport is very cheap, and simple in all but the remotest areas. On quieter routes the regularity of service tails off dramatically on Sundays – bear this in mind if you need to do much travelling then.
For short journeys buy a 'short duration' ticket (billet 'courte durée'), valid for two hours. These can be bought for €2 each, or in packs of ten (carnets à dix billets) for €16. If you travel a lot, go for the 'long duration' ticket (billet 'longue durée') for €4 (€16 for five), valid all day and until 04.00 the following morning. All tickets can be used on any bus or train (second class), including transfers. Travel on all buses and trains (second class) is free with a Luxembourg Card.
By car
Driving distances are never that great in Luxembourg, the roads are in excellent condition, and with your own vehicle you can see a lot in a little time. The winding roads and sparse traffic in the north are also particularly popular among motorcycling enthusiasts. All major car-rental companies have offices in Luxembourg City and at Findel Airport. Some are also represented in Esch-sur-Alzette, but are a rare find elsewhere. Expect to pay €40 per day and up, depending on size of car and length of hire.
On foot
A great way to get a feel for the countryside is to walk through it. There are hundreds of hiking routes available, ranging from a couple of kilometres to several hundred. If you hit the trails during the week, then even in summer you may find yourself alone with the skylarks. In all regions, short walks are waymarked with letters; medium-length routes with numbers; and long national paths with symbols. Tourist offices throughout the country carry walking maps for their region.