Author's take
Like many who grew up in Britain during the 1970s or before, my first introduction to Luxembourg was a crackly music station that entered my bedroom via a sea of white noise on a cheap hand-held transistor radio. It was only years later I discovered the radio station shared its name with a country, and that most people who lived there didn't really speak English with curiously chirpy DJ accents.
So, imagine my delight on discovering during my first visit that this diminutive landlocked microstate was actually crammed with heritage, hills and castles – more of the last than any similarly pint-sized nation could decently be expected to possess. With everything so close at hand, there are no tiring journeys here to make you weary of tourism before you've even begun. And to help you reflect on this wealth of history and nature, the wining and dining options are consistently great.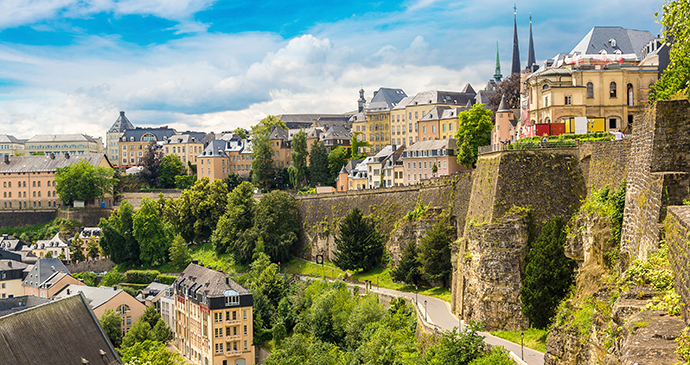 Luxembourg City is known as 'The Gibraltar of the North' © s-f, Shutterstock
About that food: Luxembourg probably has more Michelin-starred restaurants per capita than any other country in the world. But even the legion of establishments that haven't received such accolades still pride themselves on producing the finest of dishes from the freshest of ingredients. Moreover, the nation's wines – which rate among Europe's best-kept secrets – are rather good, to say the least.
Yet, as geographically close as Luxembourg is to the UK, it somehow stayed off the tourist radar. Fortunately, that's changing as people look for nearby and unusual spots for weekend breaks, and the environmentally minded choose destinations closer to home to reduce their carbon footprint. The British are waking up to the joys the Grand Duchy has to offer.
Welcome to Europe's smallest big country. Yes, the old clichés are true and you can drive across it in an hour if you really must, but stop awhile to savour its delights and you may end up loving Luxembourg as much as I do.
Author's story
Having lived for many years in Benelux I've taken every opportunity to explore its furthest regions. I soon realised its three member nations were markedly different from one another, and the only thing they had in common was that they were all 'quite small'. As I got to know Luxembourg I kept finding more and more things to do, and began to wonder what it was the country had done to deserve being deemed no more than an appendix or an afterthought to Belgium in most of the available guides. And all the feedback I've received from Luxembourgish people suggests they've long been curious about this as well. Thus, it gave me the greatest of pleasure when Bradt offered me the chance to set the record straight, and to provide Luxembourg with breathing space in print that was long overdue.
The wealth of new things I've discovered on dozens of research trips short and long over the past decade since I was first given this opportunity by Bradt, coupled with the overwhelmingly warm reception I have received from people there – whether they knew the reasons for my being there or not – have done nothing but reinforce my previous feelings. In fact, I like it even more than ever and the fact that this book has been popular enough to warrant a fourth edition shows that I am not alone.