Eating and drinking
Accommodation
Eating and drinking
For those with deep pockets, the good news is that Luxembourg probably has more Michelin-starred restaurants per head (12 in a nation of 600,000) than anywhere else in the world, with truly outstanding cuisine and wine lists to die for. But you don't need to break the bank in order to eat very well anywhere. Most places, even the top ones, offer a special menu du jour at lunchtime on weekdays, which may include up to three courses sold at a fraction of the à la carte prices.
The biggest influences in Luxembourg restaurant food tend to come from the south, and many dishes are French-inspired. Despite the proximity to Germany you won't find sausage very often (apart from at festivals), although a central European influence is visible in the regular appearance of veal in tourist areas – particularly in the triumvirate form of veal cordon bleu (stuffed with ham and cheese, and fried in breadcrumbs), veal escalope with cream and mushrooms, and escalope viennoise, also known as wienerschnitzel. These latter dishes pander to tourist rather than local demands, however, so can't really be classed as 'typically Luxembourgish'.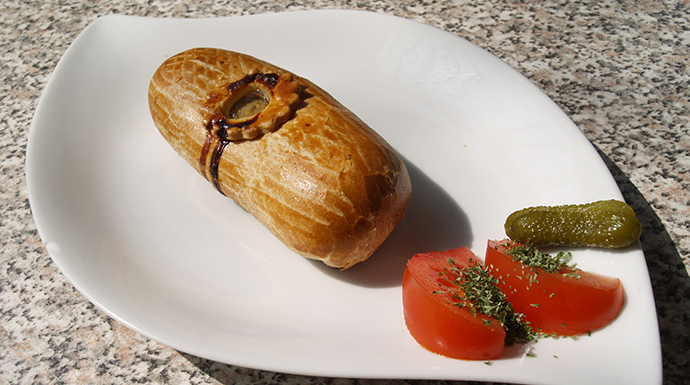 Pâté au Riesling is a bit like a posh pork pie, in which meat and pastry are separated by a jelly made from Riesling wine © Tim Skelton
The national dish is judd mat gaardebounen (the 'j' is pronounced like the 's' in measure): smoked neck of pork, served on a bed of stewed broad beans and accompanied with potatoes sautéed in bacon. It's hearty, tasty, and the portion sizes oft en verge on the titanic. Another favourite is bouchée à la reine, also called paschtéitchen – chicken and mushrooms in a puff -pastry case. A large vol-au-vent in other words.
Grilled sausages appear on restaurant menus in the form of the slender weinzossis, served with mashed potatoes and a mustard cream sauce – the Luxembourg equivalent of bangers 'n' mash. Chunkier mettwurst and grillwurst are sold from outdoor stalls during festivals and other events. You may encounter the latter billed as Luxemburger grillwurst, Lëtzeburger grillwurscht, Luxringer, and other regional alternatives such as Ouringer (in Vianden), but all are essentially the same thing: variations on the classic Germanic bratwurst.
As Luxembourg is landlocked, freshwater fish have had a greater impact on national cuisine than seafood. Trout (truite) is seen everywhere, cooked in a variety of ways, often au Riesling, with a wine/cream sauce. Near the Moselle, two regional specialities to look out for are pike (brochet) in Riesling sauce, and friture de la Moselle: a plate of Moselle river fish of various descriptions and sizes, deep-fried. Eat the latter with your fingers: with larger specimens, chew the flesh off the bone; smaller ones are designed to go down whole in the same way as whitebait.
Wine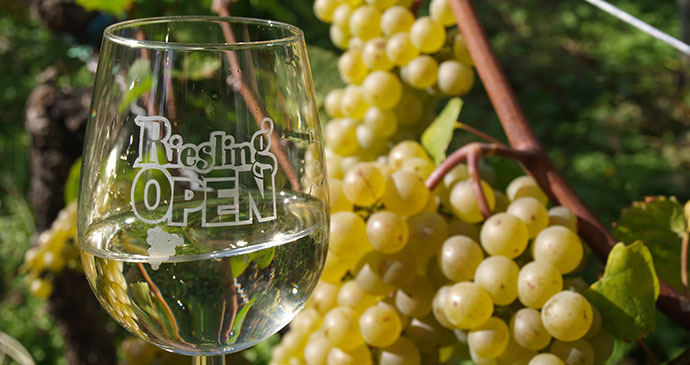 The Riesling Open is one of the biggest wine festivals in the country © Tim Skelton
Luxembourg's home-produced Moselle wines are frequently excellent and several of the larger wineries have caves (literally cellars) that can be visited on a tour for a small fee, usually including a tasting. Almost every café and restaurant stocks at least a small selection alongside its imported (predominantly French) choices. The only exceptions tend to be upmarket Italian restaurants, which may stock only wines from that country.
Local wines sold by the glass in traditional bars and cafés cost €2–4 depending on grape variety (Elbling and Rivaner are cheaper, Riesling more expensive) and location. The vessel in question often used to be the distinctive 20cl engraved bowl with a green stem that's common in the nearby German Mosel, often one with a small chip out of its base.
Beer
The craft revolution that has shaken up the world brewing industry was slow to reach Luxembourg, but it has now arrived, albeit on a tiny scale. For now, the vast majority of the widely available beers remain lager-style Pilseners created for the mass market and without much attention paid to flavour. If you just ask for a beer in a bar, this is what you'll end up with – the strength of most offerings hovers in the 5% abv region. Ordering a mini will get you a 25cl glass of draught beer; a humpen is a 33cl glass; and a grande bière 50cl.
Accommodation
There's accommodation to suit every pocket in Luxembourg, from simple campsites, youth hostels, holiday apartments and gîtes, to the most luxurious of five-star hotels. The one thing that was relatively unknown is the bed and breakfast concept as you might understand it: a family house with two or three rooms let out to overnight guests. There are a few, but most places that advertise bed and breakfast accommodation are actually hotels.
Gites and self-catering apartments
For economic stays of a week or more, consider renting a holiday apartment. These usually sleep two to eight people and have kitchens for self-catering. Often they are former farmhouses, while some are found in unusual locations such as the medieval watchtowers in Echternach's city wall. Get hold of the national tourist office's website for a list of available options. Of course, the rapid online rise of AirBnB is currently changing everyone's perceptions of self-catering apartments, and Luxembourg has not escaped its tentacles.
Hostels
For those on a budget Luxembourg has a superb system of youth hostels, which between them provide around 1,000 beds. Non-YHA members are welcome, but members can get a discount of €3 per day. Many of the nine countrywide locations are either new or recently refurbished, and the facilities in all are excellent. Prices always include breakfast and bedding, meaning you don't need to bring sheets or sleeping bags, although you will have to pay if you need towels or toiletries. In some establishments, two people can rent out smaller dorms as doubles for a slight premium. The hostels also have cafeterias offering daily menus, which can be a real bargain. Advance booking can be done online, and is recommended as they do fill up.
Camping
There are good clean campsites all over the country, offering great value for money. Sometimes they may be large-scale sites geared up to receive caravans, with electrical hookups, supermarkets, tennis courts and swimming pools on site. Nonetheless many are also in idyllic riverside or wooded spots, and may have a quiet corner where individual campers can pitch their tents away from the mêlée. Fees are usually charged per person and per pitch.