The city: a practical overview
Getting there and away
Getting around
The city: a practical overview
Lille has grown somewhat since its early years when it was clustered around the site of today's Notre Dame de la Treille. First, Louis XIV built his fortress on a virtual island in the River Deûle and commissioned a residential quarter next to the old trading district. As it sprawled in all directions, the city swallowed up neighbouring districts – those quarters that still bear the names associated with their own histories. On maps you will see Lille Centre around the main squares, with the university-lined boulevards known as Vauban Esquermes stretching westward; to the south are Wazemmes, Moulins and Lille Sud; eastward is the Fives district; and to the north are Vieux Lille and St-Maurice Pellevoisin. The neighbouring communes of Lomme, Lambersart, La Madeleine and Hellemmes are now very much part of Lille itself.
Lille is surprisingly compact and very easy to explore on foot – that is, if you are wearing your sturdiest walking shoes rather than the stylish footwear sold in a dozen exclusive emporia in the hilly and cobbled old town. Even without using the excellent public transport system, you can cross from one side of the central area to another in 15 minutes.
Vieux Lille
Vieux Lille is a very special place. Looming gables, cobbled streets, intoxicatingly wonderful street names promising golden lions, hunchbacked cats or freshly minted coins at every turn. Since the principal roads were laid out in sweeping arcs to protect the long-forgotten castle on the site of the old castrum fortified camp, and many other streets were reclaimed from canals, no map will ever satisfactorily convey the geography of the place.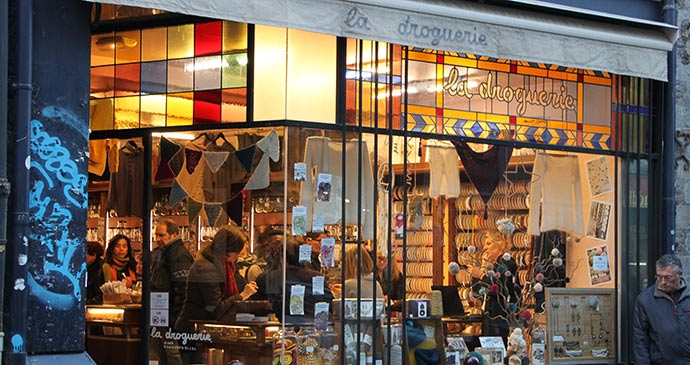 Vieux Lille is a treasure trove of pretty shops © Anna Moores 
The first-, second- or fifth-time visitor should be prepared to surrender to fate and banish any dreams of short cuts. Getting lost is among the greatest pleasures that Lille has to offer its visitors, with so many entrancing little shops selling antiques, fragrant soaps and sumptuous linens that every  journey brings its own diversions. Don't try to second-guess the map: turning left, left, left and left again, may not bring you back to where you started. Vieux Lille is hilly, and with some streets reclaimed from canals, you may actually end up on a road 20m below the pavement you were expecting!
Grand' Place to République
Absolutely everything that matters in Lille begins on Grand' Place, from sunrise over the Vieille Bourse's morning market selling cut flowers and uncut antiquarian books, to shirtsleeved lunchtimes on the terrace of the Coq Hardi. You will not find the name Grand' Place on any map nor street sign – the square is now officially called the Place du Général de Gaulle, but the locals still refer to the place by its old, familiar name. The central column is a virtual sundial of life in the city. Carrier bags from FNAC and the Furet du Nord rest on tables during the 'any time, coffee time' of a contented shopper. Afternoon rendezvous by the fountains flow into evenings at the Théâtre du Nord, its posters proudly proclaiming a new season of Shakespeare, Pinter and Molière. Bars, beers and bonhomie beckon from all directions, but the goddess standing on the central column draws everyone back for a dawn onion-soup breakfast at a late-night restaurant.
The main commercial districts of Lille fan out from the Grand' Place, a giant compass where all roads lead to shopping: chain stores, multiplex cinemas and boutiques line the rues de Béthune and Neuve. Since traffic was barred from these streets in 1973, visitors have been able to admire the Art Deco architecture above the shopfronts in the pedestrianised triangle between the stations, place République and the city squares. Along the rue Faidherbe, formerly home to inexpensive shoe and clothes shops, including the diminished Tati, you will now find grand pharmacies, an inevitable supermarket and chain restaurants; the wide rue Nationale has Printemps and the glitzier Parisian stores; and northward, beyond the once-upon-a-time perpendicular-style belfry of the Chambre de Commerce, are hidden the picture-perfect boutiques and galleries of Vieux Lille.
Markets: Gambetta to Solférino
Lille is a market town, never more so than during the Braderie of the first weekend in September. For 48 hours non stop, the entire city sets out its stalls on doorsteps, pavements, trestles and pitches. Recycle your children's clothes for a few pence, rediscover stolen goods from that break-in in May and swap Deco uplighters for 1960s lava lamps in a tradition that dates back to the city fathers granting servants the right to earn money by selling their master's cast-off clothing once a year. A hundred kilometres of stalls appear every year, the métro runs all night long, and every hotel room for miles around is booked months in advance. The Braderie never sleeps and brasseries compete to sell the most moules and create the highest pile of shells on the pavement outside the front door. A special map-guide is published and may be picked up at the tourist office.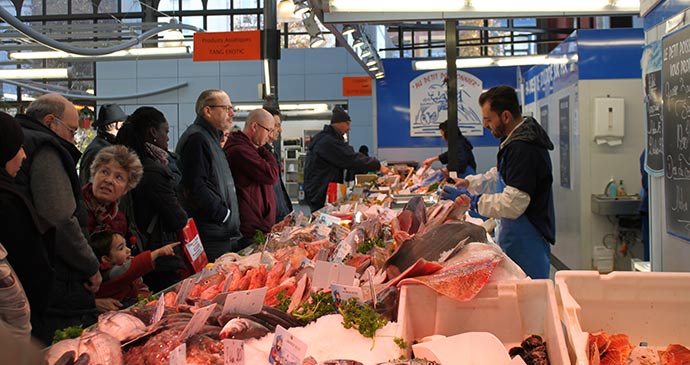 Wazemmes Sunday-morning market is a Lillois institution © Anna Moores
Since the event is held only once a year, a happy alternative takes place every week in the Wazemmes quarter, 15 minutes' walk or two métro stops from the town centre. This is the market of markets and a Sunday morning institution. A smaller market is held each Wednesday and Saturday at place Sébastopol, where the Théâtre Sébastopol dominates the square. An entertaining explosion of architectural styles – Renaissance, Moorish, classical and sheer pantomime – this people's playhouse provides popular boulevard entertainment. From populist playtime one can turn to intellectual reflection, as roads south lead to the former Faculté des Lettres, once a centre of study, reflection and tolerance. The Protestant temple and the synagogue may be seen on rue Angellier. While the secular university is now based outside the town centre to the north, boulevard Vauban is home to the Catholic university campus.
Stations
Not one station but two. The modern Europe station welcomes the TGV and Eurostar and looks like the airports of tomorrow. Dominated by the boot-shaped Crédit Lyonnais building, this is the heartland of the new international business community. Constructed on land hived off by the military, there are hints of early fortifications scattered in the emerging Parc Matisse. The vast paved piazza of the parvis Mitterand is gradually being claimed by a generation of skateboarders, microscooter aces and mountain bikers.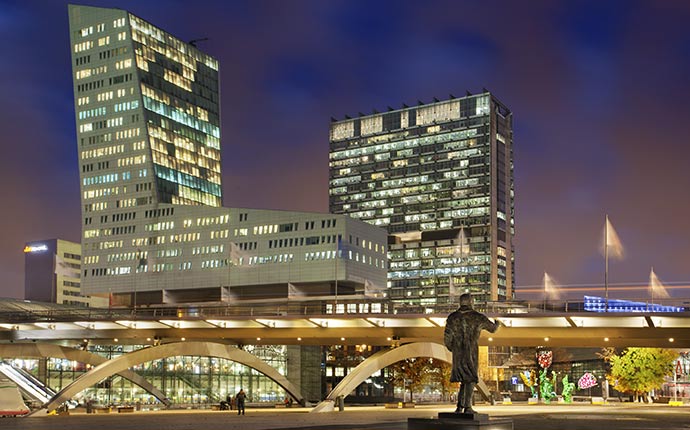 The view over the Euralille district © Production Perig, Shutterstock
Across the square is the Euralille shopping centre, an indoor alternative to the rest of the city. A few yards along avenue le Corbusier is the public transport hive: underground are two métro stations, and the tramway to Roubaix and Tourcoing; while at street level one finds the bus station, taxi ranks and the original 19th-century station serving all points local and beyond, and all speeds under très grandes.
Getting there and away
By train
Eurostar, from the UK, is a fabulous way to travel to Lille: 80 minutes from London St Pancras International, 70 minutes from the station at Ebbsfleet and an hour from Ashford International. Each 400m-long Eurostar train can carry up to 560 standard-class and 206 first-class passengers from London to the heart of Lille in 18 air-conditioned carriages. Two train managers and teams of uniformed stewards look after passengers, welcoming arrivals and reminding would-be smokers that the entire train is ciggie-free. Two bar-buffet carriages, modelled on TGV bars, have space to stand and chat over a drink. Baby-changing rooms are at each end of the train, and there are toilets in all carriages. Pricier seats are spaced three abreast, one single, one pair; in standard class, two pairs. Groups of four passengers should request seats around a table. The more expensive compartments have several business seating configurations, including a semiprivate area for four or six passengers at the end of each carriage.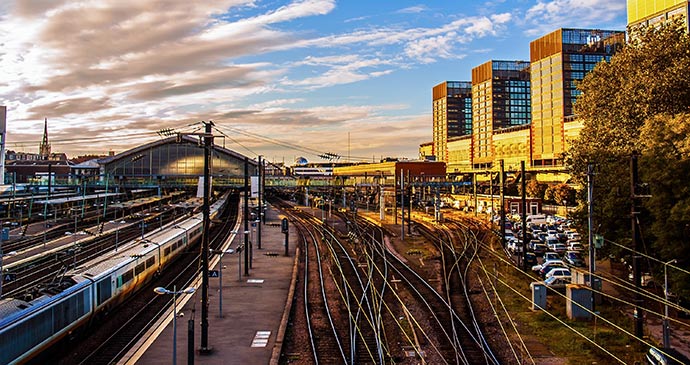 Gare Lille Europe © Meiqianbao, Shutterstock
Be warned, not all standard-class tickets sold as 'window' seats are actually next to a window: around four places in each carriage are in fact against a solid wall. Regular passengers with a good book may not mind, but first-timers and anyone who thrills to a view will be disappointed, so do insist when booking that your window seat actually has a window, if only for the thrill of arriving back at the new London terminus.
By car
From the UK you have to cross the Channel or the North Sea, either by boat or through the Channel Tunnel. Most ferries ply the busy route from Dover to Calais, with journey times averaging 90 minutes; the tunnel claims a 35-minute crossing on the same route. However, you must also allow for check-in times, queuing and visits to the terminal buildings. Slower overnight services operate from Hull.
Best value is often to be found with package deals from tour operators, but an excellent place to shop for bargain cross-Channel fares is Šwww.aferry.com.
By air
Lille Lesquin Airport, for domestic and continental European and African flights, is 8km from the town centre (page 49). However, visitors from UK regions and beyond Europe may fly direct to Paris's Roissy-Lille Charles de Gaulle Airport and take the 51-minute TGV train to Lille from the station at the Air France terminal. Air France sells through tickets to Lille from most international and intercontinental airports. Alternatively, flights to Brussels airport connect with a rail link to Lille in under 40 minutes. See Šwww.flying-to-lille.com for more details.
Getting around
By métro
A superb métro system ties in with the tramways and buses. The unmanned VAL métro is completely automated, and runs on two ever-expanding lines crossing central Lille and serving the suburbs and métropolitan area. Central métro platforms are sealed off from the tracks by sliding glass doors that open when the train comes to a standstill. En route to the suburbs, the trains swoop and soar from underground tunnels to futuristic tracks high above the countryside and motorways. Try to sit at the very front for the true fairground-attraction experience. Métro lines in France do not have names: they are numbered and platforms indicated by the terminus. Thus, Line 1 will be marked either 4 Cantons/Stade Pierre Mauroy or CHR B-Calmette, and Line 2 CH Dron or St Philibert.
By tram
Twin tramways run out to Roubaix and Tourcoing, passing the pretty Parc Barbieux and, on sunny days, provide a pleasant alternative to the underground. Métro and tram services run from 05.15 to midnight (from 06.20 at weekends).
By bus
The city bus network covers the areas of the old town that no métro could possibly reach, since so much of Lille is built on land reclaimed from canals and waterways. From the principal bus stops at place des Buisses, alongside Gare Lille Flandres, services fan out to the outlying districts, even crossing the Belgian border. Buses generally run from around 05.30 until 20.30. In the evening, the late bus network meanders through the town centre, Vieux Lille and out to the satellite towns half-hourly from approx 21.30 until 00.30. Most routes out of town leave the place des Buisses and some depart from place de la République.
Line 4 will get you back from Vieux Lille after dinner. Buses go midweek every 20 minutes until 22.30 then half-hourly until 00.30, Saturdays every 20 minutes until 23.30 then half-hourly until 00.30, and Sundays hourly from 22.30–00.30.
Car hire
Most international car-rental agencies have desks at Lille Europe station and the airport, and offer special discounts to the various airlines and rail companies. However, it is often cheaper to rent a car from one of the smaller companies in town. Rent a Car (113 rue du Molinel), a five-minute walk from the Gare Lille Flandres, has very low rates for one- or two-day rentals. Online bargains can often be found at Šwww.autoeurope.co.uk.