Eating and drinking
Accommodation
Eating and drinking
Food and drink matter in Lille. The best argument of the day is deciding where to eat – a tavern serving savoury tarts with fresh-brewed beers; an old-fashioned traditional brasserie; gastronomic elegance with starched linens and eloquent menus to set the pulse racing; or a moody jazz café by the city walls.
Food
There are so many flavours to be discovered that one mealtime is simply not enough. From one table to the next, you may segue from that which makes Lille French and that which sets it so very much apart. Regional specialities are a happy blend of the Flemish and northern French styles. Dishes may feature the cheeses of Mont des Cats and Maroilles, genièvre juniper gin, the famous Blanche de Lille white beer and other local brews, all tickled with local wisdom to transform the simplest of ingredients into something special.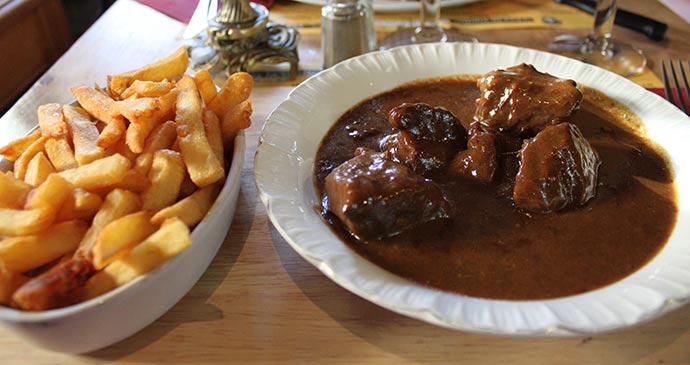 Carbonnade à la Flamande is a popular dish throughout Lille © Anna Moores
Waterzooï, on many a menu, is a stew usually of freshwater carp, tench and pike; rabbit may be prepared with prunes; winter warmers include the hochepot stew of meats and market-garden vegetables, and the inevitable stewed in beer, onions and brown sugar. Year-round favourite potjevleesch is a white-meat terrine, usually of chicken and rabbit. If all is reminiscent of Belgian comfort food, remember that Lille's borders have shifted almost with the tides.
Even more Belgian is that most traditional of budget meals, a pot of mussels served with a heap of chips. Moules-frites are an institution here, the single menu served during the Braderie, when the piles of shells outside the restaurants are the most photographed icon of the season. Sausage lovers should seek out the Cambrai andouillette, rated as among the best in France. Welsh is a peculiarly northern reinvention of Welsh rarebit, usually served in a soup bowl: cheddar-style cheese melted in beer and drenching a hidden slice of bread and (generally) ham, sometimes with an egg; always with chips. See individual brasserie or bistro reviews to discover the myriad variations on this cardiovascular white-knuckle ride.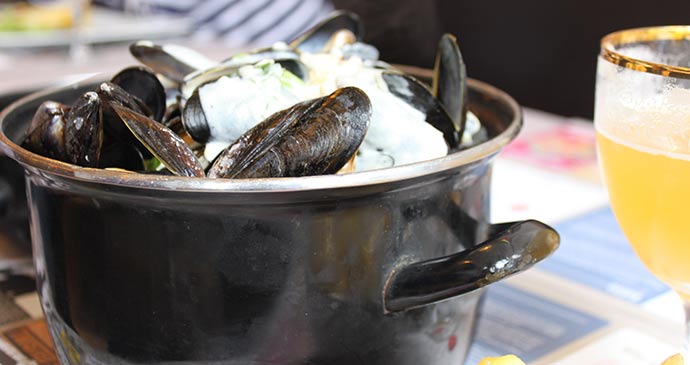 Moules-frites, a Lillois institution © Anna Moores
To round off the meal, modern chefs make ice cream and sorbet with local flavourings: fleur de bière, gin and the ubiquitous chicorée. Traditional desserts include tarte au sucre and a local variation of bread-and-butter pudding known as pain perdu.
Easy to forget, with all these local flavours, that Lille is in France. Fortunately, almost every other region is represented with a restaurant or five to offer the flavours that lure most visitors across the Channel in the first place. Plenty of Breton crêperies to ward off summer snack attacks, plus specialities of Bordeaux and the southwest, and Lyon and the southeast. So, great steaks, confit de canard, truffles and foie gras are never too far away. Never forget that Lille is still a port, the third most important river port in France, and it is very close to the big fishing fleets of the Channel. The freshest fish is on every menu: Dover sole and cod among the local catches; tuna, salmon and sea bass among every chef 's party pieces.
Drink
What to drink: might I suggest a beer? Lille is a great brewing region, with some brasserie restaurants serving draught created in-house. It would be a waste to order a standard multinational brand when the breweries around Lille create such memorable ales as the local Ch'ti, La Goudale or Trois Monts. A traditional lager is known as a bière blonde. Be guided by your waiter or barman and go with the seasonal specialities: in March, order the Bière de Mars, for one month only, a sprightly and heady affair; at Christmas, the spicy and fruity Bière de Noël is a treat; at any time, but unbeaten as a summer cooler and quencher, the cloudy white Blanche de Lille, served with a slice of lemon, is simply heavenly. For a bit of an extra kick, try the beer brewed by the Wambrechies Genièvre distillery.
Genièvre, a Dutch-style juniper gin, is distilled in and around the city and is a popular chaser, fl avouring or mid-meal trou (to be gulped in one to clear the digestive system for more food). The base of many a house cocktail, it was once popular 'with the ladies' as a Chuche Mourette, blended, like a kir, with crème de cassis.
Accommodation
In a city where hospitality comes as standard, stories of northern welcomes are legendary. I only regret that one offbeat gem closed its doors just too early to be included in my Bradt guides: a B&B run by a former madame who, after years of service to the garrison, had ultimately transferred her attentions from the bed to the breakfast. Friends told me that many men who had visited the establishment as soldiers in their youth, and partaken fully of the fleshly delights on offer, had returned in later years with their families for a more orthodox accueil. Nonetheless, there are still plenty of conventional treats to be discovered in and around Lille, from the homebaked petit déjeuner brioche in a family home to a luxurious bedroom in a distillery devoted to the memory of Napoleon.
Chambre d'hôte is a particularly Gallic twist on bed and breakfast and, as well as our choice of the most welcoming and unusual homes, it is always worth checking out the latest B&B lists issued by the tourist offices. Self-catering is well worth considering if you are planning a longer stay. In the countryside outside Lille, consider the charms of a gîte; otherwise rent a studio or one-bedroom apartment at an aparthotel in the town centre. Remember that supermarkets and even some restaurants will often deliver and that Lille has some great markets for fresh food if you fancy recreating restaurant masterworks with a two-ring hob and a microwave!
Mobility-restricted guests should be aware that some of the older hotels, especially around the old Flandres station, do not have lift access from the ground floor to the bedrooms – so always check when booking if you have issues with stairs.
Should you go for the city-centre hotel option, take a tip from me. Unless you are staying in one of the larger hotels with a grand breakfast-buffet selection – in which case you should eat heartily and just opt for a baguette and cheese for a lunchtime picnic – forego the standard hotel breakfast, usually costing €5–10 on top of the room rate. Instead, make your way to the main Paul bakery, on the corner of rue de Paris and the place du Théâtre. In the magnificently tiled surroundings of this fabulous shop, enjoy an excellent petit déjeuner of fresh-baked bread, homemade jams, and superb coff ee or tea, or sinfully sensational hot chocolate – all for around €4. Other good breakfast options include Le Pain Quotidien and the lobby of the Hermitage Gantois.