January
When even the bargains have bargains
Shopping is always great in Lille, but also in nearby Roubaix, where big name outlet stores have mega discounts year round. However, from mid-January even the lowest prices are cut by another 30–70% in the annual six-week January Sales.
February
Masks, giants and flying herrings
Mardi Gras in the north of France is serious carnival time. The biggest and best is the channel port of Dunkerque (35 minutes away by train), with parades of giants and marching bands, masked balls and fancy dress street parties, when hundreds of kilos of herrings are thrown from the town hall balcony onto the heads of chanting crowds in the square below.
March
Youth will have its fling
Since 40% of the population is aged under 25, when the city students announce their favourite bars, clubs, shops and restaurants, Lillelistens. And it is a great excuse for a party. After a year spent testing out every venue in town, the university's annual Ch'ti guide to what's hot is launched on place de la République, with top DJs, concerts, stalls and sideshows. Join the fun for free and check out new trends, such as the SoloWheel.
April
Saddle-sore but triumphant
They call it 'The hell of the north' – this annual cycle race makes the Tour de France seem like an outing for softies. The cobbled streets of the region prove the great threat to riders on the Paris–Roubaix challenge. Pick up a rental bike at the métro or tram station and ride out to cheer on the world class athletes.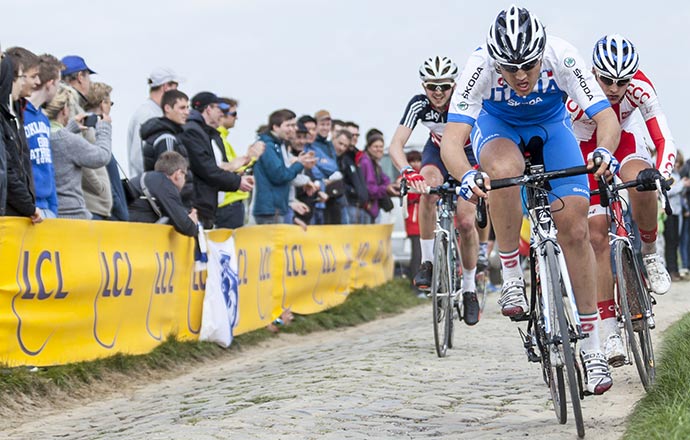 © Radu Razvan, Shutterstock
May
Don't forget your soup bowl!
Head down to the place de la Nouvelle Aventure in the Wazemmes quarter for La Louche d'Or, the annual 'Golden Ladle' international soup festival. Top chefs incognito try out their latest recipes, grandmothers serve hearty bowls of classic onion soup, and at every corner there's another piping hot broth, rich red borchst or chilled vichyssoise to savour, from French classics to spicy, ethnic surprises.
June
If music be the love of food… play on
21 June is Fête de la Musique, with live bands in and outside restaurants and cafés, huge stages in the squares for major concerts, and buskers and street musicians on every corner. If you play an instrument, bring it along and join an impromptu jam session late into the night, whilst feasting on chips, chocolate and churros from street traders.
July
A month of hidden concert halls
Listen to Chopin on street corners or Elgar in a convent, classical music in the Conservatoire or a piano recital in a hotel lobby. The historic buildings and streets of Lille host a season of summer concerts during the annual Clef de Soleil gathering of world-class musicians.
August
Grab your partner and glide with attitude
Sunday night is tango night in the Renaissance cloister of the Vieille Bourse. Students and pensioners, lovers and strangers sporting stilettos or trainers, visitors and locals alike surrender to the sound of old 78 records and dance from dusk 'til dark.
September
Retro chic and mussel shells
The Braderie on the first weekend of September is Europe's ultimate flea market. Over 200km of stalls sell antiques and junk, with everything from vintage clothing to vinyl singles being sold on every doorstep of every boulevard in town. You'll also find mountains of mussel shells outside brasseries as they compete with each other to see who can sell the most moules.
October
Born again Capital of Culture
More than a decade after being Europe's capital city of culture, Lille3000's latest biennial season of exhibitions, performances, foodie events and striking art installations takes its theme in 2015 as the Renaissance – not Europe in the 16th century, but 21st-century creative talent and ideas from Rio, Eindhoven, Détroit and even Mons across the Belgian border. Up to 2 million visitors will join the party.
November
Roll up for the greatest show on Earth
Circus troupes from all overEuropepitch their big top in the field outside the Citadelle for La Grande Fete Lilloise du Cirque, as clowns, acrobats and speciality acts take to the sawdust ring.
December
From the chalets to the rooftops
From the Christmas market on place Rihour with mulled wine, gingerbread and seasonal gifts, stroll to the Grand' Place and ride the big Ferris wheel for the best views across the rooftops and belfries. An amazing vantage point for the New Year's Eve fireworks.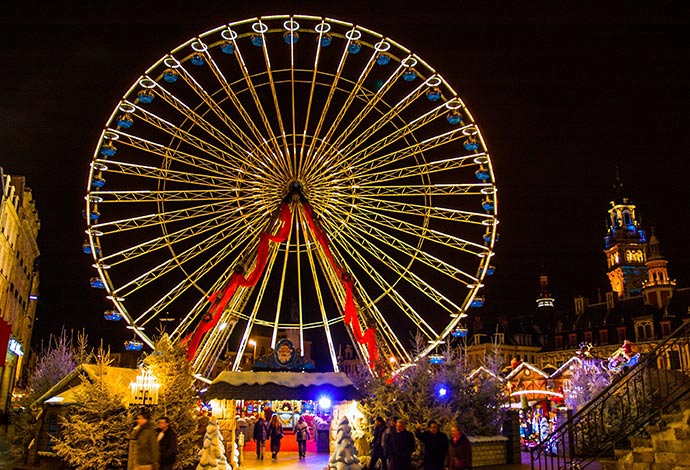 © Meiqianbao, Shutterstock