Visas
Getting there and away
Getting around
Visas
Citizens from EU member states and those of Albania, Bosnia-Herzegovina, Macedonia, Montenegro and Serbia do not need visas and can stay in the country as long as they like. The holders of passports from the following countries do not need a visa for a stay of 90 days or less: Andorra, Argentina, Australia, Brazil, Brunei, Canada, Chile, Costa Rica, El Salvador, Guatemala, Honduras, Hong Kong, Israel, Japan, Macao, Malaysia, Mexico, Monaco, New Zealand, Nicaragua, Panama, Paraguay, Singapore, South Korea, Switzerland, United States, Uruguay and Venezuela, and, very likely, the UK post-Brexit. All other nationals should consult their relevant embassy about visa requirements or take a look at the website schengenvisainfo.com.
In theory all foreigners are required to register their presence with the police; for this reason you will always be asked for your passport details by a hotel or B&B, so keep it with you as you travel about. Individuals in reality rarely do so if they are simply on holiday. If you intend to stay longer, it is advisable, however, to register at the local police station.
Getting there and away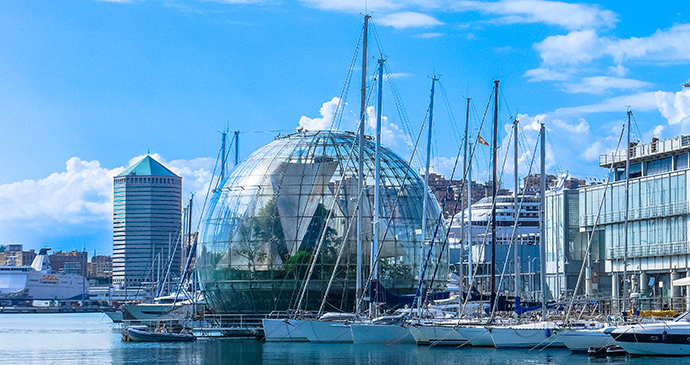 Perhaps unsurpisingly, Genoa's port is a major part of Liguria's transport system © Zharov Patel, Shutterstock
By air

Genoa's Cristoforo Colombo Airport is 6km west of the city in the suburb of Sestri Ponente (010 6015410). At time of writing it was undergoing a makeover that is due to be completed in 2021. It will improve connections to Genoa, which are notoriously bad. The number of destinations is set to rise from 26 to 40 over the next few years. Buses are infrequent so it is wise to factor a taxi ride to the centre into your calculations if you are not on a tight budget. The rate is shown on a notice at the taxi rank and is €7 per person for three people, meaning if you are travelling alone, you'll pay €21. It is worth flying into Liguria, however, for the breathtaking experience of landing on the runway that juts out into the sea. Ask for a seat on the right-hand side of the plane and you will get a bird's-eye view of Portofino and Genoa. It takes roughly 2 hours to fly from London.
Ryanair and British Airways fly directly from the UK, the former from London Stansted and the latter from London Gatwick. Easyjet fly from Bristol, London Luton, and Manchester. The closest airports with direct flights from North America are Milan and Nice. If you are coming from Australia or New Zealand, you are likely to fly into Milan or Rome. If your destination is the eastern end of the Riviera, then consider flights to and from Pisa Airport (050 500707), which is just 84km from La Spezia. Trains from Pisa connect with La Spezia in 50 minutes. If your destination is the western end of Liguria, it is well worth flying to Nice, which has direct flights from the UK from Bristol, London Gatwick, London Luton, London Heathrow, Liverpool and Manchester on easyJet, British Airways and Ryanair, and direct flights from North America. Note that some connections are seasonal.
By boat
Ferries leave from Genoa for Algeria, Tunisia, Corsica, Sardinia, Sicily, Barcelona and Tangier. Genoa is also an important destination for cruise ships. The other two large ports in the area are Savona and La Spezia. The latter is principally a naval port but Costa cruises start in Savona and ferries leave from nearby Vado Ligure for Corsica. Liguria has 34 tourist ports and a growing number of marinas and, with berths for more than 17,000 boats, is Italy's most organised region for hosting pleasure craft .
Getting around
Public transport is good. For timetables and routes, see www.orariotrasporti.regione.liguria.it.
By boat

There are frequent ferries in the summer and a number of companies run whale-watching trips. There are also night-time excursions to see the firework shows that take place throughout the summer. A boat trip is a must as it really puts you in touch with Liguria's seafaring side and it is wonderful to see it from the sea. There are a number of companies who hire small sailing boats, with or without a crew. See individual town listings for details.
By bus
Buses also run along the coast and up into the mountains. Services are regular but not frequent. Bus fares within towns are usually inexpensive and are likely to cost around €2.
By car
To really explore the mountainous hinterland it is better to have a car. Beware however that many of the roads are narrow and extremely winding. Some parts of the coast can be very busy in summer and long queues can result. Although there is a car park at Monterosso al Mare, parking can be difficult or near impossible in the Cinque Terre.
By motorbike

When Piaggio made their first Vespa in 1946 they revolutionised Italian life. Suddenly it was possible to get out of the city and spend the afternoon on the beach. Since production began, over 3 million Vespas have been manufactured in Italy; today the roads are full of Vespas and hiring one can add an authentic touch to a holiday. You can rent scooters from Ligurent (320 7224142). Many locals explore the hinterland at the weekend on motorbikes. For more information on the history of Piaggio, see bradtguides.com/piaggio.
By train
The railway runs along the coast. Regular services stop at all the stations along the route. The train is an excellent way to visit Liguria's big tourist draw, the Cinque Terre. Some trains also stop in the hinterland en route for Turin, Milan and Parma.