Author's take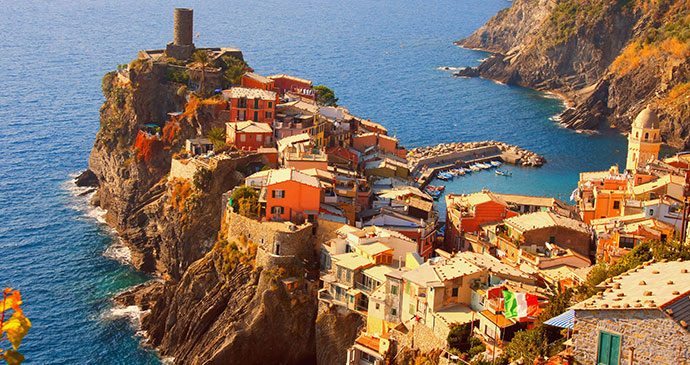 Liguria is a far-cry from your typical Riviera destination © Sternstunden, Shutterstock
I love Liguria but am always surprised that when I tell people in Britain that I'm going there, they look blank then slightly puzzled. It's almost as if they feel they should know where it is but have simply forgotten and that is exactly what has happened; as far as Liguria goes, the nation is suffering from memory loss. In the late 19th century it was the place to be and be seen. Thousands of British people wintered in Sanremo, Alassio and Bordighera.
To help to jog the memory, I add, Liguria is the area around Genoa. Then there's a flicker of recognition that you are going to somewhere in northern Italy, but Genoa is in a black hole as far as most tourists are concerned even if Byron, Dickens, James and a whole host of writers have penned thousands of words on the place. Genoa was once a maritime superpower and has the biggest preserved medieval city in Europe, but it's hard to find more than a handful of people who are aware of that these days.
Then I add the magic words 'Italian Riviera' and their faces light up. 'Riviera' conjures up a whole host of images of film stars in speedboats, glistening blue sea and style. Then say 'Portofino' and a dreamy look crosses their faces and there is an intake of breath. It was the fact that most people outside of Italy know very little about this wonderful region where the mountains plunge down to the sea, which prompted me to get in contact with Rachel Fielding at Bradt. Over a cup of coffee I persuaded her that Bradt needed to change the way that foreigners look at Italy, heading for Florence, Venice and Rome and holidaying in Tuscany and Calabria. Italy is in fact an incredibly diverse country with major regional differences. There are things about Liguria that are totally unique. Local people still speak dialect and eat food only found in certain areas even within Liguria itself.
Liguria certainly has all the magic of the Riviera and Portofino still attracts stars and millionaires, but there's far more to it than that. I'm a history buff and there is so much history here, it's a delight. Above all, it's kept a lot of the local charm that many places in western Europe have lost. Yes, there is an IKEA, and there are large supermarkets, but the latter are stuffed with regional products you can't buy anywhere else. There are plenty of local shops that have been in the same families for generations and they are a million times more efficient than the chain stores that have taken over high streets in Britain and other parts of Europe. You can bike down to the local shop to buy a new dishwasher and 5 minutes later you, your bike and the dishwasher are in the back of the van on the way home with a plumber who is going to install it.
All this chaotic efficiency leaves plenty of time to do my favourite things. Number one is stepping out on the balcony to look at the view. There is nothing like watching the sea here; every time you look, it's changed colour. From the top of Monte Beigua, you can look down on the towns along the coast through the clouds as if you're a bird. Then on the way home you can buy something delicious for dinner that won't break the bank.
Author's story
I fell in love with travelling when my parents bundled my two sisters and I into the car and set off every summer to drive across Europe. In 1972, we went to Liguria. It was a completely chance event. The day before we were all sitting at home, rather depressed as my father had a month off work, but couldn't afford a holiday. Then out of the blue one of his patients at the hospital offered him his house near La Spezia for free and we were on the road at dawn.
I was 11 and I was hooked. The place was full of adorable kittens. I ate far too much focaccia and endless bowls of minestrone, and spent all my dad's money buying trinkets in a vending machine by the café on Lerici's harbour side.
While I was a student at the LSE, I met my husband in the student newspaper office. There was something wonderfully Mediterranean about him. When he told me his father represented the Genoa shipyard and went there often, at first I thought that he actually was Italian (he turned out to be half French, for the record). Things moved fast. When our eldest son was just a month old, we bundled him into the back of the car and set off for Liguria.
We've spent most of our summers there ever since. We've driven up and down almost every road in Liguria and considering the excess of hairpin bends that's quite an achievement. Behind this book is two generations of experience of getting to know Liguria. My father-in-law could banter away in Genoese dialect and my mother-in-law would whisk up a pesto sauce that could hold its own against any Ligurian-born cook's version. Many of the places I recommend in the book are places that they introduced me to. Liguria has got under the family skin to such an extent that, if we go somewhere else in Italy, the kids will all bemoan that there's no focaccia for lunch, and my kitchen cupboard in London is stuffed with walnut sauce, taggiasca olives and anchovies.
Working on the new edition of this book has been a great experience and has given me a chance to go out and meet some fascinating people, many of whom are running small businesses and trying to save the traditional industries and products that have made this region different from the rest of Italy. I have come back laden with jams, olives and basil plants.
I am currently researching a book on the Jewish exodus from Europe, 1944–48, which I regularly tweet about. I tweet also about the Holocaust, history and memory, as well as about Liguria. I am @rosiewhitehouse and I am on Instagram at rosieawhitehouse.