Climate
When to visit
Highlights and itineraries
Climate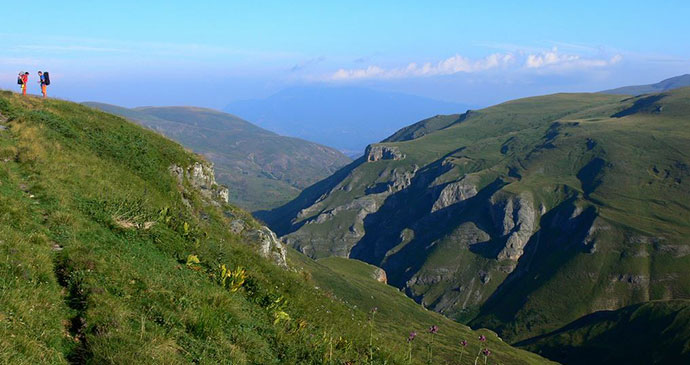 The Sharr Mountains are a lush green in summer, but turn in to ski slopes in winter © Daniel Sevcik
Kosovo has a continental climate, with hot summers and cold winters. Snow can fall as early as November and as late as April. July and August are invariably hot, although May and June can be too. The night-time/daytime temperature differential is generally greatest in September and October.
The average daytime temperature in January is –0.9°C and can reach –15°C on a bad night, while the average daytime temperature in July is 21.5°C but temperatures can go as high as 35°C. Temperatures differ little across Kosovo – just a couple of degrees – though there is often a noticeable difference when crossing into Macedonia or Albania to the south. In autumn, the average monthly rainfall is 177mm, whilst in summer it is 129mm. Rainstorms can be heavy and, due to an absence of storm drains and poorly designed roads, streets can quickly turn into floodstreams. From December to February, there is often very heavy fog in the major cities from increased coal burning; prepare to have flights cancelled during this period, as it is difficult to land at Prishtina Airport in these conditions.
When to visit
The best time to come to Kosovo is spring (ie: late April, May or early June), when the fields are bright green but there is still some snow on the tops of the mountains and the flowers in the meadows are in bloom. There is a risk of heavy rain in late April but it is rare for this to last more than a day or so. In July, August and early September the flights and roads are busy with the diaspora returning, so travelling is not quite as easy or cheap and the weather can be too hot to explore, although September generally offers pleasant weather. In the winter there is a risk of ice and fog on the roads and in practice it will be difficult to see much due to the snow.
Highlights and itineraries
Different visitors to Kosovo will have different windows of time available. As a rule of thumb, on weekends many museums are closed and smaller towns tend to be dead, so weekends are a good time to visit monasteries, waterfalls or mountains.
Backpackers
Prizren is a good location for backpackers to base themselves © lovelypeace, Shutterstock
If you are exploring the Balkans, four to five days is probably sufficient to 'do' Kosovo, with more time needed if you wish to do some hiking. Prishtina and Prizren now have a good variety of budget accommodation options, making them both good places to base yourself for a couple of days and take day trips out. From Prishtina you can easily visit Gračanica, Gadimë, the Battle of Kosovo site, Mitrovica, Zvečan and Prekaz (total two days), and from Prizren it is pretty convenient to explore Gjakova, Dečan, Isniq, Drenoc, and Peja (three days). For Dragash, because of the distance you need to allow a full day and possibly stay overnight in Prizren, Brod or Dragash itself. If travelling by car or taxi then make sure that on the Gjakova/ Prishtina journey you stop off at the Mirusha waterfalls (a 2-hour diversion) or consider a 2-hour stop off in Rahovec or diverting to Velika Hoča (a 1–2-hour diversion), and on the Skopje/Prishtina leg you could stop off at the Gadimë Cave (a 1-hour diversion) or visit the Kaçanik Mosque (a half-hour diversion).
One-day or weekend visit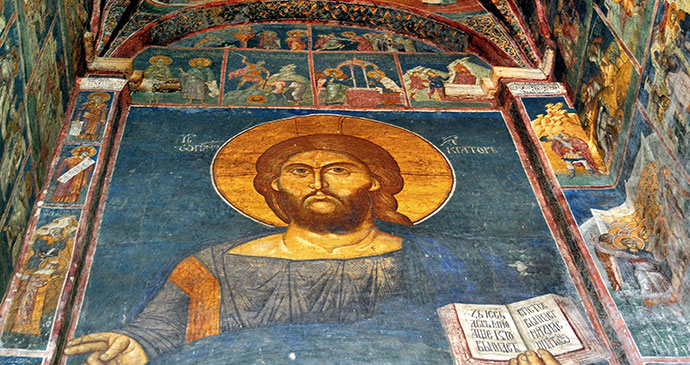 A visit to the Visoki Dečani Monastery is a highlight of a long weekend in Kosovo © Ivan S Abrams
If you are visiting friends in Kosovo and only have a long weekend then one day out to Dečan Monastery and the kullas in Drenoc is recommended, perhaps driving back to Gjakova and staying overnight there or in Prizren. The next day you can do Prizren and drive back if you have time via Prevalac on a scenic route passing through Brezovica and the Sharr Mountains to Prishtina.
Possible day trips from Prishtina
Travel to Dečan, via Isniq, and explore these historical towns, make sure to visit Dečan Monastery which dates from the 13th century.

Mirusha falls are just over an hour's drive from Prishtina. Enjoy a dip in the water in the summer and also explore the surrounding park area. Bring a picnic with you or stop off for a late lunch at a local restaurant and then continue on to Gjakova.

Take a trip out to Peć Patriarchate, a medieval Serbian monastery and enjoy exploring the old bazaar quarter of Peja. In the afternoon travel further along to the Drini i Bardhe waterfalls and the nearby Radac Cave. Alternatively, from Peja stop off in the Rugova Valley and enjoy the views.

Visit the cultural hub of Prizren and get lost in the charming old town, Prizren has loads of traditional markets selling local handcrafted good and is the perfect location to pick up a unique souvenir. Drive back via the Monastery of Archangels and the tranquil Gornje Lubijne village.
Seasonal trips
Brezovica and Boge in the Rugova Valley are lovely in winter but they are only accessible by 4×4 due to the heavy snow. In the summer Gazivoda and Batllava lakes are worth paying a visit to, here you can admire some of Kosovo's beautiful, and underappreciated, scenery.
Hiking trips
Kosovo is becoming an increasingly popular hiking destination © HrMiro, Shutterstock
Kosovo has risen in popularity as a hiking destination over the past few years thanks to two cross-border hiking trails which cut through the country: Peaks of the Balkans and Via Dinarica. The latter is still under development within Kosovo and as such not all of the infrastructure is in place at the time of writing – it is highly recommended to hire a local guide for both as trails can get tricky.
Touring the Balkans
There is a lot to be said for combining Kosovo with visits to other Balkan countries. For more details, see the Bradt guides to Albania, Macedonia, Bosnia & Herzegovina, Montenegro and Serbia.