Visas
Getting there and away
Getting around
Visas
Citizens from EU countries, the US, Japan, Canada, Australia and New Zealand citizens as well as EU candidate or neighbouring countries are not required to possess a visa to enter Kosovo. Most of those from a third country, eg: India, who possess a valid Schengen visa are also permitted entry. Those from countries regarded as high risk for illegal immigration, eg: parts of Africa and Asia, already face entry problems in the region and may be turned back. After legal entry visitors can stay for 90 days. If you stay longer than that, you must register with the police. If you are staying for medium- to long-term business, consultancy or similar, then it is worthwhile getting a temporary Kosovo resident's card/permit which will facilitate all manner of business and avoid the need for Kosovo stamps in your passport.
Serbian stamp
At the time of writing and possibly for the foreseeable future, Serbia does not recognise the internationally managed borders of Kosovo. Therefore in the eyes of the Serbian authorities, if you enter Kosovo directly via Macedonia or Albania or Prishtina Airport, then you have entered illegally. This means that you cannot then later cross into Serbia from the north of Kosovo or even from Montenegro as the border guards will note that you do not have a valid Serbian entry stamp in your passport. If therefore you wish to enter Serbia, you must go out into Macedonia or Montenegro and enter Serbia. If you flew into Belgrade or entered via a 'legitimate' Serbian border, eg: the Hungarian or Croatian borders, then you are OK in the eyes of Serbia, so long as you do not then cancel out your entry stamp by going out through either Macedonia, Montenegro or Albania. This political problem has given rise to what the internationals term 'a stamp run'. A stamp run is a trip that you do specifically to get a Serbian entry stamp. It usually involves going to Skopje and then on to Kumanovo, into Serbia and back into Kosovo via Bujanova in Serbia and across the border into Gjilan.
Getting there and away
By air
Prishtina International Airport is well served by scheduled flights and handles almost two million passengers each year, primarily diaspora and internationals. There are almost daily flights to Istanbul on Turkish Airlines; five to seven (depending on the time of year) on Austrian Airlines to Vienna; almost daily flights to Ljubljana with Adria Airways and starting in June 2017, two flights a week on Wizz Air from London Luton. Croatian Airlines operates flights to Zagreb several times a week. Adria also provides a good connecting route to other destinations such as London or parts of Scandinavia.
Skopje Airport in Macedonia is about 1 hour 40 minutes' drive from Prishtina, and so is the best alternative and offers direct flights – particularly low-cost – to many cities throughout Europe.
By car
You can drive your car into/through Kosovo with no problem and it is very common to see foreign cars in Kosovo. The Green Card insurance is, however, not valid in Kosovo so that foreign registered cars (other than those with Albanian or Macedonian plates – countries with whom Kosovo has an agreement and sometimes Serbian plates) must pay €15 at the border for a 15-day third-party liability insurance policy. Note that if you intend to hire a car in Bulgaria, Bosnia & Herzegovina, Croatia or Montenegro, etc, you need to check that the car-hire company will let you take it to Kosovo.
Warning! Though the situation has improved, it is not advisable to drive a car with Serbian number plates, particularly Belgrade plates, around Kosovo generally, even though you may see such plates in Serbian areas.
By train
It is now possible to get to Kosovo by train, but this is a slow route and trains are infrequent and less reliable than buses. The trains do cross directly from Kraljevo/Raška in the north, ie: from Belgrade to North Mitrovica twice a day and from there you will have to catch a bus or a taxi to the Ibar to continue your journey south, so in many ways it may be much quicker and less of a hassle to get a bus directly from Serbia if you are short on time. The trains also connect into the south of Kosovo from Skopje. There are sleeper trains to/from Athens, Thessaloniki and Skopje. While considerably slower than the bus, the route from Skopje to Kacanik runs through a gorge along the river, is incredibly scenic and so worth the journey if you have plenty of time.
By bus
This is the cheapest way of getting to Kosovo and there are a lot of international buses from as far afield as Sweden, and in particular, plenty from Germany. The number goes up in the summer.
Getting around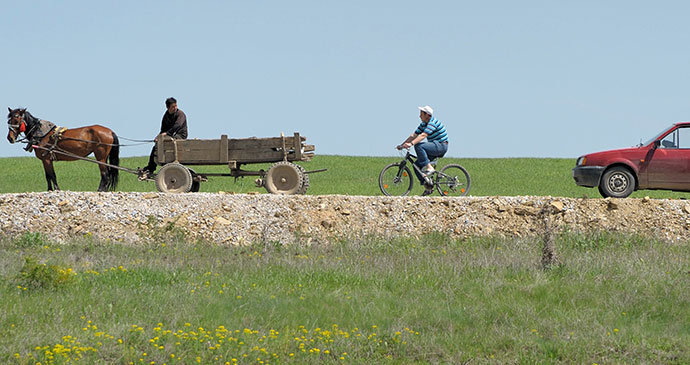 You'll often see locals travelling by horse and cart in the countryside © Ivan S Abrams
By car and rental car
If you do not have your own car, it is possible to rent one in Kosovo. There are several international franchises and also some independent chains. Prices are now dropping, making the exercise more reasonable (they are now from €20 per day for a small car, to €75 for a 4×4). Driving around Kosovo is like driving around much of the Balkans. Be prepared for anything and in particular for reversing the wrong way up a street and for some aggressive overtaking. Roads in Kosovo are of mixed quality. Be prepared for pot-holes or breaks in the asphalt, even on the main roads where construction seems to be never-ending. They come as a standard feature on the side roads. In an effort to humorously highlight the problem, Koha Ditore, a local newspaper, once ran a competition for the biggest pothole in Prishtina that it would name after the city's mayor. There were dozens of entries but the winner was a hole which was more than 50cm deep and several metres long. For now, it's safe to say Kosovo has some of the best highways to drive around in the Balkans with, at the time of writing, a brand-new one to Skopje just about complete.
By taxi
Given the high cost of renting a car, getting around by taxi can be a viable option. Trips within towns typically cost €2–4. For longer trips you can choose either to do the journey on the meter or negotiate a price; the latter is preferable if you wish to stop to take photos.
By bus
Buses in Kosovo are frequent, quite fast, reliable and reasonably priced and they cover most of the country. The only time you will struggle with connections is between Kosovo Serb and Kosovo Albanian areas, eg: buses to Štrpce are not frequent. The buses are heavily used by Kosovars and are a very feasible way of getting around. The drivers are welcoming and patient with foreigners. Even though they themselves may know little English (try German), they will find someone who does, such as another passenger. Generally the bus will also stop on request if your destination is halfway along the route, eg: Mirusha or the Gadime Cave turn-off.
By train
The use of trains within Kosovo is only really a viable option if you wish to go a reasonable distance, eg: Prishtina to Peja, or Prishtina to Skopje, and/or you are lucky enough that the time suits you. Otherwise, even if/when the north–south line restarts (it is currently suspended), trains are generally slow and infrequent. Ticket prices within Kosovo are zone-based and never more than €3.00 – usually more like €0.50. Trains are, nevertheless, warm and comfortable, if not deluxe.
By bicycle
It is possible to cycle around Kosovo but the main roads are not ideal due to a combination of drivers unused to cyclists and pot-holes. Kosovo is, however, ideal for mountain biking on the side roads, or off-road.