Authors' take
Few people think of Kosovo as a tourist destination. To date, most 'tourists' are still people who come to Kosovo as part of the UN mission, diplomats, soldiers or development consultants. Only the lucky few who ventured out of their offices in Prishtina or took a detour on their way to Greece know Kosovo's many secrets and scenic nature. Packed into a relatively small place, Kosovo has breathtakingly beautiful mountain peaks, waterfalls and wildflower meadows, fascinating cultural treasures, Ottoman-era buildings, stone houses, churches, mosques and medieval fresco paintings. There are rivers for fishing, lakes for swimming and fabulous walking and mountain-biking trails.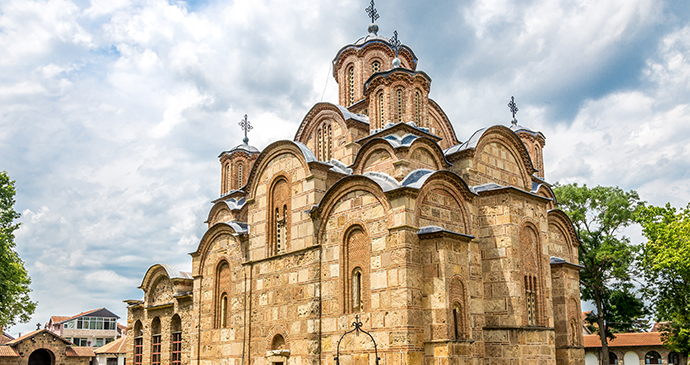 The Serbian Orthodox Monastery in Gračanica © milosk50, Shutterstock
Kosovo is an intriguing place and full of paradoxes and surprises for any first-time visitor. Why is it that landlocked Kosovo has such a Mediterranean flair and vibrant outdoor café culture? By what twist of fate has Kosovo become the place with the best coffee anywhere outside Italy? Don't be surprised to find a deeply entrenched raki-drinking culture in a majority Muslim country.
It will also take you only two days to understand why this country in the heart of Europe has its main streets named after Bill Clinton, celebrates the 4th of July and flies the American flag. The Kosovar majority remain eternally thankful to the US for its role in the 1999 war and its support for Kosovo's independence. European travellers may be pleasantly surprised to find that Kosovo's official currency is the euro without it being a member of the European Union (at least not yet).
The best thing about Kosovo – you will quickly agree – is the people you meet who make travelling and living in the country so special.
The speed of change in recent years has been mind-boggling for those of us experiencing it first-hand. Kosovo was in a shambles only 17 years ago – yet today there are few visible traces of the past conflict. Who would think that Kosovo is one of the safest countries in Europe? Kosovo and its people are sure to surprise you in a good many ways as you set out to discover this unknown corner in the heart of the Balkans.
Owing to its strategic position at the centre of the Balkan Peninsula, Kosovo has always been an important through-road and attractive spoil for its conquerors. Illyrians – the ancestors of modern-day Albanians – settled here long before Romans, Bulgars or Byzantines came to rule this region. The name Kosovo (derived from the Serbian word kos meaning 'blackbird') was first mentioned after the famous Kosovo battle dating back to 1389.
Legends and romanticising epic songs secured it a special place in Serb national identity and Kosovo became an important spiritual centre and seat of the Serbian Orthodox Church. For nearly 500 years Kosovo was an Ottoman province par excellence, enjoying stability and the peaceful coexistence of its different communities and religions. As the Ottoman Empire disintegrated, Kosovo was trapped on the fault lines of competing national claims. The 20th century was marred by wars and destruction, and whereas other parts of Yugoslavia prospered, Kosovo remained poor and underdeveloped.
In June 1999, after 78 days of NATO bombardment and the mass flight of nearly 800,000 refugees, Kosovo passed under direct UN administration. For nine years, its people were part of a unique state-building experiment in the heart of Europe. With well over 100 foreign governments recognising Kosovo's independence since it was declared in 2008, the country is forging a path to full autonomy and a better future for its citizens.
The traces of its complex and rich history make Kosovo a unique travel destination. To this day, towns like Prizren are trilingual, with signs in Albanian, Serbian and Turkish. Women in traditional Terbesh costumes are not an uncommon sight. Western Kosovo is home to the Visoki Dečani Monastery and the Patriarchate in Peć (Peja) – true marvels of medieval Serb Orthodox church building. These Orthodox monasteries form as much part of Kosovo's cultural heritage as does the impressive Fatih Sultan Mehmet Mosque in Prishtina (built years before the conquest of Constantinople), the dervish lodges and traditional town houses in Gjakova, and the traditional Albanian stone kullas (tower houses) in Isniq or Dranoc. This mix of cultures and traditions also lives on in the oven-baked stews (tavas), delicious lamb and pork dishes, stuffed peppers, nettle pies, honey-sweetened desserts and, last but not least, the home-brewed plum or grape raki.
A good place to start is Prishtina, the vibrant young capital. What makes Prishtina special is certainly not its beauty, but the pulse of life that you feel as you walk the streets thronged with young people and order your third macchiato coffee in a street-side café. Prishtina is busy and bubbly, but then there is also quiet and rural Viti and Gjilan, with Tuscanesque rolling hills and villages brightened up by colourful wood-carved doors. Tucked away in the southwesternmost corner, the Dragash Mountains offer a perfect hideaway, wildflower meadows and panoramic views amid fantastic alpine scenery. In winter, you can try your luck on one of the black runs at Brezovica, Kosovo's biggest ski centre, boasting snow from late November to April, or venture west into the Rugova Gorge and rent a little ski chalet up in Bogë. One minute there is a big 4×4 on the road, the next moment you find yourself trailing behind a horse and cart. In one shop you hear a traditional pipe song, another plays the latest Albanian rap tune or turbo-pop.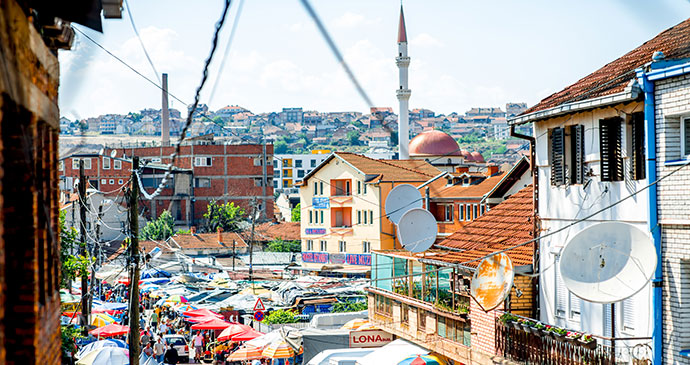 Prishtina is Kosovo's vibrant capital city © RossHelen, Shutterstock
The best thing about Kosovo – you will quickly agree – is the people you meet who make travelling and living in the country so special. The biggest source of pride for a Kosovar family is to host a guest and to offer a warm welcome. Thanks to the thousands of foreigners who lived here as part of the many international diplomatic missions, Kosovars have been exposed to different cultures and English or German is spoken even in the remotest corners. As one backpacker on a tourist website put it, 'the Kosovo border guards seemed almost as excited as me about me entering Kosovo'. You will find the people you meet to be friendly, curious and welcoming. Don't be surprised to be invited into someone's home and offered coffee, tea and most likely a full meal. Just savour the moment and enjoy Kosovo's hospitality!
Authors' story
We did not know each other prior to writing the book although we had a lot in common, including many mutual friends, a fascination with the Balkans, Kosovo and knowledge of the Albanian language. Whilst travelling through the neighbouring countries, we both used the Bradt guides to Macedonia, Bosnia and Albania, but back in Kosovo we had to rely on word of mouth and trial and error in exploring the country's rich culture and nature. This spurred on each of us to coincidentally write to Bradt and lobby for a guide dedicated to Kosovo as we felt that just a chapter at the end of the Serbia guide was not sufficient. Bradt were responsive and have given us the freedom to shape the guide as we saw fit.
For a small place, Kosovo has a complex history and a rich ethnic mix and it is precisely this that made writing the guide so fascinating and at the same time difficult without offending someone. We hope that readers will bear with us if there is something that they disagree with, or which upsets their sensitivities, or if we have made any errors with regard to names or missed something out.
Our goal is simply to enlighten international visitors and Kosovar residents alike by revealing some of the hidden secrets or lesser-known facts about Kosovo's sights and people. We also want to make Kosovo more accessible for the genuine tourists, such as the adventurous backpackers who are increasingly venturing into Kosovo.