Eating and drinking
Accommodation
Eating and drinking
Food
You will not be disappointed by the food in Kosovo. The choice and offerings of restaurants is truly outstanding and service is widely accepted by internationals and even locals visiting from Serbia and Albania to be the best in the region. The Kosovars really do take pride in and seem to enjoy serving you.
You will not be disappointed by the food in Kosovo.
Albanian food is not widely known as a speciality but there are some truly delicious dishes. In particular try the tavë, or oven-pot dishes, which may include meat, tomatoes, aubergine or meat in yoghurt/egg sauce (the last is known as tavë elbasan).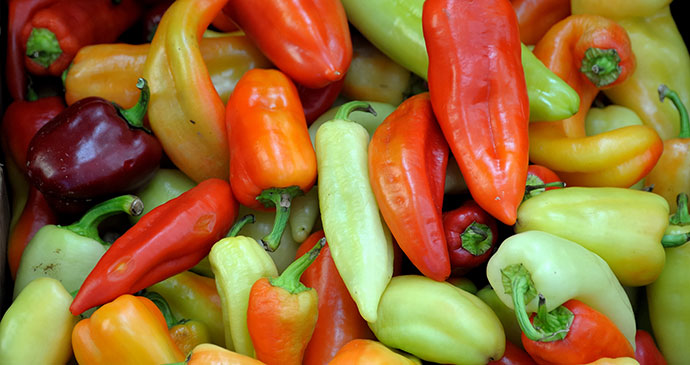 Peppers are very popular in Kosovo © Ivan S Abrams
Meat in Kosovo is generally good but try in particular the lamb (kingji) and veal (viqi) dishes. Veal escalopes are found almost everywhere, as is biftek, which is steak from the shoulder or loin. The kebabs are not usually served on a skewer but are put in a flat bread bap. Pleskavica, a Serbian word also used by Kosovo Albanians, is a larger flatter piece of minced beef which is grilled. Sometimes it is stuffed with cheese. Kosovo is also abundant in trout which are now also bred commercially. In the restaurants you will also find sea fish brought in from Albania.
Albanians and Serbs alike love peppers. Try the stuffed pepper dishes in the restaurants. Come September and the outlying streets and markets fill with vans with large packs of peppers of all colours and the odour of peppers fills the flats as Kosovo goes into industrious pepper-pickling mode for the winter. Autumn is also the best time to try the homemade ajvar, a pepper dip which is bottled for the winter.
In terms of cheeses try the Sharr cheese from Prizren and the Dragash cheeses. These are soft feta-type cheeses from cows and in the case of Dragash, sometimes sheep. The local yoghurt is also good. This is generally much runnier than the Bulgarian or Greek yoghurt, although also very tasty.
As a snack, or rather a meal in itself across the Balkans, burek is popular and most usually served in the morning as a breakfast or mid-morning snack. Burek is a sausage-shaped fried filo pastry filled most commonly with meat or soft white cheese and in some places with spinach. It is commonly served with white, unsweetened drinking yoghurt (ajran) in the pot or in a glass. Another pastry speciality, pita, is effectively a pie (although it can sometimes be sold as a sausage). The pie may contain meat, pumpkin, cabbage or root vegetables and even boiled nettles (hitha in Albanian). Out of all the pastry arrangements, the most typically Albanian is flija. This is traditionally cooked in a large broad covered pan over an open fire and consists of a tart made of pancake layers which are each added every 2 to 3 minutes one by one.
Kosovo is not strong on desserts. The restaurants will commonly serve a tiramisu. Local desserts tend to be extremely sweet, particularly baklava, which is sweet pastry deep fried and covered in syrup and the most commonly served. Baklava, which you may know from Turkey or Bosnia, is eaten at all times of the year but particularly after the Ramadan fast.
Drinks
Raki is a clear spirit made by all ethnic groups from fruit – the most popular being from grapes, pears, plums, or quince – and drunk at all times of the day (except by some devout Muslims) as a morning pick-me-up, aperitif, or after a meal. Slijvovica is the most common Serbian homebrew made from plums and is drunk in the same way as raki.
The most popular Kosovo beer is Peja beer which is available on tap (preferable) or in the bottle. Also popular is Prishtina beer and in 2012 the first craft brewery, Sabaja, arrived in Kosovo.
Coffee is an integral part of Balkan life. Over coffee, deals are done and politics, love and day-to-day life are discussed. In villages and homes you will be served Turkish coffee which is the grainy type (don't gulp it!). You will be asked how strong you want it – mesme means 'medium'. In the towns macchiato (espresso with foamed milk) is common, as is espresso or cappuccino (usually served with a very sweet chocolate sauce squirted on the top). Reflecting the Turkish influence, tea is also widely drunk in the home in Kosovo, more so than in Albania or Serbia and particularly in the Prizren area. The tea is served in Turkish-style small glasses on a silver or metal tray with much ceremony.
Accommodation
Kosovo has plenty of accommodation in terms of hotel and motel beds. Breakfast is generally included in the price of all hotels though with motels this can vary. In the past few years, hostels have been starting to open up though the concept is more or less still reserved to Prishtina, Prizren and Peja. Small bed and breakfasts are also rising in popularity, particularly in the rural areas. As with just about everything in Kosovo, asking around is probably a good idea as with word of mouth you are likely to find a cheaper, informal arrangement.
Camping is not so popular in Kosovo. The only sites are in the Rugova Valley, Brod in Dragash and Prevalac. Camping unofficially for a day or two in areas like Dragash is not likely to cause any major upset so long as you are not obstructing the farmers, damaging crops or scaring cattle.
If you plan to stay somewhere for more than a month then it would be cheaper to rent an apartment than stay in hotels as apartments can be found for €200 a month upwards, even in Prishtina. The costs of a short-term let are naturally higher than a long-term one and you may find the family reluctant to move out their belongings which can intrude on your privacy somewhat. If your budget does not stretch to an apartment and you don't mind the company, you could arrange to stay with a family. Kosovars are keen for the extra income and naturally hospitable, so you will find it easy to make such an arrangement.