Climate
When to visit
Highlights and itineraries
Climate
As along the rest of the Croatian coast, Istria is characterised by warm, dry summers and mild winters. In comparison with the Dalmatian coast, Istrian summers tend to be a couple of degrees cooler, reaching 30–34°C from mid-June to the end of August, when it's very unlikely to rain. Correspondingly, winters are usually a few degrees warmer than on the Dalmatian coast, with the Opatija pocket in particular being especially sheltered.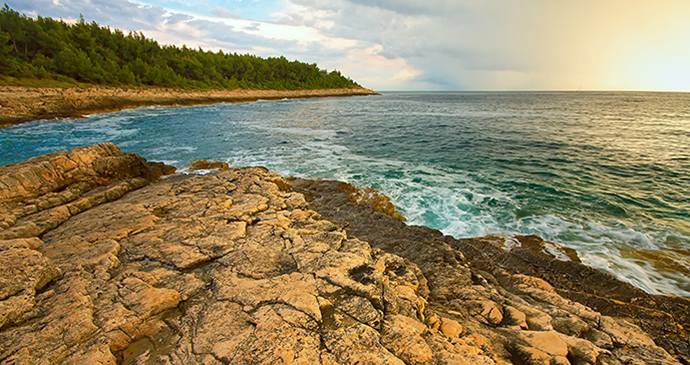 The crystal-clear waters at Rt Kamenjak © Patryk Michalski, Shutterstock
The peninsula is characterised further by three winds in particular. The maestral is the summer breeze blowing from east to west; the jugo brings warm air and rain from the south; and the bura reigns from the northeast bringing cold winds, which can whip up the sea. Although the bura can appear at any time of year, when it arrives characteristically around October, it signals the end of summer.
When to visit

The best times to visit Istria are undoubtedly spring and autumn: it's warm during the day, cool in the evening and the madding crowds of summer are absent. It's sunny almost all year round, and even the winter sun brings warmth. Even in winter, cafés often have outside terraces open for customers to benefit from the sun's rays (and of course for smokers since smoking inside was banned although, in winter, you might just find everybody smokes inside). T-shirt weather – at least during the main part of the day – can start as early as March and go into October. Cyclists wanting to take advantage of the lack of people on the roads combined with beautiful sunny days often come as early as February and as late as November. July and August are hot – usually over 30°C – and very busy with tourists (at least along the coast), but for those with families, this is of course the only time they can take their summer holidays.
Highlights and itineraries
Highlights
Food and wine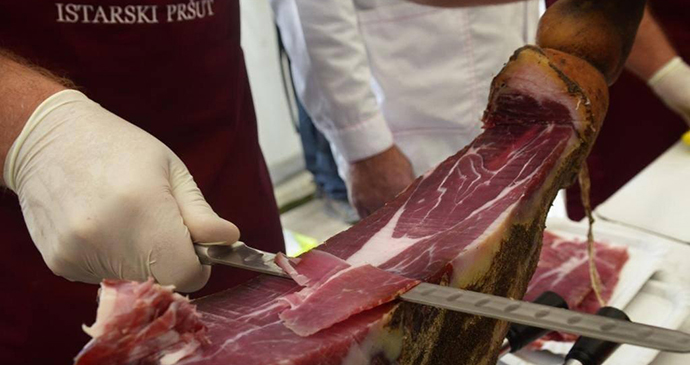 Pršut (dry-cured ham) is a popular delicacy in the region © Central Istrian Tourist Board
Oh, where to start? From superb seafood on the coast to the famed truffle dishes of inland Istria (especially around Buzet and Motovun), excellent local pršut (dry-cured ham) and delicious homemade pasta – it's worth coming to Istria just to eat. Istria also produces some of the best wine in Croatia – in particular its signature white, Malvazija, though the red Teran is also pretty good – and its superb olive oil is winning an increasing number of international accolades.
Cultural and architectural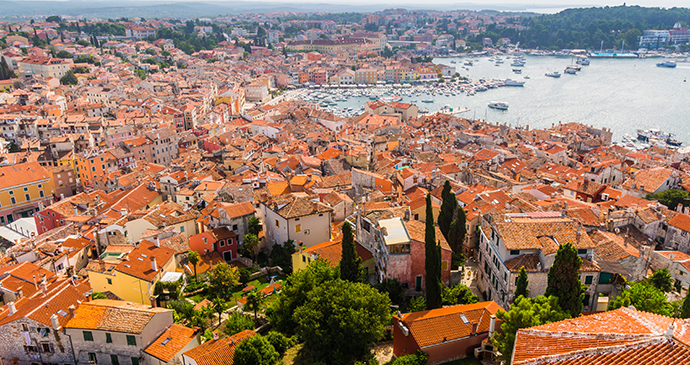 Rovinj and its bay © DaLiu, Shutterstock
For many, Rovinj is one of the highlights of Istria. Its medieval old town – once an island – shows off its Venetian heritage among steep, narrow cobbled streets and the largest replica of Venice's St Mark's campanile. Koper and Piran in Slovenia actually display a grander Venetian style and are well worth a day trip. Equally impressive is Istria's UNESCO World Heritage Site, the 6th-century Euphrasian Basilica and mosaics in Poreč. Pula is home to a magnificent and very well-preserved amphitheatre, and unlike some other towns on the coast remains a vibrant, busy city throughout the year – while the medieval hill towns of the Istrian interior offer a completely different picture of Istria, dotted with churches and little-known frescoes.
Coastline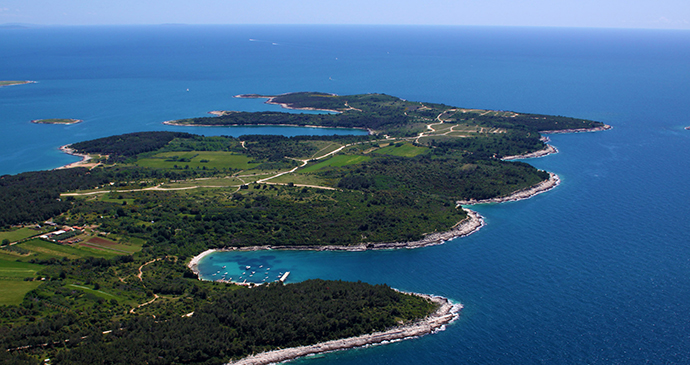 Rt Kamenjak has some wonderful beaches © Igor Karasi, Shutterstock
Whilst Istria has few sandy beaches, it has a lot of coastline for a small place, and almost everyone goes there for its crystal-clear waters. Sometimes wrecks at 20m can be seen from the surface. Some of the best beaches and coastline to enjoy are along the 12km coastal walk from the spa town Opatija beneath the mass of the Učka Mountains to Lovran, and the beaches in Rt Kamenjak coastal reserve.
Inland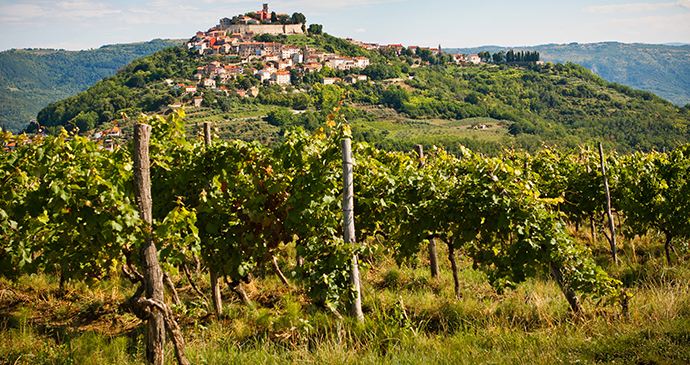 The view through the vineyards, up to Motovun © Vera Kailova, Shutterstock
The hill towns and villages of the Istrian interior – Motovun, Buzet, Draguć, Hum and others – should not be missed, and remain beautifully unspoilt. There are hidden frescoes at Beram, Roč and Hum, and the area around Buzet and the Mirna Valley is renowned for its truffles. In Slovenia don't miss the opportunity to see the phenomenal underground world of stalagmites and stalactites at the Postojna Cave.
Outdoor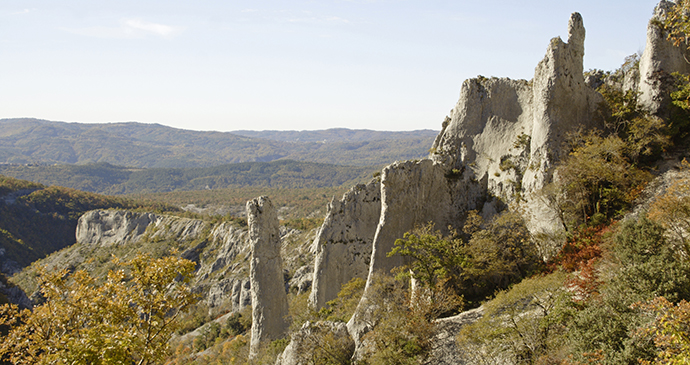 Climbing opportunities are exciting around Vela Draga © mina, Shutterstock
Istria has some wonderful cycling opportunities, with extremely little traffic in spring and autumn for those wanting to roadbike. Offroad tracks, including old Roman roads and the Parenzana are simply delightful, and a good introduction for younger members of the family. There are some great hiking trails on the Učka and Ćićarija mountains as well as elsewhere, and several exceptional climbing areas including Vranjska draga, and paragliding and balloon flights.
Wildlife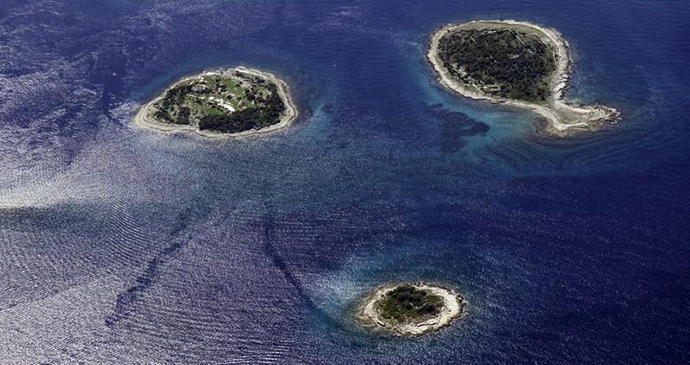 Brijuni's beautiful islands are certainly worth a visit © Istria Tourist Board
The Brijuni Islands are a national park, and the former summer residence of Yugoslavia's former president Tito (complete with safari park), while the Učka Mountains are a natural park. Rt Kamenjak has an astonishing flora including several rare or endemic orchids, as well as numerous butterfly species, and you can often see dolphins off the Istrian coast or even in the Limski kanal. Both Učka and the Ćićarija mountains offer a good chance of seeing wildlife, from deer to raptors. Sečovlje saltpans in Slovenia is a haven for birds (and for ornithologists) and holds the region's only Salt Museum.
Dive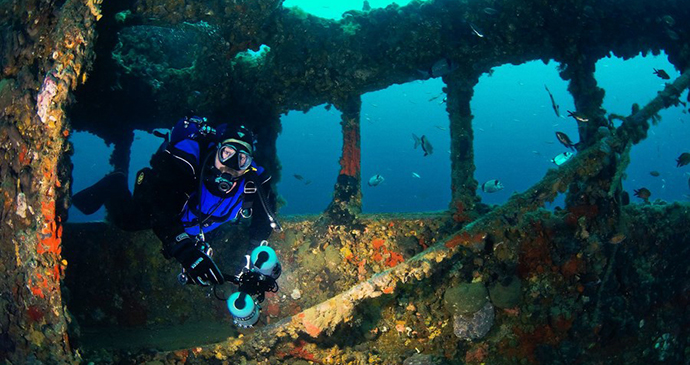 Exploring the wreck of the Baron Gautsch © Filip Višić
Wreck diving is a real highlight of Istria with some wrecks as low as 28m, well within recreational diving capabilities for advanced open-water divers, and some of the larger wrecks at technical diving depths. Moreover, marine life is varied, making this a great place for expanding your diving experience
Suggested itineraries

One or two days
Rovinj, to see this old Venetian-era town – which was once an island – with its replica of Venice's St Mark's campanile, and/or Pula with its extremely well-preserved Roman amphitheatre. If you have your own transport you could even take a quick spin into the Istrian interior for half a day to visit the medieval hill town of Motovun.
One week
Rovinj, Pula, Poreč, Motovun and Buzet, plus a visit to one of the nature reserves or national/nature parks, such as the Brijuni Islands (Tito's former summer residence) or Rt Kamenjak, and finally maybe a hike up to Vojak on Mount Učka if you're not too busy sunbathing and swimming on the local beach. Make a trip over the border to Piran on the Slovenian coast. Take a boat trip to one of the islands, or to the Limski kanal, or to see Rovinj by night.
Two weeks
As above, plus a longer trip to the Slovenian coast, especially Piran, along with Postojna and Škocjan Caves and/or Lipica Stud Farm; more time can be spent in central Istria to discover the best of Istria's vineyards, and bike the Parenzana old railway line. Discover or go scuba diving at one of the many dive centres if you have Istria's wrecks high on your list of things to do; or indulge in some of the best spas in Europe – eg: those at Lone Hotel in Rovinj or Kempinski Palace in Portorož, or Hotel Kaštel in Motovun. Take in some of the concerts and festivals of which there will be many over the summer: check online and at the local tourist office as soon as you arrive.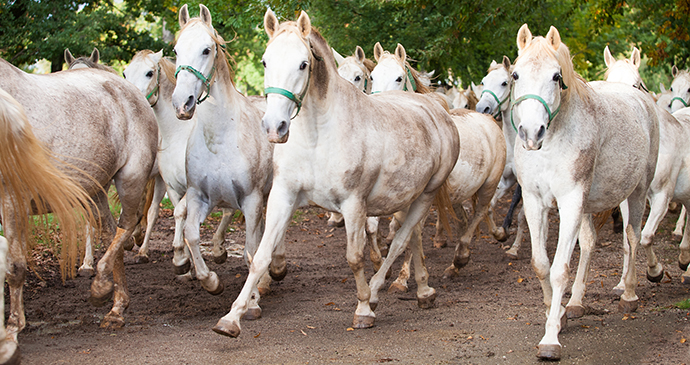 The Lipica horses can be seen running to their paddock © Slovenian Tourist Board
Three weeks to a month
If you've got this much time to spend in Istria (lucky you), then you're bound to want to make the most of the sea, and probably to travel a little further afield along the Dalmatian coast and into the rest of Croatia, and perhaps to take a day trip to Venice. The Bradt guide to Croatia offers more for further afield, and for hikers there are two pertinent guides, Islands of Croatia and Walking in Croatia by Rudolf Abraham. All the main towns on the west coast have ferries to Venice during the summer (see individual towns for more information) and every ferry company provides plenty of information about Venice on the 2½-hour sailing there.