Eating and drinking
Accommodation

Eating and drinking
Food
Breakfast for many people in Istria is a fairly light affair and might just include fruit and yoghurt, and perhaps bread, cheese and ham – though hotels usually offer a more substantial buffet-style continental or cooked breakfast. Otherwise, buying a pastry from a bakery and sitting outside a café to eat it while you drink your coffee is quite acceptable (providing the café doesn't serve food).
For most people, lunch is the main meal of the day, often starting with soup of some kind or another (most traditionally, maneštra), followed by meat or fish, with homemade pasta possibly being served in between this and the soup, or replacing the main course. Dinner is again lighter, at least when eating at home.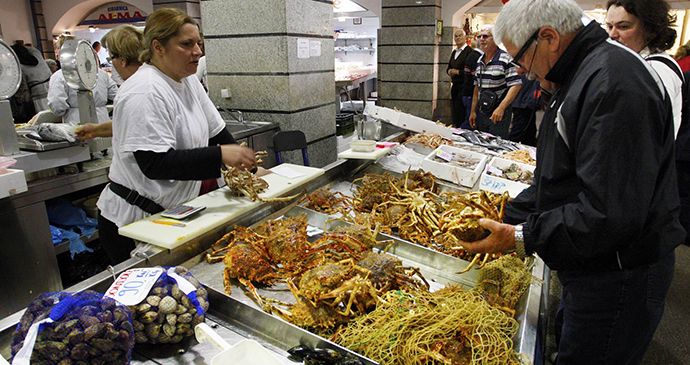 Pula's fish market is one of the many places in Istria where you can buy fresh fish and seafood © Pula Tourist Board
Seafood is very popular, especially along the coast, with freshly caught gilthead bream and sea bass jostling for position on the menu with shellfish from the Limski kanal, lobster, mackerel, octopus, either roasted, or served as a cold salad made with potato, olive oil, garlic and parsley), 'black' risotto with cuttlefish, and fish stew. Grilled fish is traditionally served with boiled potatoes and Swiss chard (blitva), drizzled with olive oil, garlic and parsley.
Meat is as popular in Istria as it is elsewhere in Croatia, from the proverbial roštilj (mixed grill) to tender beef carpaccio. The boškarin or native Istrian ox is considered a great delicacy. Game is often found on the menu in Istria, either venison or wild boar, the latter being fairly widespread in the Ćićarija Mountains, where it is hunted. Fuži (a traditional type of Istrian pasta) with a sauce of wild game is fantastically rich and highly recommended. Istria is also renowned for its excellent pršut (dry-cured ham, similar to Italian prosciutto), especially that produced around the village of Tinjan.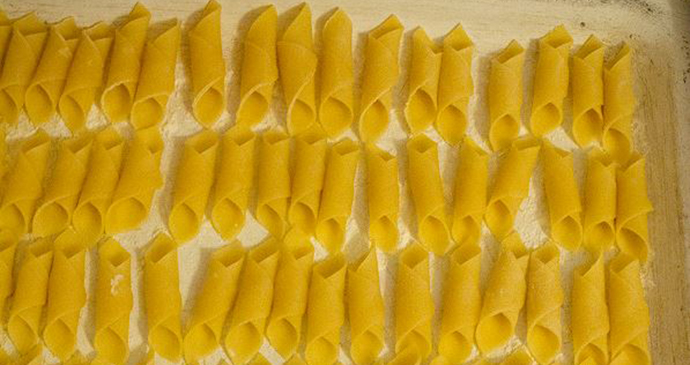 Fuži is a type of pasta traditional to Istria © Looking-Glass Creatures
Vegetarians may find Istria slightly easier to travel in than some other parts of Croatia, with plenty of pasta and truffle dishes to choose from, and salads – although here, as elsewhere in Croatia, fish, sausages or even turkey might not be considered 'meat' by some. Fruit and vegetables are plentiful, from wild asparagus (in season during spring) to corn, figs, chestnuts and cherries.
Drinks
Istria produces some exceptionally good wine, some of which might be counted among the best in Croatia. Istria's signature grape is Malvazija (though it is not unique to Istria, with other varieties growing elsewhere in the Mediterranean), a lovely crisp white with hints of acacia, while its best-known red is the autochthonous Teran – though Chardonnay, Cabernet Sauvignon, Merlot and several other varieties are also produced, including Refošk (Italian Refosco, as grown in the Veneto). Many vineyards offer tastings and degustations, and can also sell wine by the litre if you turn up with your own empty plastic bottles.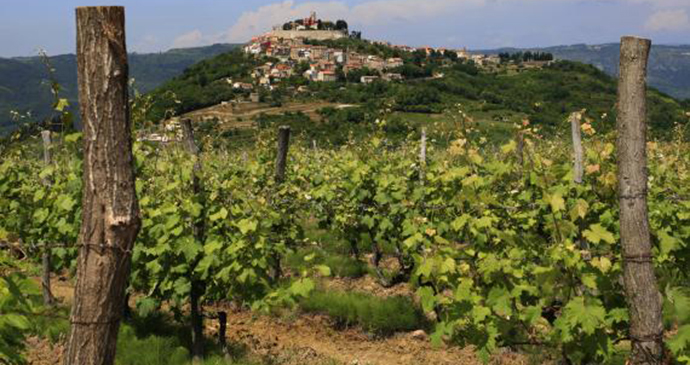 Vineyards beneath Motovun © Istria Tourist Board
A traditional Istrian drink is supa, red wine (usually Teran) heated with olive oil, sugar and pepper, and served in a bukaleta (traditional pottery jug) with slices of toasted bread on top. Istria's local brand of beer is Favorit, which is brewed on the outskirts of Buzet. Croatian beers are cheap, whether on tap or bottled, though imported beers cost more. Rakija, a potent local spirit, comes in several guises including loza (made with grapes, and similar to grappa), šljivovica (made with plums) and the deceptively easy-to-drink medovača (rakija with a smidgen of honey to take the edge off).
The coffee in Istria is almost always excellent, and you'll never be far away from a café with tables spilling out on to the street, or a pleasant terrace, perhaps overlooking the sea or in the shade of ancient chestnut trees.
Accommodation
Not surprisingly for a region which hosts around 3.8 million tourists per year and over a third of all overseas visitors to Croatia, there is certainly no shortage of places to stay in Istria. These range from humble bed and breakfasts to luxurious five-star hotels, and from small boutique establishments to earthy farmhouse accommodation, and campsites beside the clear blue waters of the Adriatic.
Hotels
Istria offers a range of hotels to suit most tastes and budgets, including new headliners such as the exceptionally swish Hotel Lone near Rovinj, as well as older though still charming Secessionist buildings in Opatija and Rijeka, oozing Austro-Hungarian opulence. On many parts of the coast, the larger hotels and resorts are dominated by local chains – Maistra in Rovinj, Arena in Pula, for example.
If it's something more along the lines of a resort you're after, the large complexes at Rabac, Medulin and elsewhere will more than suffice. Many (though still not all) of the large and less inspiring hotel complexes built during the 1970s are now receiving a much-needed facelift, while an increasing number of small, boutique or design hotels such as San Rocco in Brtonigla, Hotel Navis in Volosko or Villa Tuttorotto in Rovinj can be counted among the nicest places you could hope to stay anywhere in Croatia.
Private accomodation
Private accommodation – either rooms or apartments – is the most common form of accommodation in Croatia. It is popular with Croatians (who typically book an apartment na moru – by the sea – for one or two weeks during the summer) as well as foreign visitors, and is usually quite a bit cheaper than hotels.
Agritourism
Recent years have witnessed a notable and very welcome increase in agritourism or village tourism in Istria. Staying in a traditional old stone home, you will often get to see a much more genuine slice of Istrian life than in a hotel or resort on the coast, and enjoy home-cooked food (often including homemade wine and cheese, and home-cured pršut).
Camping
Camping is enormously popular in Croatia, and Istria is no exception. Campsites are usually large – and sometimes, huge – and very well serviced, with electricity, showers, kitchens, barbecue areas and all manner of other conveniences, and cater either to motorhomes and caravans or tents, or both. They can get extremely busy in the summer so book in advance. Many of those by the coast have their own beaches. Wild camping, on the beach or elsewhere, is prohibited in Croatia.