February
Rijeka Carnival
Croatia's biggest and best Carnival parade erupts on the streets of Rijeka on the last Sunday before Lent (either February or March), and should be considered unmissable if you're anywhere near Rijeka at the time.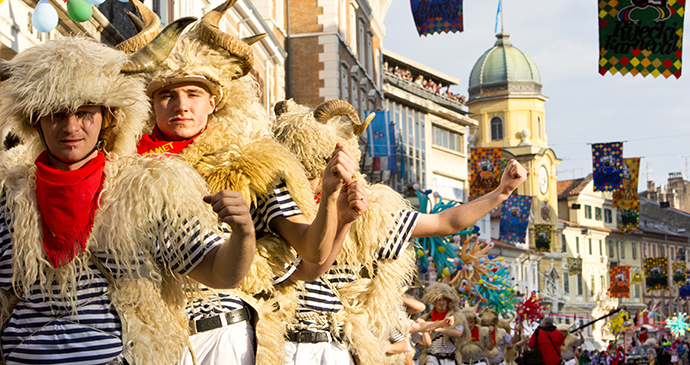 Rijeka's carnival brings together some impressive traditional outfits © Rijeka Carnival
April
Asparagus Festival
One of several prominent foodie festivals in the pretty coastal town of Lovran is celebrates the wild asparagus season, with all manner of asparaus-filled dishes on offer, in mid April.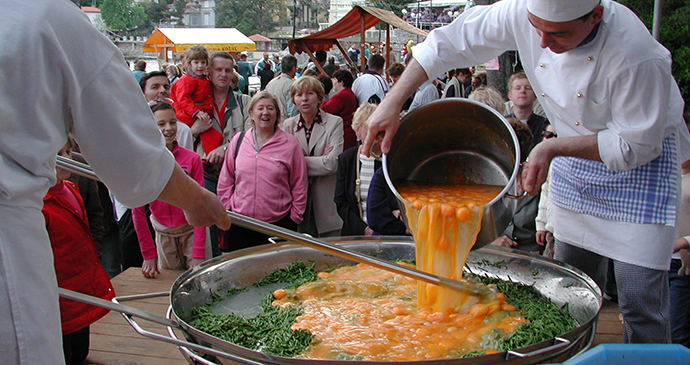 A giant wild asparagus omelette is just one of the highlight's of the festival in Lovran © Opatija riviera Photonet
June
Trad-in-ethno
Traditional and folk musicians from all over Croatia and beyond arrive in Pazin during June, with performances in the castle and the streets of the Istrian capital.
July
Motovun Film Festival
One of Croatia's best film festivals takes place in the small Istrian hill town of Motovun, running for 5 days and showcasing recent low budget films and World Cinema.
August
Trka na prstenac
Less well-known than the Alka tournament in Sinj, the annual Tilting of the Ring (Trka na prstenac) in Barban sees horsemen charging about and competing to spear a small metal ring.
September
Subotina
Held in the hill town of Buzet on the second weekend in September, the Subotina is a colourful festival with locals in period costume and stalls selling all sorts of goodies, and is preceded by the preparation of a giant truffle omelette to celebrate the opening of the truffle season.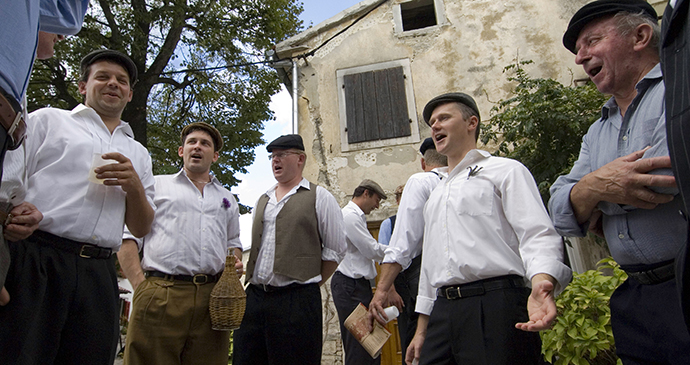 Traditional singers at Buzet's Subotina festival © Istra Photonet
October
Marunada
Lovran's Chestnut Festival (Marunada) is a great opportunity to indulge in limitless cakes, pastries and other dishes featuring the chestnut among their ingredients.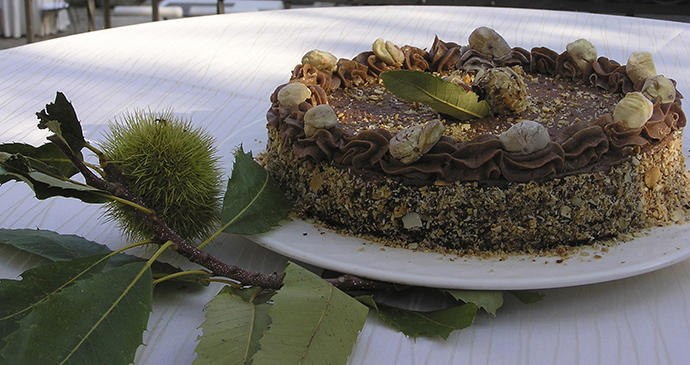 Cakes are just one of the ways that chestnuts are consumed in Lovran during October © Opatija riviera Photonet
November
Weekend of truffles
The region's preeminent truffle-related event takes place in Buzet on the first weekend in November.
December
Christmas markets
Of the many Christmas markets throughout Istria's towns, one of the best is in Sv Lovreč, near Poreč.