Climate
When to visit
Highlights
Climate
Three climate systems collide in Hungary, with cold Siberian influences meeting the hot weather cycles from the Mediterranean and mixing with more temperate weather from the Atlantic. With protection from surrounding mountains, the result is a temperate continental climate, with significant, distinct and quickly changing seasonal variations. Winter (Dec–Feb) is icy cold, with temperatures often dropping below freezing and some snowfall possible. Small streams and lakes – even Balaton – can freeze over. Spring arrives and the temperatures begin to perk up properly in April, although showers are also common. You should expect ten daily hours of sunshine during the summer months (Jun–Aug), which are at least warm and can be very hot – the August average is 22°C, but temperatures often break the 30°C
barrier. As in other countries in continental Europe, it is also noticeable that temperatures do not peak at midday, but appear to continue rising well into the afternoon, and humidity can be high. Autumn can bring a warm and dry Indian summer, described in Hungarian as 'old women's summer'. The country's moderate rainfall, averaging 600mm per year, falls principally in spring and autumn. March and November are the wettest months, and are neither warm nor bitingly cold. The most extreme weather patterns are found on the Great Plain, where hot, dry summers are followed by bitterly cold and windy winters. Rainfall is highest in the country's southwestern hills. Although average monthly temperatures generally vary in a range of only three or four degrees between such places as Budapest, Miskolc to the north and Szeged to the south, if you're a real heat-seeker you should head for Gyula in the Southern Great Plain; just 4km from the Romanian border, it is Hungary's hottest place and boasts over 2,000 hours of sunshine each year.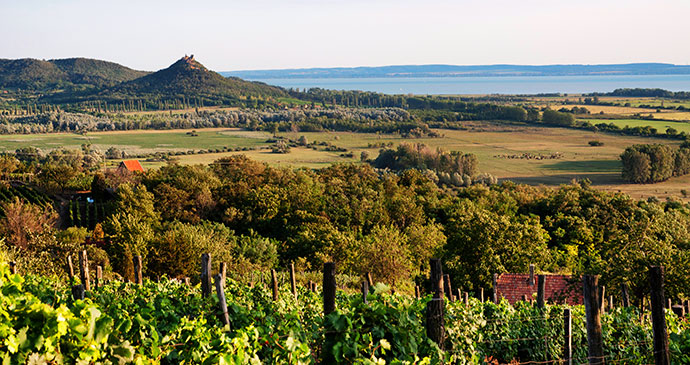 Hungary is a destination that can be visited all year round © pgaborphotos, Shutterstock
When to visit
Hungary has somewhere offering something all year round, although in winter it is difficult to look beyond the biggest cities or the ski slopes of the Mátra Hills (which are, in fairness, rather feeble by comparison with alpine resorts elsewhere). The cold settles in from the end of October until the middle of March, and bites in December and January when the sun pushes off early at 16.00. However, don't discount the winter period entirely for it's a frosty heart that turns from the romance of Budapest with snow under foot and Christmas markets selling piping mulled wine. Just bring your scarf and gloves. Come in spring or autumn if you want to avoid traipsing in the wake of beetroot-red gaggles of tourists, and to enjoy cultural festivals in Budapest and other towns and cities. These are the seasons to watch nature by, when the climate is warm enough for strolling (although it can be wet between April and mid May and in November) and the play of light beautiful. Autumn is when the grape is harvested and when countless cranes fill the skies at Hortobágy. Furthermore, hotels have not yet hiked their prices for the peak season. That of course comes in summer, which is long and hot (with temperatures hitting up to 32°C). Landlocked they may be, but Magyars adore their water, and you can choose from thousands of outdoor lido-style bathing complexes and swimming areas (strands). Locals traditionally ship out of Budapest and other large cities in the sticky months of July and August, many heading to Lake Balaton (whose southern shore in particular heaves with bodies).
Highlights
Diversity and accessibility come together in Hungary; there's something here for everyone and it's never far away. A highlights list is something of a pick-and-mix, as arbitrary as it is subjective. It also can't allow for that riverside goulash on a canoe trip down the Tisza, that peek into courtyard gardens from a church tower or that winter soak in a thermal bath with the snow falling on the water. Treat the following with caution – and please drop us a line to tell us about the particular places and moments that made your trip special.
Most first steps beyond the capital are to the towns of the Danube Bend. The river view here is as good as any in Europe, and the favourable light has traditionally attracted artistic types to Szentendre in particular. Further up is Visegrád and its castle, and the one-time royal capital of Esztergom. For Baroque beauty and fewer crowds, Vác should be your target on the outside of the bend. The region has hiking trails in the Pilis, Visegrád and Börzsöny hills, while the orchids at Ócsa and the butterflies at Fót are wildlife treats known to few. The Northern Uplands to the northeast of the capital have the greatest concentration of high ground. Hungary's tallest peak lies in the Mátra Hills, which are dotted with resorts in which to base yourself for local treks. Hollóko preserves Palóc peasant houses and traditions, and is a UNESCO World Heritage Site, while there are fossilised trees and animal prints at Ipolytarnóc. Eger is renowned as one of the country's prettiest towns and has its own valley crammed with wine cellars. Take a narrow-gauge railway from Szilvásvárad into the Szalajka Valley, with its waterfalls and trout ponds, and explore the stalactite caves at the UNESCO World Heritage Site of Aggtelek.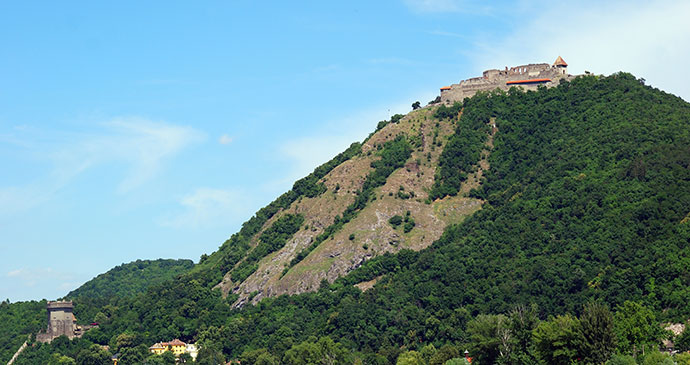 Visegrád Castle was built in the 13th century © Attilla JANDI, Shutterstock
It's in Tokaj you'll find what Louis XIV called 'the king of wines, the wine of kings'. The Great Plain covering the bulk of the country's eastern side is the place of the 'puszta', the grasslands where outlaws and herders roamed in centuries past. Equestrianism is strongest in this region, both in the form of dare-devil horse shows and riding tours and schools. Hortobágy National Park is the biggest in Hungary, and is particularly popular with twitchers drawn by over a million migratory waterbirds and raptors. The spectacular autumn arrival of 100,000 cranes is a sight that will impress even the staunchest of urbanites. Lake Tisza is another wildlife hotspot, harbouring 150 nesting bird species.
Heading right into the northeastern corner you'll reach the most isolated places, many of which retain strong rural traditions; be sure to pop into Szatmárcseke's cemetery with its wooden boat-shaped grave markers. Kalocsa is the capital of paprika production, while it's salami in Szeged, a city that also shines a cultural light in the southern part of the plain. Ópusztaszer is where the Magyar chieftains are said to have gathered in the aftermath of conquest, and the memorial park contains a quite breathtaking cyclorama.
Transdanubia lies to the west of the Danube, and was the easternmost frontier of the Roman empire. Pécs contains early-Christian tombs from that period, as well as rare surviving Ottoman architecture from 150 years of occupation. Villány and Villánykövesd are tiny villages lined from top to toe with wine cellars. The Gemenc Forest is Hungary's broadest expanse of flood plain, which you can explore on a narrow-gauge train or in a boat with a guide. Mohács occupies a dark place in the nation's heart for the Turkish victory here in 1526 broke the back of Hungarian resistance. Today its citizens don hairy costumes and scary masks to celebrate Shrove Tuesday.
Dunaújváros is notable for its surviving Socialist-Realist monuments, so many of which were torn down elsewhere after the fall of communism. Veszprém and Székesfehérvár were early royal centres, the latter the scene for coronations and burials for 500 years. Don't miss the 'Rococo Sistine Chapel' – a masterclass in painting at the Sümeg parish church. There are further outstanding ecclesiastical trappings to be sniffed out – the painting that shed bloody tears in Gyor Cathedral, the gorgeous 13th-century Romanesque abbey at Ják, and the Pannonhalma Monastery (yet another UNESCO World Heritage Site) looming at the edge of the Kisalföld. The medieval squares of Sopron and Koszeg are as lovely as they come, while the high-blown Esterházy Palace at Fertod and the restrained Széchenyi Mansion at Nagycenk are as different in style as they are close in kilometres.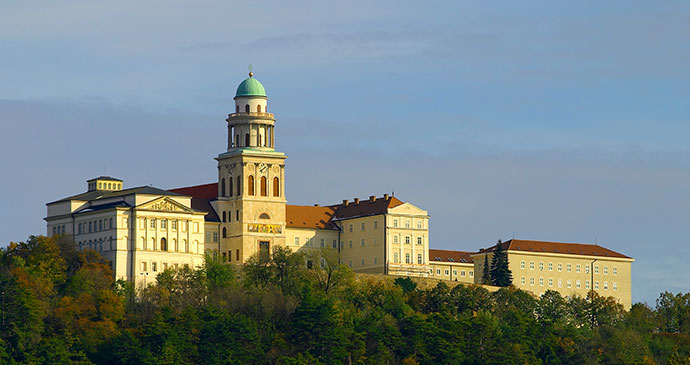 Pannonhalma Abbey is a UNESCO World Heritage Site © Zoltan Kakuszi, Shutterstock
Lake Balaton, the biggest lake in central Europe, is where Magyars come to play – to sunbathe, paddle and windsurf. Its southern shore is more developed, studded with brash resorts like Siófok with its bars and nightclubs. The reeds and deeper water on the other side offer more serene pleasures. Kis-Balaton at the western tip is another bird-watching haunt, and also has a bison reserve. Near by, the university town of Keszthely has a Neo-Baroque Palace with a fountain that radiates changing coloured lights after dark, and Hévíz holds the second-largest thermal lake in the world. Set back a little from the shore, Tapolca has an 18th-century watermill and a narrow cave lake that you can boat along. The Tihany peninsula is a lovely tongue of land licking into the lake with an abbey church and some interesting geology. You can ride a jeep taxi up to the vineyards above Badacsony and enjoy some fabulous views while sipping your wine.