Getting there and away
Getting around
Visas
European Union (EU) nationals, including those from Britain, may visit Hungary as indefinite tourists providing they have valid passports; visitors from France, Germany, Italy and Spain require only a national ID card. EU nationals need a European Economic Area resident-citizen permit if staying longer than three months.
Apply at the local regional agency of the Hungarian Immigration and Nationality Office before the last two weeks of your stay. Tourists from all other European countries (excluding Albania, Turkey, Macedonia and Bosnia and Herzegovina), the USA, Canada, Australia and New Zealand can visit without a visa for up to 90 days.
Travellers wishing to exceed a 90-day stay should apply for a visa from their country's Hungarian consulate and allow several weeks for it to be processed. More information is available on the website of the Hungarian Immigration and Nationality Office.
Getting there and away
By air
As with air travel to most European destinations, ticket prices to Hungary are at their highest during the summer period (Jun–Aug), and at Christmas and New Year. Costs may also rise during city festivals, and especially during the Hungarian Grand Prix.
The cheapest season is winter (Nov–Mar). Shop around for cut-price flights and last-minute bargains on the internet (try www.expedia.com, www.travelocity.com, www.lastminute.com and www.cheapflights.co.uk). Budapest's Ferihegy International Airport is currently the only entry point for travellers from most countries.
For a short time, Ryanair was offering flights from the UK to a small airport – formerly a Soviet airbase – 15km from Keszthely at Lake Balaton. Those flights have now ceased (with no current plans to revive them), although Lufthansa is running services from Germany.
By train
Unless you're planning to make the train 'a feature' of your trip – perhaps by booking with a specialist tour operator – travelling from the UK to Hungary by train is only worth the time and effort if you're planning a round-Europe trip, would like to stop off along the way, or are afraid of flying. Flights with budget airlines are generally considerably cheaper than return rail tickets.
The journey from London takes 22 hours (including the three-hour journey on Eurostar), and you can travel via Cologne and Munich, Frankfurt and Nürenberg or Paris and Vienna. Tickets are usually valid for around three months, allowing you to get off to explore along the way (although you can't depart from your booked route).
For information on crossing the Channel from London, contact Eurostar (08705 186186; www.eurostar.com). Rail tickets to Budapest can be booked through the Rail Europe Travel Centre (08448 484064; www.raileurope.com), who can also help to plan your trip. Alternatively, you can contact Trains Europe (0871 700 7722; www.trainseurope.co.uk), a leading supplier of European rail tickets (including, they claim, tickets Rail Europe can't provide) that can also offer advice on itineraries and routes. 
By car
The overland drive from the UK to Budapest would certainly make an epic of a road movie – all 1,684km (1,047 miles) of it – but there's a certain romanticism and some wonderful scenery. Once on mainland Europe the easiest route to Budapest is via Ostend, Belgium, Cologne, Frankfurt and Vienna.
On a good day the journey should take around 17 hours but, obviously, this doesn't take into account food (and ablution) stops, sleep breaks, traffic problems, border queues, etc. See www.michelin.com for a detailed route planner. It's important to keep to hand your driving licence, vehicle insurance and registration documents (as well as your passport), and to display your country-identification letter on your vehicle.
It is vital to take out adequate breakdown cover in case the unthinkable happens. The AA (0800 085 7253; www.theaa.com) operates a European Breakdown Cover policy that will protect you on your trip. Finally, be aware that tolls and high fuel prices in mainland Europe can considerably inflate your anticipated expenses.
Getting around
Public transport within Hungary is efficient, reliable and cheap; most villages and towns are accessible by either train or bus (although certain very remote areas – such as the extreme northeast – are most readily navigated by car). Many settlements can be explored by foot but public transport within larger towns is also excellent.
Buses, trolleybuses and trams run throughout the day until around 23.00; tickets can be purchased from newsagents, street stands and some hotels, and should be stamped in the punching machines aboard the vehicles. There are no scheduled internal flights.
Note that EU members over the age of 65 can travel free on public transport anywhere in Hungary – just show your passport. (You'll need to pay a very small reservation fee when buying tickets for express trains, which have to be booked in advance.)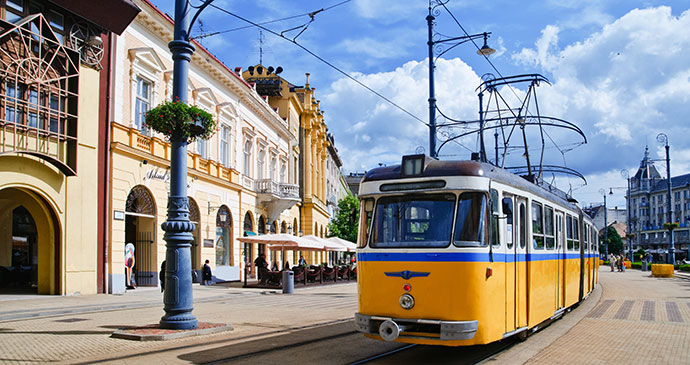 By train
Trains operated by the Hungarian state railway company MÁV (Magyar Államvasutak) certainly can't be described as modern, but they are comfortable enough. There are first- and second-class carriages, and often a buffet car; you must buy a separate ticket for your bike (costing an additional 25%), and place it in the front or back carriage (if there isn't a specified area set aside for cycles).
Budapest is the central hub for all the major rail routes that link the main cities and towns, and in some cases it is quicker to travel via the capital – even if it adds distance to the journey – than taking secondary branch lines where services are slower. InterCity trains (IC) are the quickest services, offering direct routes that stop only at major towns and cities.
The InterCity Express (EX) also only halts at main settlements, but doesn't get up the same speed on the way. The 'fast trains' (sebesvonat and gyorsvonat) cost around 10% less than Express trains, and stop more frequently. Avoid the 'slow trains' (személyvonat) unless you only have a short distance to go – they don't miss a station, calling in at even the piddliest little places, and the fares are no cheaper than for the fast trains.
By bus
Buses reach the nooks and crannies that trains cannot, and can be a quicker alternative to the railway branch lines (although they are a touch pricier than 2nd-class train fares); they are often the only viable option in remoter regions of the Great Plain and Southern Transdanubia.
They are generally comfortable, with adequate legroom, and on long journeys the driver will stop every few hours to allow passengers to stretch their legs. In towns and cities, there are usually separate stations for local and inter-city services. The timetables posted in the bus stations are inevitably confusing. Volánbusz operates most of the domestic buses to and from Budapest as well as the majority of the regional lines (see www.volanbusz.hu for up-to-date timetables).
By car
Hungary is in some ways a walk in the park when you can drive in a car; the country's furthest reaches are within five or six hours of Budapest. The government has recently spent considerably on improving major roads and extending motorways. It's not all dreamy, though.
Beyond the main routes, singlelane carriages can prove frustrating when stuck behind a choking Trabant held together with sticking tape and, at the other end of the spectrum, impatient boy racers can be a pain in the rear bumper. Hungarians tend to treat blind bends as overtaking opportunities too, and this can seem hairy at times.
If you are involved in an accident, report to the police immediately before contacting Hungária Biztosító (VII Budapest, kiraly u. 59/b;1 237 2372) – part of the Allianz group – a company that helps foreigners with insurance claims. Most petrol stations accept credit cards and sell unleaded fuel, and some are open 24 hours. There are often pump attendants on hand, and it's polite practice to give them a small tip.