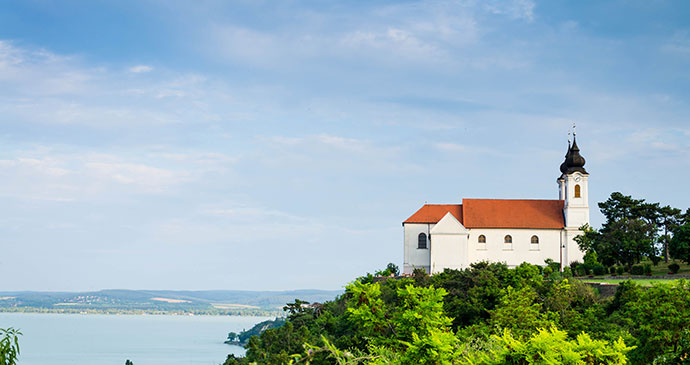 Tihany Abbey was constructed in the 18th century by local, unskilled craftsmen © Klagyivik Viktor, Shutterstock
Authors' take
It has been said that Hungary 'grows on you and seems to squirt a divine soda water into your blood'. During our first encounter with Budapest we would have gladly swapped the squirt for a healthy splash of brandy. Nerves needed soothing in the back of an airport taxi driven by a man resolute in his commitment to overtaking on blind corners; stomachs needed settling after plates of cockerels' testicles unwittingly ordered from an impenetrable menu; tempers needed calming in the face of an ear-picking manager denying all knowledge of our hotel booking. But romantics know that love can blossom from unpromising first meetings. In the days that followed, the capital offered up its rumbling trams, its faded mansions and its walls pocked with conflict's bullet holes. Yes, we had that brandy – not in trembling glasses but in those raised to a city with bite, elegance and romance.
Budapest's charms are no longer a secret. However, if our hearts were caught there the grip only tightened as we ventured beyond. We discovered a country with the diversity both to indulge established passions and spark new ones. There was wine, plenty of it, in Eger's Valley of the Beautiful Woman. And in the villages of the Tokaj region. And in Szekszárd and Villány. There were lush walking trails in the Northern Uplands, creamy-orange stalactites in Aggtelek and spring-time storms that flashed and crashed above the hilltops. The Great Plain came thick with legends of derring-do, with hairy pigs and 'horny' sheep, and with modernday cowboys cracking their whips and galloping astride five horses at once. Pécs proudly showed off its Ottoman and Roman legacy, and elsewhere we found Transdanubian forts and thatched dwellings and the prettiest medieval towns you could wish to see. When we fancied a dip, we headed to central Europe's largest lake for windsurfing and wakeboarding, and further bouts of tasting among the vineyards.
Of course, more recently we've returned wearing researchers' hats, and with an unhealthy interest in opening hours and walk-in hotel rates. But, whatever the purpose, we love going back. Travel in Hungary is a varied, rich, exhilarating experience, and one of which we'll never tire.
Authors' story
Writing a guidebook is like eating an elephant – something best approached one piece at a time. As Jo and I slumped down in our Budapest hotel room on the opening night of our trip, the elephant in the corner seemed to loom uncomfortably large… Where the heck should we start? What had we let ourselves in for? We'd taken sabbaticals from work to do the necessary travel; this was the first guidebook either of us had written from scratch, we didn't know anybody in Hungary, and we spoke no Hungarian. Fortunately, our appetite grew as the first-night flutters settled.
There were few corners of Hungary that escaped our scrutiny over the following five months – and few locals who escaped our (frequently mimed) questions. We travelled high and low, from palaces and coronation churches to museums that focused on tarmac and marzipan. Our feet grew tough, our hair grew long and our suitcases groaned under the weight of maps, brochures and handwritten notes. Over the months we became familiar with – and terribly fond of – the ways of Hungary and its people, and we hope this book does them justice. It was no picnic, eating that elephant, but we're awfully glad we did so.