Eating and drinking
Accommodation
Eating and drinking
Food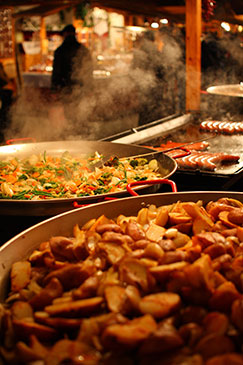 Hungarian cuisine (Magyar konyha) has been influenced by the kitchens of Serbia, France and Turkey; the Renaissance court of King Mátyás introduced Italian ingredients like garlic, onion and dried pasta; the Germans and Austrians muscled in during the Austro-Hungarian period with their cream-filled desserts, sauerkraut and dumplings. All these tastes add nuances to a no-nonsense, homely tradition of peasant cookery.
Pork became a staple of the Hungarian diet after the Turkish invasion, when the Muslim occupiers left pigs wholly to the natives. Sour cream is handsomely applied to soups and sauces, as well as dishes of meat, cabbage and sweet pasta. Vegetable accompaniments are pickled or from the freezer, and salads plate-edge afterthoughts. The vegetarian diner may feel put upon in traditional restaurants, where the choice is often restricted to fruit soups and cheese or mushrooms in breadcrumbs. Cumin, caraway, black pepper and marjoram are frequently used for seasoning, but when you think Hungary it's red (piros) paprika that sets the tastebuds tingling. Probably introduced from Spain in the 16th century (although not widely used until the 19th), it imparts vivid culinary colour, and ranges in taste from sweet and fruity (édes) to fiery (eros), the latter proffering a kick like a hussar's horse. And woe betide he who gets between a Magyar and a piece of fresh bread (kenyér); it is regarded as the greatest of feasts.
(Photo: Sausages on the grill at the Budapest Christmas Market © bramble100, Shutterstock)
While many busy Hungarians may just grab a roll on the run, if they greet the day properly then it is early and with a breakfast (reggeli) of open sandwiches. Salami (szalámi) or dried, chorizo-like sausage (száraz kolbász), ham, cheese, yellow pepper and tomato are eaten with white bread. The weekend may see omelettes on the table, while at Easter there is gammon-like ham with boiled eggs and horseradish. The reviving morning brew is hot (often black) coffee or tea with lemon (not milk).
Lunch is the main event, and comprises two courses. The first is likely to be soup (leves). Freshwater lakes like Balaton provide the specimens for fish soup (halászlé) – a customary dish on Christmas Eve. Chicken soup (tyúk húsleves) is packed with vegetables and light pasta (similar to Italian vermicelli), while fruit soup (hideg gyümölcsleves) is a refreshing summer slurp, flavoured with cherry or strawberry, topped with cream and served cold. The smoky, meaty kidney-bean soup (jókai bableves) can be gorgeous. The international superstar is, of course, goulash (actually gulyás, and pronounced 'gooyash'), strictly a soup rather than a stew, and containing beef or pork, pinched dumplings, vegetables and the ubiquitous paprika. Cooked in a cauldron (bogrács), its roots can be traced to the country's nomadic ancestors. The meaty Hortobágy pancake (Hortobágyi húsos palacsinta) is a speciality of the Great Plain; seasoned minced pork or poultry is folded into thin pancakes and baked in a sauce of paprika and sour cream. Please don't miss this one – it shades the number one spot on our Hungarian-dish wish list.
The second course is invariably a meat-based rib sticker, usually served with weighty side dishes including egg dumplings (galuska or nokedli), couscous-type pasta (tarhonya), potato croquettes (krokett) and rice. A traditional stew (pörkölt) might be concocted from any of the main meats, but our vote goes to that with chicken (csirkepaprikás) – creamy, golden as toffee, and occasionally with the coxcomb thrown in! Other popular choices are stuffed cabbage (töltött káposzta) or pepper (töltött paprika) filled with minced meat, a piece of the earthy-tasting pike perch (fogas), and a plate-sized slab of Wiener schnitzel (bécsi szelet). The latter is often eaten for Sunday lunch.
Pudding (édességek or desszertek) requires a healthy appetite and a sweet tooth. Any room for a cake, an ice cream, a strudel or a crêpe? At times savoury becomes sweet; túróscsusza is a hot pastry with ricotta, sour cream and – believe it or not – pork crackling. Pastas, too, are familiar dessert dishes. Rétes is an Austrian strudel filled with either fruit, walnut, peppery cabbage or poppy seeds and ricotta, while walnut cream and chocolate sauce is the heavenly mix in a Gundel pancake (Gundel palacsinta).
Drinks
Much beer (sör) is imported from the Czech Republic or brewed under the licence of foreign companies like Tuborg and HB, but Hungarian beers are deserving of attention. They might be bottled or on tap, and fall into two types – lager (világos) and brown (barna), the latter similar in colour to English bitter but with a sweet flavour. The leading breweries are Dreher, Soproni and Borsodi, the first marginally our preferred choice, while other regional brands can be found in the supermarkets. The word for 'cheers!' – egészségedre – is a mouthful at the best of times, but becomes a particular trial after a drink or two.
It is said that Hungarians can be divided into the few who produce wine and the many who would dearly love to. For much of the 20th century, you'd be forgiven for thinking the amateurish majority had been let loose on the vineyards. There was a massive decline in quality behind the Iron Curtain; vineyards were neglected, fine sites abandoned, and state co-operatives devoted themselves to mass production. During the 1980s, Hungary's main export, Bull's Blood, became a byword for vinegar; the Soviets were the sole bulk buyers. However, change has been rapid since the advent of privatisation. Joint ventures with foreign vintners and investment in technology have resulted in some fine wineries, many of them family-owned.
Accommodation
There is no shortage of places to stay in Hungary, suiting all budgets and most whims. Once the state monopoly was undone in the 1980s, a wave of visitor accommodation rolled in that shows no signs of breaking (particularly now the country has joined the EU). The gamut of hotels runs from exclusive converted 19th-century mansions, luxury spa centres and upper-end conference hotels based on Western models, through comfortable mid-range affairs that have good facilities without every trimming, and on to basic joints that might be clean and well-kept or downright depressing and tatty. Overlapping them from the mid-range downwards are pensions, an imprecise label that is used equally by private guesthouses (often family-run) and smallish hotels that undercut (or hope the name gives the impression of undercutting) the prices of other hotels in the area. The very cheapest options of all are private rooms, campsites and beds in hostels or university digs. With the exception of campsites, hostels and the very top hotels (generally rooted in big cities or major tourist haunts), you can expect to find examples of each of the above in even little towns.
Deciding whether or not to book ahead depends on where you're going and when – and, in all honesty, your character. We've rarely had problems finding somewhere to lay our heads when we've turned up in a town, but we're a fairly happy-go-lucky and unfussy pair; if the day's end is something you'll worry about or you're after something specific, you should certainly make a reservation. Booking during festivals and events is strongly advised; remember too that summer (Jun–Sep) is high season, and crowds gather in Budapest, the Danube Bend, Lake Balaton, resorts in the Northern Uplands, and ever-popular pockets like Pécs and Sopron. At this time, spa towns in particular can reach capacity. Large hotels will invariably have English-speaking staff answering their telephones, as well as email and website booking services. It can be more complicated making arrangements with smaller hotels and pensions, who may or may not have English speakers manning the phone – they'll almost always understand some German – and may or may not have websites. In these cases you will usually make yourself understood in the end with a few basic words in Hungarian. An alternative is to use a local travel agency, and the Hungarian travel agent Ibusz can usually book private rooms; you'll pay a small fee for the service. Tourinform offices can offer advice on all types of accommodation, but do not themselves arrange bookings.
High-season accommodation rates – generally a 15–30% hike – can start as early as April and run as late as mid October; however, some city hotels exclude the hottest months of July and August (when many customers look elsewhere for cool air). The higher rates are also imposed at Christmas and New Year, and during festivals and events.