The authors' take
In Italian tourism circles these days they talk a lot about l'Italia secondaria, the fortunate, lesser-known corners of a country overrun with tourists, corners where you can still breathe. Corners with their share of all the things we love about Italy, but without the crowds and the hassles. The ideal Italia secondaria region would have some beautiful towns and a fine heritage of art and architecture. It would have a distinctive cuisine and good wine to go with it. It would be clean and green, with plenty of castles and scenery, and unspoilt valleys to explore.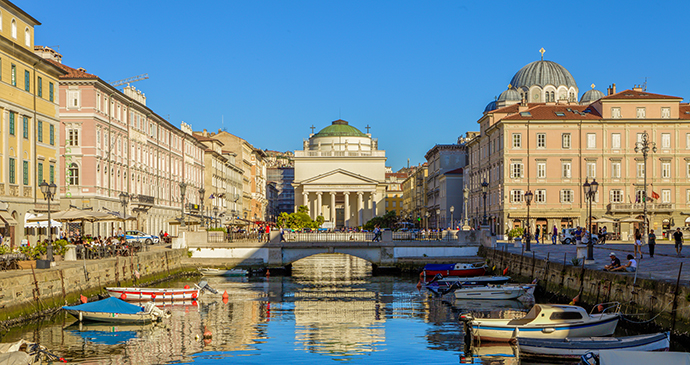 Friuli Venezia Giulia offers something for every season; there is an astonishing amount to see and do in this little-known region © Peter Vanco, Shutterstock
We have one right here, and most people have never heard of it. Friuli Venezia Giulia ('FVG') is the far northeastern corner of Italy, an hour or less from Venice. It's small – you could easily drive across it in a day on the back roads – but it squeezes in a remarkable diversity of landscapes. The coasts combine urbane beach resorts and pristine lagoons. Above the coasts, the Friulian plains and hills have the art towns and the wine regions, and above them tower the Alps: the sunny slopes on the way to Austria, or the mountain fastness of Carnia on the west, with its hidden valleys and traditional folkways. In short, there's a little bit of everything, all within easy reach. FVG is up to date and well organised, with fine networks of hiking and bike trails, sports and activities, museums and cultural events. The cuisine is excellent even by Italian standards. Prices are reasonable; and it's a great place for families.
But what, or who, or why is FVG? It's complex, as one would expect in a borderland like this. The Friulians, who occupy most of the region, are an Italianised, possibly Celtic people with many admixtures who have been here more than 2,500 years. They speak their own language, along with Italian, and feel themselves a bit apart from the rest of the Italians in the same way the Sicilians and Sardinians do. Geographical necessity combines the Friulians with the real borderland, the strip called Venezia Giulia, including Trieste and Gorizia. Here, centuries under the rule of Habsburg Austria gave this land a very different destiny indeed. For both, the history is obscure and often unpleasant, usually well outside the big rumbles of European affairs, but close enough for it to suffer a lot of grief. It was a place where Italians, Germans and Slavs came together and got along pretty well until the very beastly 20th century. Now they're all part of a united Europe, and learning to piece back together the cosmopolitan world that existed before the World Wars.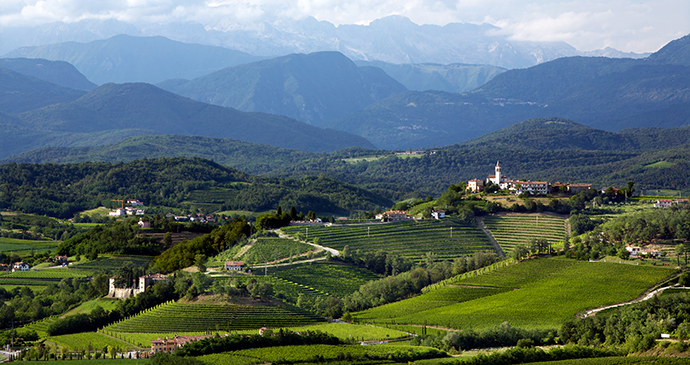 The landscape of FVG is dotted with its famous vineyards, while the mountainous surroundings offer spectacular views over pristine forests, rivers, and traditional mountain villages © Luigi-Vitale, PTFVG
In Friuli you'll see plenty of stone or frescoed lions of St Mark in the town squares to remind us that Venice once ruled here. Friuli is ethnic and proud, a mix of refined culture and blunt country simplicity. It has the bluest waters and the tallest bell towers you'll see (no brag; it really does). Its old capital, Udine – the city of Tiepolo – is a lively treasure house of art and history. Still, the star of this show might be Trieste. A world in itself, at once the least Italian and most Italian of cities, it is a town built not of pasta and red wine, but of sausages and beer (and spritzes and cocktails and vino bianco from the Collio). Above Trieste is the mysterious Carso, a land of Slovenes, sinkholes, stalactites and rivers that run underground.
Could this long-neglected corner of Italia secondaria, one of the last choice corners of Italy, turn out to be the next big discovery? It's full of surprises. There are lacelike mountains made of coral (the Friulian Dolomites), a lost Roman metropolis (Aquileia), and an Alpine valley devoted to the measurement of time (Pesariis). When you come here you'll be wondering what would move anyone to stuff dumplings with prunes. When you leave, you may wonder what took them so long.