Eating and drinking
Accommodation
Eating and drinking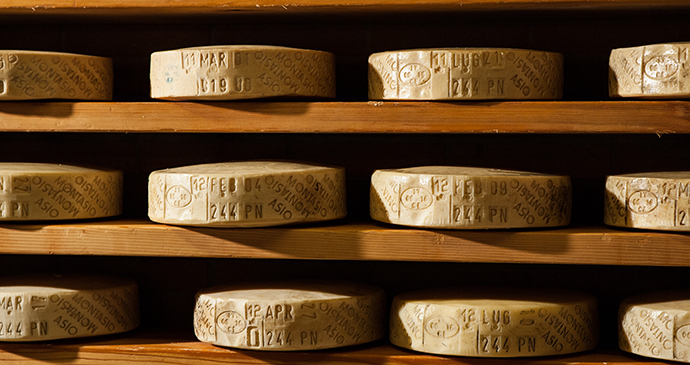 Mountain pastures in FVG have ancient cheese-making traditions, for example, Tabor cheese is famed for its perfume of the flowers and herbs of the Carso's meadows © Massimo-Crivellari, PromoTurismoFVG
One of the delights of visiting any region in Italy is discovering new dishes, and FVG, with its smorgasbord of culture, combined with its mountains, fertile plains, orchards (notably cherry) and coast delivers the goods in spades. Polenta and dumplings are more important than pasta; cheese and butter have major roles and there's a marked preference for combining sweet and savoury tastes inherited from Mitteleuropa.
Many dishes may already be familiar to fans of American Italian-Croatian celebrity chef Lidia Bastianich: she and her son Joe own a vineyard near Cividale del Friuli. Some recipes go back to the ancient Romans, such as brovada (turnips pickled in marc as an accompaniment to meats), while others use ingredients seldom seen
elsewhere such as radic di mont (wild alpine chicory shoots, preserved in oil), sclopit (bladder campion leaves) and urticions or cima di luppolo (hops shoots) both used in a frittata or risotto. Then there's rosa di Gorizia, a beautiful red rose-like radicchio used in salads, and sea buckthorn berries used for scirop di pomulis di gleria, drunk as cordial.
A good reference site for information, food itineraries, and wine and food producers open to visits is www.tastefvg.it.
Accommodation
At the top end of the market, FVG has a number of smart hotels, often in historic castles or villas, furnished and decorated with real panache. In Trieste, Grado and Lignano Sabbiadoro guests aged 18 and over will be charged an extra tourist tax from €2.50 (luxury hotels) to €0.80 per person per night. Many hotels in the mountains close from mid-October to mid-December and a month after Easter; August and Christmas holidays are high season. Beach hotels often close between October and April or May. PromoTurismoFVG's site offers hotel listings and a booking service for the entire region.