Visas
Getting there and away
Getting around
Visas
In 2007, Estonia and its Baltic neighbours joined the Schengen group of EU countries so there are now no border controls between them and no visas are needed for travellers from the UK, other EU countries, Australia, Canada, New Zealand and the USA. For those who do need a Schengen visa, it is now valid in the three Baltic countries. The website of the Ministry of Foreign Affairs is www.vm.ee and it lists Estonian embassies around the world which can issue visas to people entering the Schengen area through Estonia. It also lists foreign embassies based in Tallinn.
Travellers from all countries wanting to combine a visit to Estonia with one to Russia must ensure that their travel agent has prebooked their accommodation in Russia and obtained the necessary Russian visa. Attempting to do this in Estonia is both time-consuming and expensive. Whilst there is always talk about simplifying entry procedures to Russia from Estonia, the Russian authorities in fact make obtaining visas more complicated and more expensive every year. In Britain, particularly in the summer, at least a month should be allowed for obtaining a Russian visa, if exorbitant express fees are to be avoided.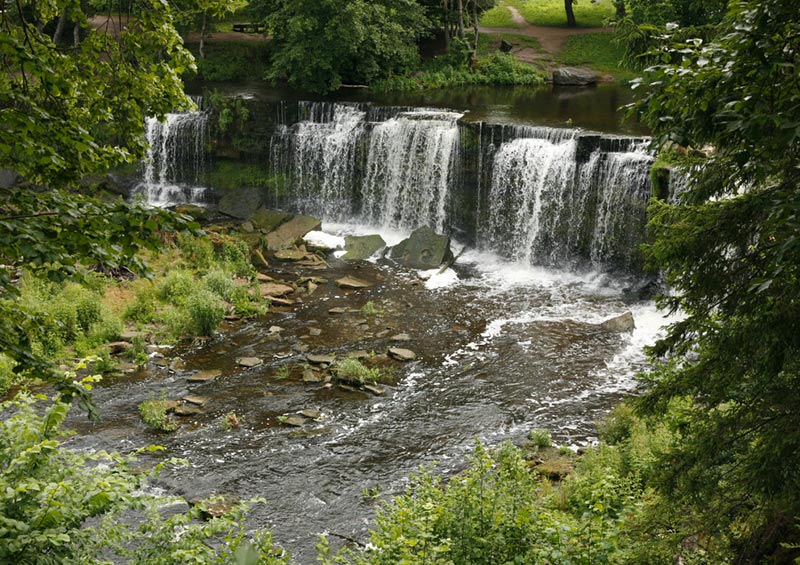 Although travelling around by bus is an excellent way to see the countryside, having your own car allows you to see off-the-beaten-track sights; pictured: Keila waterfall © Visit Estonia
Getting there and away
From 1965 until 1988, Estonia's sole link with the West was a twice-weekly ferry to Helsinki, yet it had daily flights to most of the then capitals of other Soviet republics. Now the situation is completely reversed, with minimal links east and an ever-increasing range of links to the West. Ferries go hourly to Helsinki and there are direct flights from Tallinn to most European countries. Bus routes link Estonia with Russia and with Latvia and some buses continue through Lithuania and Poland to western Europe. Trains operate daily from Tallinn to St Petersburg and to Moscow.
By air
Estonian Air is the national carrier but Air Baltic, Finnair, LOT, Lufthansa and SAS are active at Tallinn airport too. Estonian Air is partially owned by SAS so can sell through-tickets using both carriers to destinations they do not serve directly. It is therefore possible to fly to say the UK via Stockholm or Copenhagen booked entirely through Estonian Air. This offers twice-daily links to Heathrow, Birmingham and Manchester. After a gap of many years, Estonian Air were allowed by the Russian authorities to restart a service to St Petersburg in autumn 2009. Other routes they operate that are likely to be of interest to tourists are to Moscow and Vilnius.
Air Baltic is Estonian Air's main competitor, offering six flights a day between Riga and Tallinn to feed their extensive international network from Riga. The year 2009 saw the opening of Tartu airport to regular passenger flights for the first time since the Soviet era. Varying services have operated since then to Helsinki, Riga, Stockholm and Tallinn.
Helsinki is often used as a gateway for travel to Estonia; Finnair have six flights a day between Helsinki and Tallinn so there will always be connections with their onward flights to Europe, America and Asia. In Britain they fly to London and Manchester.
For many years, Estonia was the only EU country to which Ryanair did not fly, but they finally joined the fray in 2011, several years after easyJet. In 2013 Ryanair flew to Stansted and easyJet to Gatwick and one or other usually has a flight from Manchester or Liverpool, sometimes from Glasgow too.
Particularly good rates apply between October and April, with of course the exception of Christmas/New Year.
By ferry
From/to Helsinki
During 2007 and 2008, the ferry company Tallink took over several of its competitors, including Siljaline, so its name is now Tallink Silja, but Eckerö and Vikingline remain. Ferries take about two hours so it is therefore quite possible to visit Helsinki for the day. There are also overnight services with cabins that allow about seven hours for sleep. Ferries should be avoided from Helsinki on Friday afternoon and evening and returning on Sunday evening when they are very crowded with sometimes rowdy Finnish tourists. Travel during the middle of the day is usually cheaper and more congenial. Reductions are available for pensioners, sometimes defined as those aged 60 and over, sometimes as those aged 65 and over.
Catamarans are operated by Lindaline from a separate pier beside the Linnahall, which is even closer to the Old Town and to extensive public transport. They take about 90 minutes to cross to Helsinki, but do not operate in stormy weather or when ice is seen as a threat.
From/to Stockholm
Ferries to Stockholm take 16 hours and usually operate overnight. There are also car ferries from Paldiski to Kappelskär, a port 90km from Stockholm. They are operated by DFDS and by Tallink Silja.
The Port of Tallinn website gives full details of all services from/to Helsinki and from/to Stockholm.
By train
Rail services within Estonia and to/from the neighbouring countries consistently declined from independence until 2005 and were of little use either to business travellers or to tourists. However there was then a sudden turnaround.
In 2005 a faster service to Tartu was introduced twice a day, with a first-class carriage, and the station at Rakvere reopened. In 2006, the Latvians announced plans to restore a service from Riga to Valga, which could then offer onward connections to Tartu and Tallinn. In early 2007 faster trains started to operate between Tallinn and Viljandi. The Narva–Tallinn route was reopened in 2008. The year 2010 saw the return of trains between Tallinn and St Petersburg. Formerly moribund stations came to full life again and early 2014 saw a considerable increase in the frequency of trains on the main routes and also new rolling stock. Details of fares and schedules are on www.edel.ee.
There is a daily service from Tallinn to Moscow, which takes 18 hours, and which is operated by Gotravel, the company that runs the Schnelli Hotel next to the station in Tallinn. Tickets for this train can and should be prebooked abroad since the Russian visa will specify dates of entry and exit.
By bus
This is the easiest and cheapest way to reach Estonia from Russia and Latvia. Public buses always have priority over other traffic at the Russian border so delays there are minimal, but they are long enough to provide a respite for smokers.
The years 2012–13 saw a great change in the bus services operating in and out of Estonia. The company Luxexpress drove out its former competitors Eurolines and Hansabuss and only Ecolines is left with minimal services to and from Estonia. The Ecolines website is hardly inviting as it promotes the service of a stewardess 'who controls discipline and order on board' with no explanation as to why a steward cannot do this equally well or why such a service should be necessary at all.
However, Luxexpress is reliable and offers four different levels of comfort on its buses from/to St Petersburg and to Riga: Lux Simple, Express, Lounge and Special with fares on the Special service costing twice the price of the Simple one. Wi-Fi is available on all buses and they all take about 41 hours between Tallinn and Riga, with a short stop en route at Pärnu, where it is also possible to join the service. About ten buses a day operate between Tallinn and Riga, but as each bus is a different class, it is necessary to check the cost and facilities on the website before booking.
By car
Car drivers in the 1990s often had to face delays of several hours crossing each of the borders (eg: Poland, Lithuania, Latvia) between Germany and Estonia. Now that all the relevant countries are in Schengen, the borders are completely open. However, police do stop cars from time to time to check that drivers have all the correct documentation. The car ferries from Helsinki and Stockholm are convenient but expensive. Car-hire rates are competitive in Estonia but in the short summer season it is normally essential to prebook.
Travellers to Saaremaa or Hiiumaa can make considerable savings by asking their travel agents to arrange car hire separately on the islands and travelling by bus to and from Tallinn. This also avoids the difficulty of prebooking the car ferries from the mainland. Dropoff charges are high for cars picked up in one Baltic country and left in another so it is more economical to hire a new car in each country and to travel by bus in between.
Getting around
By train
In the coming years, readers will see a great improvement in rail services, which started in 2013. Services will be increased, stations reopened and journey times reduced. New rolling stock will have access for the disabled. The Tallinn–Tartu service is the one most likely to be used by tourists, with fast trains taking two hours, but in 2014 similar services are expected to Rakvere and Narva. Details are on www.edel.ee.
There are no complicated fare structures akin to those Western Europeans now know well, so tickets are bought on the train or in a ticket office just before departure. First-class, when available, is worth the small supplement charged. In this case, it is worth buying the ticket at the station as there is a 10% saving. For further details see individual towns and cities.
By bus
Domestic bus tickets can be prebooked but, apart from services to the islands during the summer, and on Friday evenings, this is rarely necessary. An extensive network operates from Tallinn to all major cities and also cross-country. Most of the nature reserves are on bus routes with a sufficiently frequent service to plan a half- or full-day trip based on them. For the longest distances, fares are no higher than €13. There is competition on the main routes from Tallinn so fares to Pärnu and to Tartu vary from €7 to €12. Few timetables are printed but services are clearly posted in bus stations. All companies use the same bus stations and en route stops. Do check timings before booking as sometimes an express service leaving later may arrive earlier than a service with many en route stops.
By bicycle
Estonia is a very flat country, with Suur Munamägi, the highest 'mountain', being only 318m. The weather is often appropriate for cycling, with temperatures during much of the tourist season fluctuating only between 10–20˚C. Main roads should normally be avoided as there are no cycle tracks and the scenery is not particularly varied. Longer distances can be covered by bus (dismantled cycles are accepted in the hold) and then local excursions carried out from each country town or within one of the national parks. The islands of Saaremaa and Hiiumaa are ideal for cyclists as motor traffic is minimal and sightseeing stops come every few kilometres. City Bike arranges group tours of Tallinn and around Estonia.
By car
It is not necessary to buy an international driving licence for Estonia although you must carry the original vehicle registration document (V5). Speed limits are strictly enforced and are usually 90km/h on the open road and 50km/h in built-up areas. Changes are clearly indicated.
The definition of drinking and driving is so tough that it is not worth drinking alcohol at all before driving. Do also bear in mind that the effects of evening drinking may not have worn off by the following morning.
Roads are generally straight, wide and well maintained; driving is often a pleasure in Estonia as the traffic is minimal. Petrol/gas costs about €1.40 a litre so is similar to the UK price.