Climate
When to visit
Highlights and itineraries
Climate
If you're seeking an escape from a wet winter, then Croatia's probably not for you – most of the rain here falls in the cooler months, making it chilly and damp in the interior and mild but drippy along the coast. Outside the long, dry summers, Croatia is wetter than you might think, with an average annual countrywide precipitation of close to 1,100mm (compared to about 600mm on average for London and 1,400mm for Scotland as a whole), but the humid winters are more than compensated for by warm, early springs, hot, dry summers and prolonged autumns.
When to visit
High summer is a great time to be in the higher parks, such as Risnjak, in the north, or to visit the capital and other towns away from the coast, as lots of locals are themselves on holiday then. But bear in mind that inland Croatia can get pretty hot and sweaty in the absence of sea breezes – and you'll need to book tickets on public transport in advance.
If you have a choice, September is the best month to be on the coast or visit the islands. The weather is fine, the school holidays are over and the sea is still easily warm enough for swimming. October is also fine, but by November the sunshine hours are down and the rainfall hours up. May and early June, too, are absolutely gorgeous along the coast, though there's an increasing tendency for accommodation and ferries to fill up as June progresses.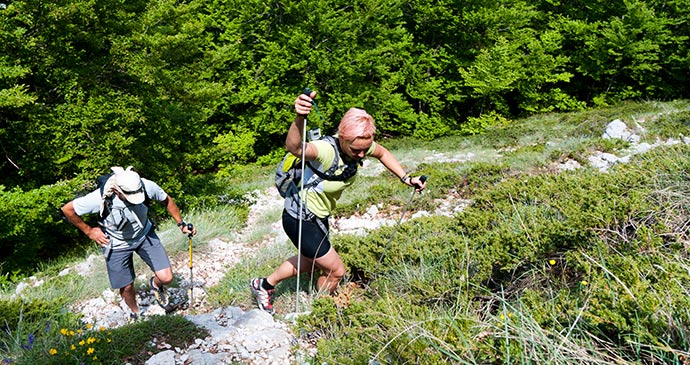 September is the best month to visit if you're planning on hiking © Croatian National Tourist Board
September and June are the best months for walkers and hikers, closely followed by October and May, and autumn in the inland parks provides stunning visuals as the leaves change colour. Earlier than May and you may find it damp in the lowlands and freezing higher up; later than October and you run the risk of being caught by the first snows.
Yachting, sailing and motor-cruising have a season running from the beginning of May to the first week of October. Outside this period, charters won't be possible and you'll find the weather in any case less pleasant, with a more frequent gale-force bura (the gusty northeasterly wind that can blow at gale-force from September to May for anything from four days to a fortnight).
July and August are easily the most popular months with all types of visitor, so you may want to leave well alone, unless you're absolutely set on clubbing, or that deep suntan. These are the months when you'll be competing for rooms with up to six million others, and, if you're travelling by car, you'll find parking a hassle, and queues for the car ferries measured in hours. That said, July and August are easily the best months for being on the beach, and Croatia's coastal nightlife only really comes alive in summer.
If you're not bothered by the damp and cold, winter is a great time for cultural exploration – the coast and islands are deserted and you'll have museums and churches to yourself. Waiters and hoteliers will be delighted you're there rather than hassled by the next customer, and while you may have to wait a day for the next ferry, you won't have to queue. If you're in inland Croatia in winter, however, do wrap up warm. Finally, if you're planning winter trips to any islands, especially the smaller and remoter ones, bear in mind that from November until Easter they're simply not expecting you. That means accommodation can be hard or impossible to find and restaurants may be closed for the duration – check ahead before you catch the ferry.
Highlights and itineraries
Scenic interest
For wild karst scenery right on the seashore, you can't beat the Velebit massif, at its most accessible in Paklenica National Park, which has well-marked trails for all grades of walking. Less rugged scenery, punctuated by falling water, is provided by the rightly famous Plitvice Lakes National Park and the Krka River and Falls, both of which easily outshine the crowds.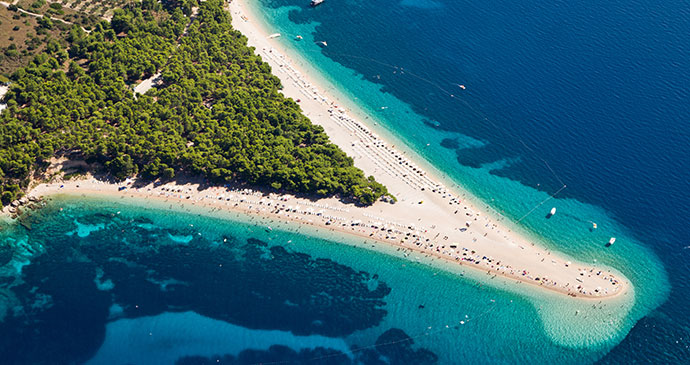 Zlatni rat, the country's most famous beach © Simone Simone, Shutterstock
Offshore, the island of Mljet is a personal favourite, with its saltwater lake and roaming mongooses, while if you have no time to do anything at all, you'll still have time to take the ten-minute ride from Dubrovnik to the island of Lokrum. The country's most famous beach is Zlatni rat, near Bol, on the island of Brač, though if it's sand not shingle you're after then head to Šunj on the island of Lopud, and if you have your own boat then you'll find the exquisite Kornati archipelago irresistible.
Inland, there's little to match the rugged beauty of the Istrian interior, with its hilltop villages, or the Zagorje and Žumberak regions to the north and southwest of Zagreb, where rolling hills are home to vineyards and dozens of castles from the late Middle Ages onwards.
Wildlife and botany
Gorski Kotar, the strictly protected nature reserve to the east of Rijeka, has the country's rarest fauna, with bear, lynx, wild boar and wolves on the hoof, and various species of eagle and vulture in the air. In the Velebit, you'll also find chamois and mouflon, along with red, fallow and roe deer. Rt Kamenjak in Istria is a great place to see orchids and butterflies.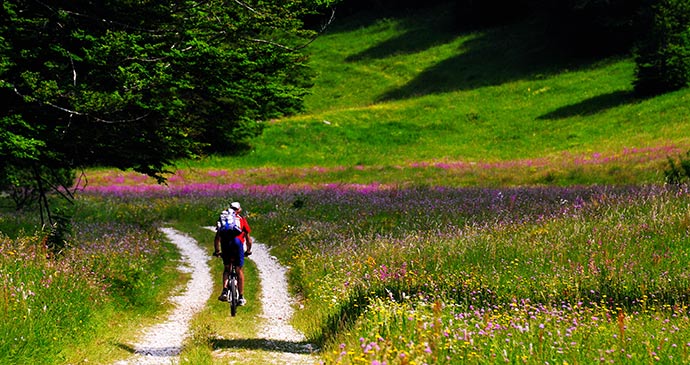 Take a cycle through the region of Gorski Kotar © Croatian National Tourist Board
Ornithologists really are spoiled for choice, from the waterfowl and wading birds on the Neretva Delta, south of Split, and Vransko Jezero, near Zadar, to the storks at Lonjsko Polje and the abundant birdlife at Kopački Rit, in Slavonia. Botanists, for their part, can head up to the remote Velebitski Botanički Vrt gardens and their unique mountain flora.
By boat
Croatia's section of the Adriatic is a sailor's paradise, with more than a thousand islands to choose from, and spectacular scenery all along the way. Remote, uninhabited islands compete with the charm of old towns like Hvar, Korčula and Rab on the islands and Rovinj and Zadar along the coast. With a boat, you can sail alongside Croatia's most spectacular cliffs at Telašćica (on the island of Dugi Otok), or lose yourself among the thousands of inlets and harbours of the islands of the Kvarner Bay. And there are few greater pleasures than being thrown a mooring line from a private jetty belonging to a tiny restaurant, with an evening of eating, drinking and music ahead of you.
Suggested itineraries
Weekend trip
For a weekend break, the top of your list should really be the Croatian capital, Zagreb, which you'll find has more than enough to keep you busy for at least two to three days – if not longer. Alternatively, you could take advantage of budget fares to Dubrovnik, Split or Pula– or Osijek, which might just give you enough time to visit Kopački Rit as well.
One week
A one-week visit would give you enough time to base yourself on the coast, visiting some of the islands, or to start from Zagreb and explore some of inland Croatia. Budget flights make it easy to fly into one city and out of another, with two single tickets not necessarily costing any more than a return – so you can potentially cover a lot more new ground.
Two to three weeks
If you have two or three weeks, you can see quite a bit of Croatia without having to rush – although there's always the temptation to rent an apartment and spend a whole week in one place. In either case, you can work your way up or down the coast making the most of the excellent ferry network, visit Istria, and head inland to Zagreb and Slavonia. A two- or three-week stay also gives you plenty of scope to include a decent hiking trip on Velebit or Gorski kotar.
One month
Those with a month in Croatia should count themselves lucky indeed, and as with a two- or three-week visit can divide their time between travelling along the coast and visiting Istria, Zagreb and inland Croatia.