Author's take
I've had a love affair with Croatia for over 25 years, ever since I first InterRailed around Europe in 1982 and got stranded in Split for four days, waiting for someone to show up who never showed.
It wasn't difficult to find my way out to the islands of Brač and Hvar, and from there to Korčula and on to Dubrovnik, by which time I was off the InterRail map, and into a different place altogether. Next time out I got diverted in Trieste and ended up in Pula instead of Athens, and worked my way down the coast as far as Split again, stopping at Rab, and then for a week at the lovely Paklenica National Park (still a Croatian favourite). To get back to where I was going, I went up through the country to Zagreb, and saw the Plitvice Lakes for the first time. I travelled inland and visited the pretty, Baroque town of Vukovar, then wandered up through Osijek into Hungary.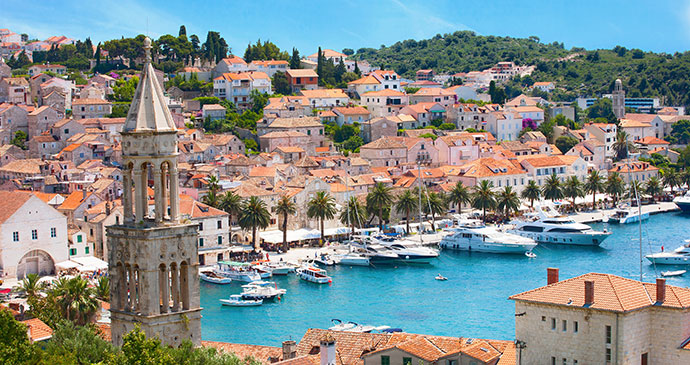 View over the town of Hvar, one of Croatia's most popular destinations © andras_csontos, Shutterstock
It wasn't long before I was hammering at Bradt's door and clamouring to write about (what was then) Yugoslavia. Th at book came out in 1989, just in time to be washed away by the war – I spent 1991 glued to the television set, watching in horror as Vukovar fell and Dubrovnik was shelled, and had to wait a decade for my second chance.
My guide to Croatia was published in 2003, with a second edition in 2005, a third in 2007, a fourth in 2010, a fifth in 2013 and now this sixth edition – the most comprehensive and (I hope) useful guide to the country, and the only one that covers all the national parks and nature reserves.
Author's story
I was enormously fortunate to meet Hilary Bradt in 1986, as it gave me the excuse to spend a year writing the Bradt guide to Yugoslavia. Back in those days, Hilary still marked up all the proofs herself, and it was a red-faced moment for a young writer to have to deal with comments in the margin such as 'Purple prose!'. It was a learning experience, and one I've been very grateful for over the past two million words or so: thank you, Hilary.
After a long interval – paying rent, starting a family, marrying Sarah, getting a dog – I returned to the Bradt stable in 2002 and spent several years researching, writing about and travelling in Croatia.
It's a highly addictive place, not just for tourism but for what makes any country worth visiting: the people, the unexpected details, the moments of pure wonder.
As a guidebook author, of course, it's never as much fun as people imagine. Which is why – in the name of research – I've done things in Croatia such as breaking a tooth trying to eat a decorative gingerbread heart; being escorted around an all-naturist hotel; or bursting into a family's front room, on the assumption that their simple dwelling was part of an anthropological museum village.
On one occasion I was trying to get back into Croatia – having somehow slipped into Slovenia on a back road – when I was caught at an illegal border crossing. It didn't help that excessive heat had caused a bottle of home-distilled spirits to explode in the boot of the car. Fortunately, every guidebook writer's most useful local language phrase – 'I am writing a book about your wonderful country' – did the trick and got me off the hook.
While none of these things should happen to you, I hope you'll get as much pleasure from Croatia as it's given me over the years.