Author's take
Over recent years, Bulgaria's attractions for visitors have grown both in number and diversity. There are award-winning golf courses, luxurious spas, five-star hotels and good-value budget accommodation for those wanting to explore the mountains and countryside. There are watersports and nightclubs on the coast and a wealth of birds, butterflies and wild flowers in the countryside. Food and wines are delicious and affordable. Museums, churches and monasteries are a window into Bulgaria's rich and turbulent history.
Sofia is the perfect destination for a relaxing city break: the centre is compact and can easily be covered on foot at a gentle pace in a couple of days, even allowing for coffee and lunch breaks. There are some familiar fast-food and retail outlets, but there is also an eclectic mix of Viennese-style boulevards, monumental set-piece communist official buildings and glorious gold-domed churches. The capital is very green with numerous parks, there are museums with recently unearthed treasures and a variety of colourful markets and stylish shops to discover. There are two exciting new museums due to open in Sofia: the Mineral Baths as the home of the Sofia City Museum, and the new art gallery complex dubbed Bulgaria's Louvre, because it too features an internal courtyard with a glass roof.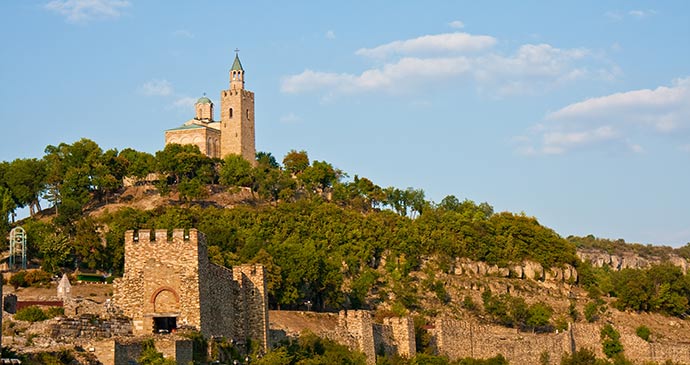 There is more to Bulgaria than just Sofia: its towns have fascinating history and architecture, just as here at Veliko Turnovo © Nickolay Stanev
Outside Sofia there are several other rewarding towns and cities, such as Plovdiv, with its UNESCO-listed Old Town, and Veliko Turnovo, the former capital. The ski resorts of Bansko, Borovets and Pamporovo offer great skiing, great nightlife and great value. The Black Sea coast has fine beaches, watersports and nightclubs, but also quieter spots for family holidays, butterfly observation and birdwatching.
Rural Bulgaria has changed too: many young people have left for the cities or abroad, leaving an increasingly elderly population to work the land. However, investment in wineries, ecotourism and activity holidays should gradually attract more people back to the countryside. It is a wonderful place to drive; roads are quiet, wildlife is rich, the mountain scenery is unrivalled and there are monasteries, archaeological sites, caves and rock formations, as well as picturesque villages and vineyards to visit.
Hospitality to strangers is as generous as ever – on my most recent visit a month ago, we asked a man just emerging from his house in a side street of Veliko Turnovo how to reach the tourist information centre. Obviously it was a tricky route to describe so he solved it by getting into his car and urging us to follow him in ours. He took in several of the main tourist sites waving his arm helpfully out of the car window at them. When we reached the destination, he pointed, did a swift U-turn, waved and departed before we could properly thank him. Contrast this with a similar request made in New York, to which the response was 'Buy a map!'
Bulgarians tell a nice story against themselves: God was dividing up the earth between all the different peoples; characteristically the Bulgarians arrived late and God had nothing left. So he gave them a piece of Paradise.
Author's story
My fascination for eastern Europe began when I was about four. My grandmother, with whom we lived as an extended family in a large house, offered accommodation to a refugee couple from Tito's Yugoslavia. The man was, at least to me, enormously tall, but every day he would bend down and shake my hand in a very polite way!
I studied Balkan history at university and made my first visit to Bulgaria as a student. Although this was the time of the Cold War, there was generous and welcoming hospitality to strangers, and this marked the beginning of my long relationship with this small, beautiful country.
Bulgaria has been a tourist destination for many years, and is deservedly popular for its coastal and ski resorts. I hope that this guide will encourage more people off the beaten track to discover some of its many other attractions, and that they too will experience Bulgarian hospitality at first hand.