January
Hutovo Blato Bird Reserve
The high season for bird sightings is January and February.
February
Sarajevan Winter
Every winter Sarajevo hosts Sarajevan Winter, a regional theatre festival of friends and colleagues from former Yugoslavia.
June
Celebration of the Apparition
This event in Međugorje usually attracts over 100,000 faithful each year from every corner of the globe. It celebrates the day when a group of young teenagers saw the apparition of the Mother Mary on a stony hill in western Herzegovina.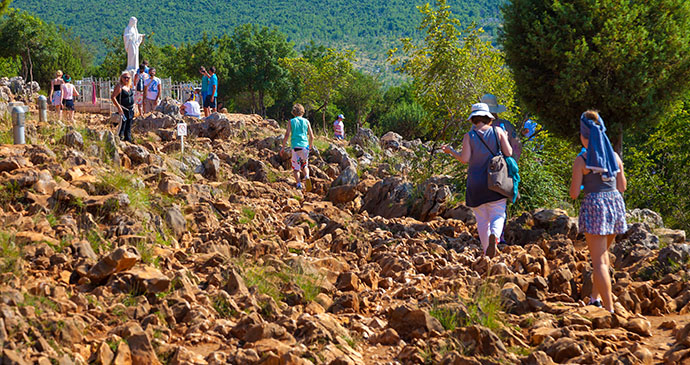 Pilgrims making their way to the site of the alleged sighting of the Virgin Mary © Nightman1965, Shutterstock
July
'Baščaršijske Nights'
For the entire month of July Sarajevo's Baščaršija hosts cultural events from whirling dervishes to Viennese philharmonic and Celtic concerts. Each night has something special and most events are free of charge. It's the longest and one of the best events in the whole country.
August
Sarajevo Film Festival
The rebellious and artistic soul of Sarajevo flared during the war years. Amidst the death and destruction of the city, several Sarajevan artists decided to host an international film festival. It has gone from an improvised vision to one of the best film festivals in Europe. It's a great place to meet and mingle with actors, producers and the stars. Unlike Venice and Cannes, Sarajevo's film festival has no barriers between the viewing public and the artists themselves. It's a fun, laid-back occasion and an opportunity to check out great regional films, short films and documentaries from some of the world's greatest.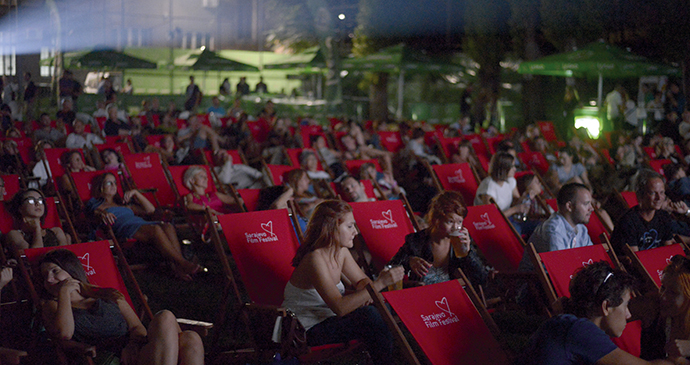 An open-air screening at the Sarajevo Film Festival © Tourism Association of Canton Sarajevo
September
Teatar Fest
This theatre fest in Sarajevo highlights young actors and actresses from around Europe and North America. The festival is free of charge and brings a wide array of excellent university theatre and dance groups.
October
MESS
MESS international theatre festival has been a tradition in Sarajevo for over a century. Some of the finest theatre groups in Europe regularly take part in this annual gathering. MESS also highlights the event with alternative and modern dance. Alongside the well-known names are also the best regional performers from southern Europe. Tickets are sometimes hard to come by but can be purchased online in advance.
November
Jazz festival
More and more of the big names in jazz are starting to buzz around the annual jazz fest in Sarajevo. The venues are usually small and intimate and there are always free jam sessions in jazz clubs around town after the show. Tickets can be purchased over the internet and there is good information about all the acts. Unfortunately, Jazz Fest will only exist for two more years. The venue will be closing after its 22nd and final edition in 2018.