Author's take
When my dream to visit the old Soviet Union was first realised in the late 1980s Belarus existed not as a sovereign state but as Byelorossia ('White Russia'), one of the constituent republics of the USSR. Other than to those with more than a passing interest in the politics of the area it was simply part of the vast swathe of red that formed the eastern half of the Cold War map of the world. With the fall of the Berlin Wall and the consequent disintegration of the USSR, many of the former Soviet republics turned their gaze westward to embrace political and economic reform through evolution or revolution, while Belarus remained fiercely embedded in the past. It is still finding its feet in an uncertain new world. Neighbours to the west and north (Poland, Lithuania and Latvia) are now member states of the EU, while those to the east and south (the Russian Federation and Ukraine) move ever closer to embracing Western commercialism and the economics of the free market. By comparison Belarus (the most westerly republic of the old USSR) seems to be taking its time to establish an identity free from its Soviet past.
Though an independent nation state that prides itself on being situated in the heart of Europe, right at the crossroads where ancient trade routes from west to east and from north to south meet, it is still an unknown land. But perhaps this undiscovered box of gems is about to be opened at last.
My first visit to the country in November 2001 began with a night-time landing at Minsk Airport. First impressions were less than welcoming, with an air of mystery and an edge of danger on the icy easterly. Emerging into the darkness from intimidating encounters with a succession of humourless, stern-faced officials in khaki uniforms I was led hurriedly to the waiting transport for a 6-hour journey down to the southeastern corner of the country on unlit roads through mile after mile of silver birch forest stretching away into impenetrable blackness. As we stopped briefly to stretch our legs in the middle of nowhere the raw cold took my breath away as I gazed up into a dazzling panoply of stars, unpolluted by unnatural reflected light from below. As the first snows of winter began to fall we arrived in Vetka and over dirt tracks we came to the old part of town where wooden houses stood sentinel against the biting cold, with windows rattling in ill-fitting frames as flurries of snow danced among the eaves. The front door to the house of my hosts opened with a dazzling burst of light and heat as I was ushered into warmth and safety. My life has never been the same since that day and every time I return it is to the same family. And it always feels like coming home.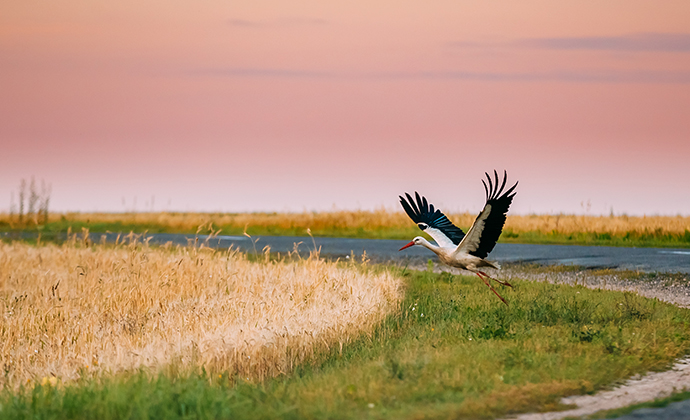 The white stork is the Belarusian national bird © Grisha Bruev, Shutterstock
It's a cliché, I know, but a visit to this delightful country really is one of those life-defining experiences. It is still relatively free of the trappings of modern tourism and Western materialism, such that it's very easy to feel a sense of having slipped into another time and dimension. In many ways, the country is a 'living museum' of Soviet communism but to treat it as such would be deeply patronising, as well as a gross disservice to the resilience of its people. Decades after the catastrophic nuclear accident at Chernobyl Belarusians still feel like the forgotten people of Europe, overlooked and shunned by an international community that denies effective aid and assistance in the absence of political reform.
But against all odds, a vibrant Belarusian identity is beginning to steadily emerge.
Sometime soon, I hope, I'm going to board a train at St Pancras Station in London and journey to Minsk via Lille, Brussels, Cologne, Warsaw and Brest. One January I made it as far as the Polish border during the course of a trip from London via Berlin. I love traversing Europe by train and, on this occasion, I went on 28 trains in five days, which is presently my record. One of the favourite pastimes (particularly on dark winter nights) is to take down from my bookshelves the re-launched European Rail Timetable, uncork an Irish malt whiskey and put together a pan-European journey; and with time on my side, I reckon London–Minsk–London would be a breeze to organise. One day…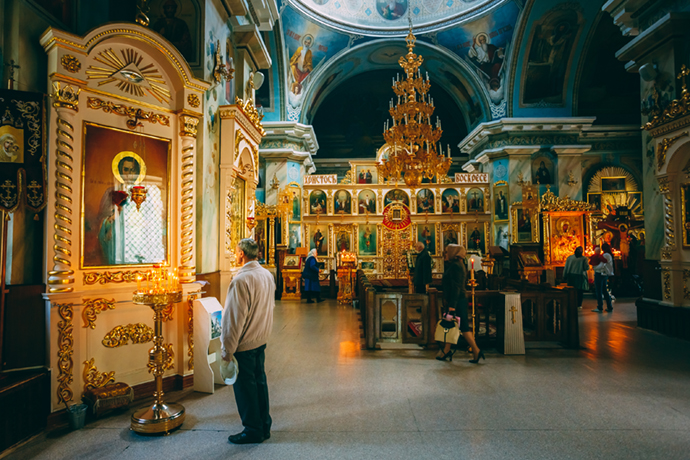 Located within Gomel's Rumyantsev-Paskevich Park, the Cathedral of Sts Peter and Paul is home to some beautiful frescoes and a lovely collection of icons © Grisha Bruev, Shutterstock
So it is with the greatest of pleasure that I share with you everything that I have come to love about Belarus: the natural splendour of primeval green forests, clear rivers and blue lakes; rare flora and fauna; cities that rose from the flames of Nazi barbarism as monuments to post-war Soviet urban planning; stunning museums crammed with rare artefacts; rich culture and tradition; historical sites dating from the Middle Ages to modern times; beautiful churches and the mysteries of Russian Orthodoxy; and most of all, a people whose warmth, honesty and hospitality must be experienced to be believed. Yet whisper all this softly, for we must be careful to guard and not spoil these riches.
Author's story
I'm writing this vignette at the kitchen table of the Belarus home that has welcomed me as a son of the soil since my very first visit in November 2001. Here at 42 Karl Marx Street, Tanya is preparing the evening meal, Valeri is shouting at the television and Dexter the dog is sprawled across his tatty old sofa on the front porch. I've just returned from a visit to see an old schoolteacher friend at the splendid museum housed in School Number One across town and I'm a touch fazed by what just happened. As we meandered the museum's collections together, Sergei Nikolaevich invited me to close my eyes and hold out my hands, and when I did so he gently placed an item of some weight in them. It was one of the exhibits, a Bible dating from the 19th century, but it was more than just a Bible. It belonged to Old Believers, members of the Russian Orthodox Church who rejected 17th-century reforms in favour of the old ways and who suffered persecution as a result. 'This is for your work', said Sergei Nikolaevich. 'It's a present to help with your research.' When I protested that I couldn't possibly take such a beautiful treasure out of Vetka he dismissed my objection with a peremptory wave of his hand. 'We have others', he declared. The cover is wood, part bound in leather and held together with handmade clasps of metal. The printing is exquisite and the words are Old Russian, only some of which I can read. Every instinct tells me that an item of such rare potency belongs in this town, this museum, its spiritual home, but I have no idea how I'm going to convince my dear friend that I cannot accept it without causing offence.
This example of unconditional generosity of spirit may be one of the most extraordinary I have witnessed here; yet I encounter warm hospitality wherever I travel in this lovely country. Again it's a great honour for me to share with you many of the things I've seen and done since my first visit in 2001, and to open the window on Belarus for you to peek inside. The course of my life has taken an unexpected direction since I first came here. I can't promise the same for you, but I shall be surprised if you remain unmoved by Belarus and its delightful people long after you return home.