Author's take
Whether you come to surf the waves off Biarritz or Zarautz, walk Navarre's northern mountains or its southern desert flatlands, marvel at the sparkling modernity of Bilbao's Guggenheim, admire the fairy-tale towers of Olite's historical palace or even plunge yourself into the heritage of Bizkaia province's industrial past, the Basque Country demands exploration. And if you choose to spend your stay revelling in the bars and restaurants of San Sebastián, blend into one or more of the strange festivals that punctuate a Basque or Navarrese summer, or simply stretch out on the pure sands of the coast, you'll find yourself rubbing shoulders with locals who cherish their downtime and know how to enjoy life.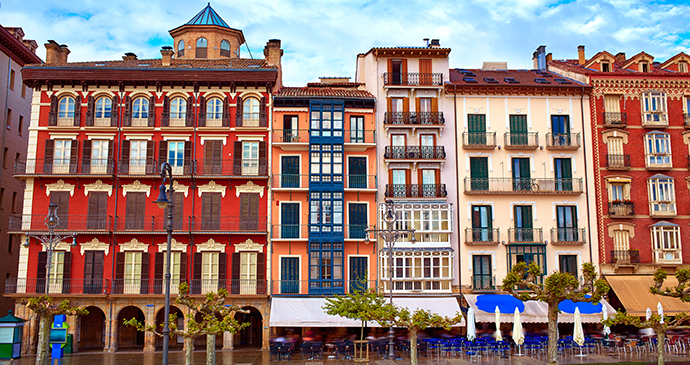 The Plaza del Castillo is the centrepiece of Pamplona © Tono Balageur, Shutterstock
The Basque Country means different things to different people. The edges are blurred. There is no Basque 'nation-state' and there never has been, apart from a tiny blink-and-miss-it period in the Middle Ages. 'Four plus three equals one' is the arithmetic favoured by Basque Nationalists, as they put together Bizkaia, Gipuzkoa and Álava before adding in the French Basque provinces of Labourd, Basse-Navarre and Soule, and completing the equation with Navarre to create the 'seven provinces'. This is their aspirational Basque Country. It's certainly complicated. Ask most citizens of Navarre whether their separate autonomous community is Basque, and for the majority the numbers above simply do not add up. Navarre may have a strong Basque feel in its northern valleys, but it nevertheless has an identity of its own, and south of Pamplona you are very much in Castillian Spain.
There may be no country or nation-state, but that in no way diminishes or dilutes what is certainly one of Europe's strongest identities. Basqueness is defined by a unique language, emphasised by a distinctive cuisine and some singular music, dance and sports. It's an identity that successfully rubbed along with the Roman Empire, survived the conflicts of the Middle Ages and later wars between France and Spain, absorbed immigrants during the Industrial Revolution, and was repressed and went underground during the dark years of Franco's dictatorship. Now it has re-emerged full of vigour.
Basque culture, language and traditions fluctuate in their strength north and south of the Pyrenees. In the diverse area covered by this book, euskara (the Basque language) can be heard regularly in the streets and bars of Getaria or Guernica, but rarely in Biarritz and hardly at all in Tudela in deep south Navarre. Making generalisations is therefore fraught with danger.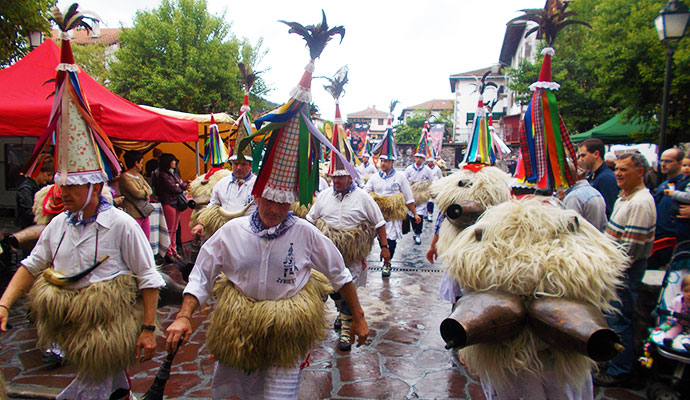 The Basque Country has a colourful events calendar © Murray Stewart
Mention 'the Basque Country' to many outsiders and you can sense the reaction of the listener before it's voiced. You know the association that's being made. Recent Basque history and its echoes of terrorism still sit like an unwanted ornament languishing on the mantelpiece, not yet packed away and consigned to the attic. The fact is that a permanent ceasefire has been in place since 2011; in 2017, weapons decommissioning began; in 2018, ETA announced its intention to disband itself. The horrors of the past will now surely never re-emerge. There are still live issues to be resolved, but differences of opinion over autonomy and independence now express themselves through impassioned dialogue and the ballot-box, no longer with bombs or bullets.
Two themes recur throughout this area: food and pilgrimages. The region's near obsession with eating well ensures that every visitor will come away satisfied. What is eaten is of interest, but how it's eaten is equally important. Gastronomic societies, pintxos, wonderful grilled fish, a beef chop cooked over an open fire … endless creative ways to delight the taste buds, helped on the digestive journey by a glass of cider or the local wines. The people here rarely tolerate fools, and they certainly don't put up with any nonsense in the kitchen. Gastronomy is important here, which means that it's taken seriously and done very well.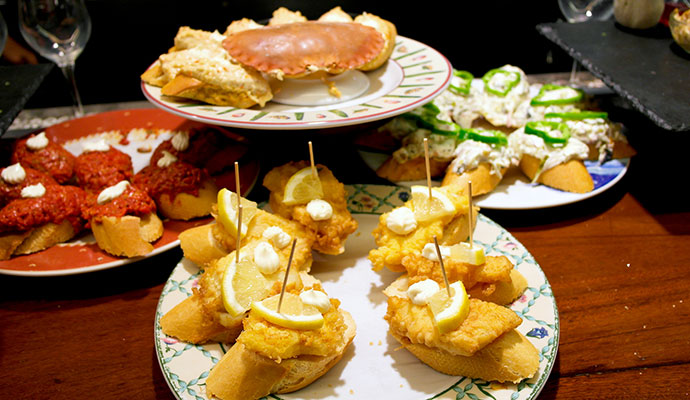 Food is an essential part of Basque Country life © Hamman, Dreamstime
Pilgrimages, of course, are of no interest to some visitors, but even if you never intend to set foot on the Basque or Navarrese sections of the Camino de Santiago, it's essential to understand how these age-old routes impact on the economy of the towns and villages along the way. Since the 1980s pilgrim numbers have soared and continue to do so, aided and abetted by books and films that have rekindled interest in what was originally a religious journey, but is now seen by many as something closer to a bucket-list 'must-do'. Hostels and restaurants continue to blossom, hosting and feeding the walkers, just as they did a thousand years ago. Make no mistake, some of these towns owe their good economic health and maybe their very existence to the pilgrims passing through.
Less solemn than any pilgrimage are the hundreds of festivals that cram the calendars of the Basque Country and Navarre throughout the year. Whether it's celebrating one of the many saints' days, fêting the pepper harvest in Espelette, watching young men try to break the neck of a (thankfully already dead) goose in Lekeitio or running with bulls in Pamplona, the festivals here serve the dual purpose of maintaining the region's culture and having fun.
Visitors to the area are growing in number as the raw edges of the recent past are rubbed smooth and the region's rejuvenation progresses. A travel-writing cliché would be to claim that the Basque Country and Navarre are 'hidden treasures', but this wouldn't quite get at the truth. Rather, they are treasures that are as yet only partially uncovered. On your visit you are sure to enjoy uncovering them.
Author's story
Walking alone guarantees time to think, time to create headspace. Twice I walked for weeks on the Camino de Santiago, through the French Basque Country and then across Navarre. My wanderings posed endless questions. Why these huge white-walled, red-shuttered houses that pepper the green Pyrenean foothills? Why this indecipherable language, full of 'x' s and 'z's, written in a hostile-looking font?
In 2014, during three days in the city completing the purchase of a Spanish classic car, I had been smitten by San Sebastián. Here, in midwinter, was a city gearing up for a massive party, the tamborrada. In schoolyards, little children clothed in chefs' costumes were banging their tiny drums without a single concession to rhythm. On La Concha beach, a young sculptor carved a breathtaking masterpiece (a figure of a drummer) out of the wet sand, his contribution to the ensuing festival. Was this a city addicted to fun?
Bilbao seemed a harder sell, even with its Guggenheim. But I found a city of surprises: a characterful old quarter, an animated nightlife, an industrial heritage being polished up, a grand boulevard laid down like a red carpet to welcome its visitors. In Vitoria-Gasteiz, I watched a display of Basque sports, and pondered further. Who are these people who lift huge stones, who value their feet so little that they chop up logs wearing only training shoes? Cycling through Pamplona at San Fermín, my friend and I dodged the odd (fl eetingly intact) glass which fl ew towards us out of the bars. Was this the Wild West? What was this raucous fiesta that had once entranced Ernest Hemingway? Here was somewhere truly foreign, yet so close to home. A strong and defiant culture, sometimes eyed suspiciously by outsiders but welcoming to all who respect it.
It was a pleasure to research this reason, to uncover some of the area's mysteries, yet knowing that others remain unresolved, perhaps forever. Delve into all parts of this diverse region, walk the endless mountains, stroll the seaside promenades, surf the waves, embrace the culture, throw yourself into the festivals (some of the world's strangest), indulge in the food (some of the world's finest). My exhortation is simple: do what the locals do, and you are bound to be smitten by the Basque Country and Navarre.