Eating and drinking
Accommodation
Eating and drinking
There is a saying that, for a Basque, the first priority is food and the second priority is 'What's for dinner?' When one Basque suggests to another 'Let's go walking on the mountain on Sunday,' the likely reply is not 'Which mountain?' but 'What food shall we take?' or 'Which restaurant are we eating at afterwards?' When reading a regional newspaper, it is not unusual to see a solemn announcement like this: 'The Guild of the Beasain Black Pudding will hold its Annual Assembly tomorrow'. Food here is religion.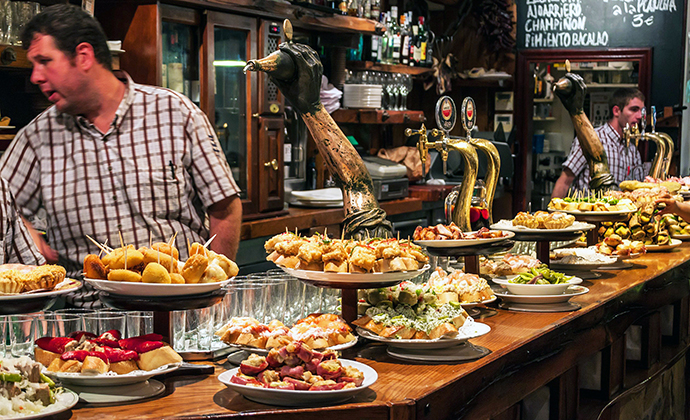 Pintxos are a must-try while in the Basque Country © Matyas Rehak, Shutterstock
Quality is everything: every Basque has an opinion on where to find the best cheese, ham, seafood and chuletón (beef chop). Moreover, they will be very happy to discuss it at great length with each other and anyone prepared to listen. Good cuisine is universal: the people eat like kings and the kings (if there were any left) would eat like the people. This obsession with food does not mean that they gorge themselves irrespective of the consequences. You won't see many overweight Basques, something which is partially due to a diet that is healthy – in both senses of the word – and partially due to their active lifestyle and love of sport.
What strikes the visitor is not just what the Basques eat, but also how, when and where they eat. The 'what' is usually straightforward, as cuisine is based on fresh seasonal ingredients, largely unadulterated, taken from the sea or brought down from the mountains. Simplicity is key. There is no need to spoil a decent piece of hake or sea bream with an elaborate sauce: in fact, some view such adornments with suspicion. Some fresh hake? Simply cook it with some oil and garlic and it will be deemed quite sufficient. A nice beef chop? Grill it and serve it on a plate, often without any vegetables to distract from the flavour.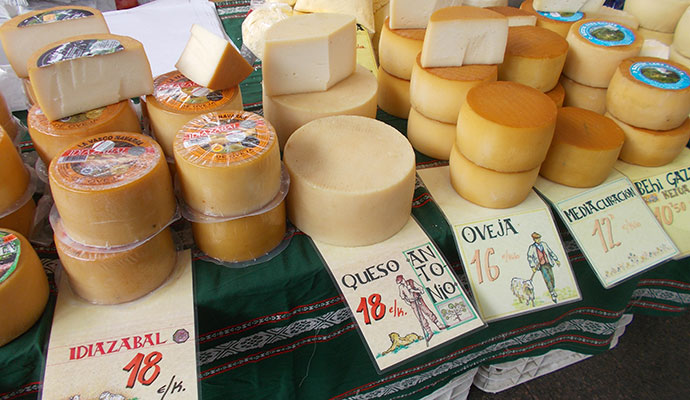 Cheese-making has a long tradition in the Basque Country, with prize-winning cheeses changing hands for vast sums © Murray Stewart
Of course, although the freshness of ingredients is the most important factor, another strand to the region's cuisine has developed in recent years. The rise of nueva cocina vasca (new Basque cuisine) demonstrates a highly creative and innovative approach that combines Basque traditions and recipes with the elevation of cooking to the status of kitchen art. Most evident in the higher-end restaurants, this cuisine comes at a price, but its quality and the value that it still represents is underlined by the accolades frequently heaped upon the region's top chefs. This is a region that glitters with Michelin stars.
Accommodation
Outside of Easter week, July and August, accommodation is plentiful and the full range of options is available from camping and pensions to five-star luxury hotels, though the latter are really only present in the super-chic locations of Biarritz and San Sebastián. Many small and medium-sized hotels are owner-managed, which usually guarantees some personal care and attention. Prices south of the Pyrenees, whether in Navarre or in the Basque Autonomous Community, are generally cheaper than in France, though accommodation in San Sebastián and elsewhere along the coast is pricier. Pamplona's prices during the San Fermín festival are a shock to the system, and if you're visiting any location when there's a festival planned, advanced booking is advised. At peak periods establishments may occasionally specify a requirement for a minimum booking period of two or three nights. In most hotels in France or Spain, breakfast is not included in the price. In the cities, hotel car parking is rarely free of charge.
Of particular interest to those who either seek their own space on a self-catering basis, or who wish to rub shoulders with locals, is the chance to stay in a casa rural or agroturismo establishment south of the Pyrenees. Here you will either stay in a room in a large house on a basis similar to the familiar 'bed and breakfast' option, or rent the entire house for self-catering. Where the listing states 'habitaciones' you will be engaging in the former; where it states 'casa entera' you will be engaging in the latter. In Navarre, most properties of this type are only available for renting as a whole house, but it's worth looking around for those that offer individual rooms. Addresses for umbrella organisations for this type of accommodation are given below, and they represent very good value, though breakfast is often at a moderate extra charge. Quite often, such establishments are in beautifully converted farmhouses whose previous agricultural function has passed into history. If visiting in winter, check that they have heating!