Climate
When to visit
Highlights and itineraries

Climate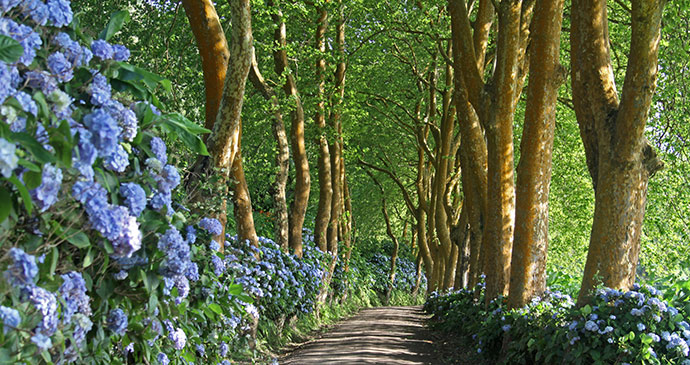 Summer is a fantastic time to visit the islands © Hemmer Damke, Shutterstock
For small islands the weather, especially when in the middle of a large ocean, is all-important. For the busy city worker, as everywhere, the weather impacts little on a daily basis, and for the visitor rain is but a passing nuisance. However, for Azorean farmers even a relatively short dry period causes problems because the volcanic soils are very quick-draining, while a rough sea means the coastal fishermen cannot go out, there is no income for them, and no fresh fish for the villages.
The Azores have a mild and equable climate, surrounded as they are by a huge expanse of sea and influenced by the warm Gulf Stream. This means that the temperature is pleasant at any time of year. The average winter temperature is 13°C, only sometimes dropping to around 4°C at night; frosts occur only above 1,000m. In summer, the average temperature is 23°C, with a maximum of 27°C.
Rain can and does fall in every month, but it is seldom persistent; and one can drive from rain through a world of rainbows into sunshine. If it is raining in the morning, do not despair – there could be clear skies and sunshine by lunchtime. Of course, the reverse is often true! The annual rainfall increases westwards and ranges from 700mm in Ponta Delgada on São Miguel to 1,600mm in Santa Cruz on Flores. Average humidity is around 80–85%, but can go up to 100%. Flowers love it! June to August is the driest period. Many days are still or with a gentle breeze. However, winds can occasionally be strong and this is especially noticeable on exposed mountains. A winter gale can also bring an invigorating chill, but the scudding clouds and turbulent seas can be inspiring for the visitor. Snow can sometimes be seen on Pico's summit, even in April.
For swimmers, the sea temperatures also vary relatively little and you will often see people bathing off the beaches throughout the winter, when the lowest sea temperatures are 15–16°C in February and March. The highest are in August and September, with an average of around 22–24°C, and are still a welcoming 21°C even in October.
When to visit
There are small variations between the individual islands, with Santa Maria seen as the sunniest, while the western islands of Corvo and Flores are the wettest. July to September are the warmest months and should have the most stable weather. November to January are the wettest. April and September normally tend to be the most changeable, but all the old patterns are changing, like everywhere else in the world. Every month is a delight in the Azores and even in January it can be possible to enjoy the walker's lunch ritual of local cheese, fresh bread and a bottle of wine, sitting in a field in bright sunshine without jackets or jerseys.
The time to go depends upon what you want to do. If it is to do with the sea – inter-island ferry travel, whale watching, sailing or fishing – then you need to go in the summer months between mid-April and early October. People swim throughout the year, but the popular times for the beaches are again the summer months and into October. Remember that the Azores are not beach destinations, however. Regarding flowers, there will always be something of interest but for the beautiful and spectacular hedgerows you should consider June and July to see them at their best, and for native species May to September is the recommended time. For walking, the whole year is good, but the rain in winter is usually colder than in summer. In winter you will also have to take extra care in the mountains. In summer there are more accommodation and eating places open, and the latter keep longer daytime opening hours.
During the high season of July and August hotels throughout the islands are usually fully booked and the casual traveller may have difficulty in getting accommodation. Some accommodation establishments close for a short period of repose between November and January, so advanced booking is advisable. In high summer – July and August – it is almost impossible to rent a car on arrival and advance reservation is essential; similarly for bicycles. Increasingly this is becoming the situation for June and September, as the growing visitor numbers cause a lengthening of the busy season. In addition to inbound tourists, many Azoreans who emigrated to North America come back to see relatives, particularly at festival times, while second and third generations return to discover their roots. March and April, still officially low season, are beautiful months because spring is usually early in the Azores and by now nature is wide awake; autumn is a much longer season than in northern Europe, and October and November have lovely warm days while the golden hues of falling leaves prevail into December. And December is the Christmas festival season, when every town is festooned with lights and decorations in a very Azorean way that is so charming and largely devoid of commercialism.
Highlights and itineraries
For many the attraction of the Azores is the peace, tranquility, and quiet rural scenes © Tony Zelenoff, Shutterstock
Highlights
The greatest attraction for many is the tranquillity and the lack of pollution: the quiet rural scenes of small houses, the pastures, the grazing cows on a stage of lush green grass and the backdrop of a deep blue sea, farmers on horseback with milk churns hanging from their saddles, the little pony cart clattering along the cobbles with more milk churns, the cattle dogs perched on top. The scenery is the true star of the Azores: ever-changing, from sea to coast and often spectacular cliffs, to pastures or stony vineyards, up into forests and hills of often conical shape until culminating in a volcano's caldera and other heights lost in cloud. Blue hydrangeas and the Azores may have become a cliché but to see an island seeming as if a fisherman's net with extra-large holes had been thrown over it creating a pattern of blue lines and enclosures remains, all the same, a remarkably lovely sight.
Even the largest towns, including relatively busy Ponta Delgada, have an irresistible allure that urges the visitor to explore them. Many ordinary street buildings have an elegant simplicity with lovely adornments of wrought-iron balconies or perhaps some ornamented basalt carving while grander places may show a more ornate Manueline influence. Small retailers are modest and sometimes do not even bother to advertise their presence while often the stock is held in the shop's dark recess so that it is difficult even to decipher what it is they are selling. Frustrating? No – simply refreshing. The narrow cobbled backstreets have constricted pavements while bigger thoroughfares have grander ones; whatever their size they are made of small squares of black basalt and imported white granite that is used to make designs appropriate to the place: caravels, whaling boats, whales, fish, figures dressed in the no-longer-worn capote or cloak, windmills, sheaves of corn – there is no end to the pavior's enterprise. For the foot-weary there are pleasant street cafés to enjoy a drink while watching island life pass by, or many a quiet church for deeper contemplation.
Certain islands are perfect for exploring by car, and endless hours can be spent discovering rural roads or following up those that do not appear on maps. There are so many tempting places to park your vehicle and just lean on a fence post and enjoy a view or listen to the birds. Should you tire of rural scenery, then comes the satisfying contrast of dropping down to the coast and into a little village; maybe at its centre is the main church, a tiny public garden with its bandstand, and a café, or perhaps you have chanced upon a fishing village with a harbour and nearby natural swimming pools for an ocean swim and a fish restaurant to follow.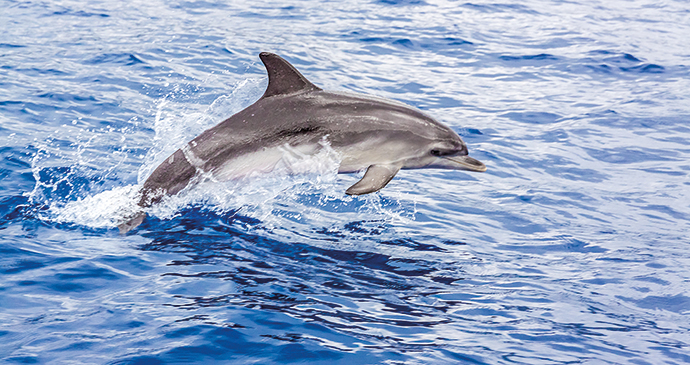 Whale and dolphin watching is one of the most popular activities on the islands © Sunvil
Whale watching has become tremendously popular since it first began on Pico years ago and still uses the old expertise of the lookouts in hilltop towers to spy the cetaceans. It is a truly world-class cetacean hotspot and a single 3-hour trip might reveal two or three whale species and almost certainly some playful dolphins. Numerous enterprises now offer the experience. Diving affords a range of unique opportunities, from wrecks to sea cliffs and extraordinary underwater lava formations, and several companies on many islands offer their services. Many small fishing boats can be seen, either drawn up on the harbour quays or gently bobbing a short distance offshore, and if you feel tempted there are fishermen registered to take you out to fish for your supper. At the other end of the spectrum, the Azores are renowned internationally for sport- or big-game fishing, especially for blue marlin, and many world-record catches have been made, although of course these are for putting back in the sea and not for eating.
Going hand in hand with the tranquillity and clean environment are walking and cycling, the finest ways to acquire a real feel for the islands. Several companies offer organised cycling tours, and it is often possible to borrow or hire bicycles from hotels or guesthouses. There are short and long walks, in the mountains, along the coast, sometimes on narrow trails, at other times on seldom-used farm roads. The views are always changing, and relics of the past are everywhere, from wheel-worn donkey paths hidden beneath the summer's flush of vegetation to abandoned farmhouses and crumbling watermills. Hiking routes have been waymarked and documented and are kept reasonably well up to date. Some published walks are short and many are linear rather than circular; the narrative descriptions can be vague and maps weak, but the waymarking itself is good and the whole trails programme is under constant review. Winter storms cause landslides, and vegetation is so lush that in a very few weeks freshly cleared paths are concealed.
For all walks it is best to check with the local tourist information office or your Azorean travel agent that the walk is clear before setting out; also make use of the official trails website (trails.visitazores.com).
One gets the impression that some routes are devised by office-based bureaucrats, and not by a practical ranger or forester on the ground. However, if you are prepared to risk some possible frustration and the need to fall back upon your own sense of direction, you will enjoy many a memorable walk. For those who prefer, guides are available, as listed in the individual island chapters or through the local travel agencies. A couple of hours' walking with a guide gives you a wonderful opportunity to download information, face-to-face, about the Azores.
The golf course at Furnas on São Miguel must be one of the world's most intimate and exquisitely beautiful courses, given its mountain setting with sheltering forests and numerous elegant tree ferns. It is little known, but for any golfer who values the environment and surroundings in which he or she plays, this course cannot fail to impress. However, it is not without hidden challenges, for its luxuriant vegetation reflects its relationship with the clouds, and it can be quite entertaining to drive off into a white mist that has suddenly descended and might well instantly clear to give advantage to your opponent. There are two other equally green courses to play, both at much lower altitudes, at Batalha (also on São Miguel) and on Terceira.
Planning an itinerary: which islands?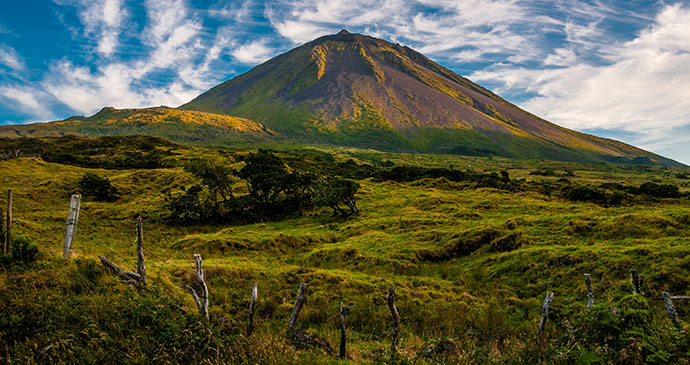 Walkers should consider visiting Pico, home to Portugal's highest mountain © Robert Van Der Schoot, Dreamstime
The pace of the Azores is slow, and slowly is how one should discover them. There are nine islands and if you were to attempt to see them all in one visit to the archipelago you would need several weeks to do them all justice. Should you try to visit too many islands in a short period you will end up spending a disproportionate amount of time waiting in airports or for ferries. If you have just a week, then you might be well advised to concentrate on the largest and most diverse island, São Miguel, which is also the aviation hub and therefore the most accessible for foreign visitors. If you have more time, maybe combine São Miguel with Faial, and Pico with perhaps Terceira as well for your first visit (these islands will easily take up two weeks) and then see other islands on return visits. Different islands suit different means of touring. Plan your trip carefully and consider hiring a car for just some rather than all of your stay on each island.
If you like to hire a car and take your time exploring then São Miguel, Santa Maria, Terceira, Pico, São Jorge and Flores would make the best choices.
If you prefer to tour with someone else driving, then much of São Miguel can be accessed by bus. Graciosa is small; there are buses, but distances are so short and taxi fares are reasonable. Terceira largely means the city of Angra, for which you do not need a car, and adjacent Monte Brasil can also be explored on foot. A half-day taxi tour would provide a glimpse of many of the other Terceira highlights, although using buses, which is cheaper, will still allow you to see a fair number of sights. Faial offers Horta and nearby attractions, and a half-day taxi tour will take in the island's main features. Pico can be visited by ferry in a day from Horta, with a half-day tour seeing the western sector, but do stay a night or two there, especially if you intend to conquer the summit of the volcano.
For walkers, São Jorge, São Miguel, Faial and Flores are all excellent, and there is Pico if you want to climb Portugal's highest mountain. In truth, there are now walks on every island. For cycling, São Miguel is the most developed, with activity companies to guide you, though bikes are easy to rent on Pico and Santa Maria, too. São Miguel is best for gardens and Pico has the most accessible native flora. Birdwatchers should give priority to São Miguel, São Jorge, Pico and especially Flores and Corvo in the autumn, although the old quarry at Praia on Terceira is also excellent for rare waders at this time, and the airport area of Santa Maria attracts many species as well.