Climate
Armenia generally has a highland continental climate with hot, dry summers (June to September) and cold winters (December, January and February being the coldest months). However, the weather does vary regionally, even to the level of neighbouring valleys, owing to the formidable topography, differences in elevation, and other factors affecting local microclimates.
Variation in elevation and terrain thus often has more influence on the weather than simple north–south distances. Gyumri, for example, is famously cold compared with lowland Yerevan, even although the distance between them is only 122km. Armenia's very highest mountains see at least partial snow cover all year round.
Dilijan and its surrounds are sometimes referred to as 'semi-rainforest' due to the high level of rainfall. April and May are the wettest months: although this usually means thundery showers, the rain can be continuous for long spells. Spring can be very short, the weather changing from wintery to summery in just a few days.
During the hottest months of June, July and August low humidity does mitigate the high temperatures, though Yerevan can be stifling nonetheless, prompting many Yerevantsis to head for the mountains and lakes. Autumn is relatively long and often very pleasant. 
When to visit Armenia
The best time for general sightseeing and touring tends to be in May and June, or else late September and October. The former sees the wild flowers at their very best, the landscapes greener and the lower regions (including Yerevan) not yet stiflingly hot, though it can be stormy.
The latter is drier and the heat of summer has subsided, but of course there are few flowers and much of the country is parched and brown. As compensation, the brilliant autumn colours of Armenia's forested regions are truly striking.
Visibility is also better during these periods of late spring and late summer/autumn, with a higher chance of a good view of Mount Ararat.
Having said all of that, midsummer visitors will enjoy reliably fine and sunny weather, and respite from the worst of the heat can be found in the plentiful mountainous regions and the temperate forests of the northeast and south – indeed, the highest reaches frequently remain snowbound until July. Seasonal fruit and vegetables are abundant in the summer and always available on roadsides.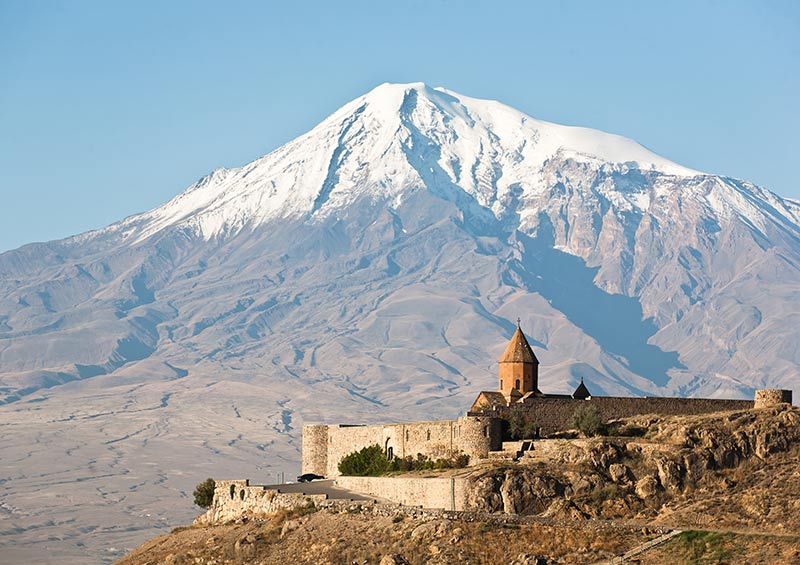 Winter is the low season as far as tourism is concerned, due to dependably cold weather and snow; however, much of the national road network is kept clear for travel, and some may of course see the snowy mountains as an opportunity. Relatively cheap skiing opportunities pull in many Russian visitors, and the timing of Persian New Year in late March ensures that the streets of Yerevan are packed with Iranians long before the first Western tour groups arrive.
At any time of year, visitors to Armenia should take into account the regional variations in climate due to the country's diverse range of landscapes and elevations.
Calendar
January
Celebrate New Year and Christmas – in that order
In the Armenian church, as in all eastern churches, Christmas (6th January) is celebrated after New Year. It is at New Year that presents are exchanged and Kaghand Papi (Grandfather New Year) brings gifts for the children.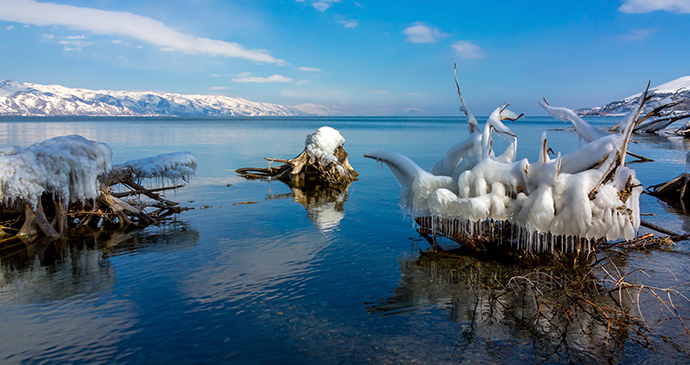 Christmas remains more of a religious festival when the church marks the baptism of Jesus as well as his birth. Food is an important element in both celebrations; in fact, the two weeks from 31 December is a more or less continuous feast.
February
Winter sports and fire-jumping
Try skiing, snowboarding and skating at Tsaghkadzor, Armenia's principal ski resort which was used for Olympic training in Soviet days. On Trndaz day (13 February) recently married couples jump over a fire kindled by candles lit from a fire which the priest has blessed after a church service. Jumping over the fire gets rid of the small devils hanging from the edge of their clothes.
March
Experience winter in Armenia – but go warmly clad!
For the adventurous, visiting in winter is an option. You will need to know how to cope with snow and ice but you will have most of the sites to yourself amidst the frozen stillness and beauty.
April
Join the Armenians as they mark Genocide Memorial Day
This moving ceremony on 24 April sees most of Yerevan visit the Genocide Memorial to lay flowers around the eternal flame at the centre of monument. People of all ages add their flowers to the growing bank of floral tributes.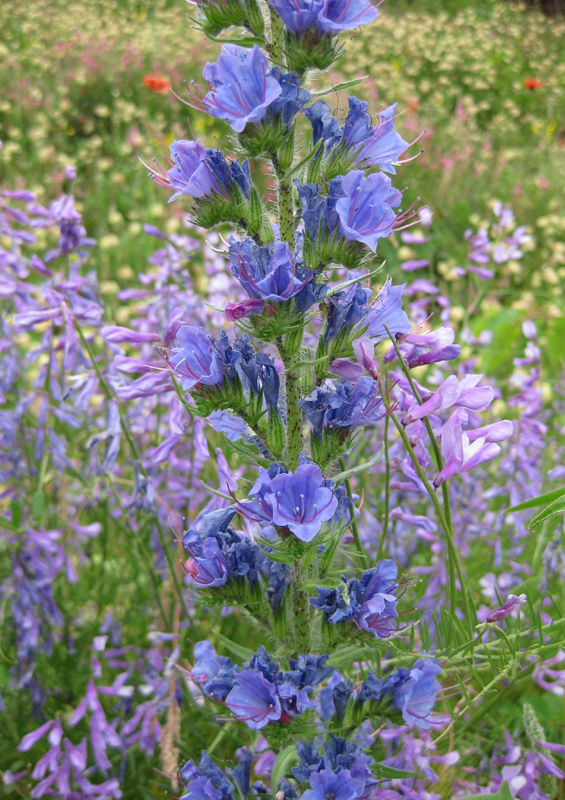 May
Spring has sprung!
Exuberant swathes of brilliantly coloured wild flowers clothe the countryside and will continue to do so through June before the heat of summer comes in July.
It is the season for Armenians to gather herbs from the hillsides for cooking and herb teas – try the excellent thyme tea. Late May is also one of the best times of year to catch good views of Mount Ararat.
June
Sample the outdoor café culture
Relax over an Armenian coffee or beer (perhaps with one of Armenia's delicious pastries) and watch the world go by. In the evenings, (re)discover the art of strolling and linger beside the dancing fountains in Yerevan's elegant Republic Square.
The fountains dance to classical music while changes to the lighting enhance the effect – an unusual spectacle invented by a professor in the electronics department of Yerevan University.
July
Be prepared for the festival of Vardevar
Vardevar is a water-throwing festival held on a Sunday in summer. The date varies but being 14 weeks after Easter it usually falls in July. The festival has pre-Christian origins although now it officially commemorates the Transfiguration of Christ.
Children accumulate buckets of water to throw over passers-by; adults can and do retaliate. In the heat of July it can actually be very refreshing to be soaked; you will soon dry off so enter into the spirit of the festival with good will – but don't wear your best clothes. 
August
Take a summer break at Lake Sevan
While not quite the seaside, there are beaches and swimming at Lake Sevan, Armenia's high altitude lake. Sample the local trout barbecued at a lakeside restaurant. For culture, visit Lake Sevan's monasteries and the wonderful intricately carved khachkars (some 900 of them) at Noratus.
September
Walnut time
For those of us brought up on packets of walnuts from supermarket shelves, fresh walnuts are a revelation! The markets have huge piles of them but even better are those picked and eaten straight from the tree. Walnut trees were often planted at monasteries; some still have a venerable tree dating from the founding of the monastery. Having removed the shell, it is easy (even if somewhat fiddly) to peel off the inner membrane covering the nut and one is left with a delicious creamy white kernal to savour.
October
Enjoy the Areni wine festival
Centre of one of Armenia's wine-producing areas, Areni holds its annual wine festival on the first Saturday of October. Part trade fair, part local celebration, there is wine-tasting, food, dancing and an opportunity for young girls to tread grapes in the traditional barefoot manner. Areni red wines, made from an indigenous grape variety, are among Armenia's most popular wines.
November
Time to start thinking of going indoors
As the long, pleasantly mild autumn becomes winter, Yerevan's many impressive museums, art galleries, theatres and concert halls provide food for the mind and the soul. You may be lucky enough to catch a performance of Tigranian's opera Anush, a work which aims at a fusion of classical western music with distinctive Armenian melody and harmony.
December
Be adventurous – try khash!
Making and eating this dish for a khash party is usually a ritual among friends but some restaurants do serve this winter 'delicacy'. The khash (perhaps best translated as cowheel soup) is cooked overnight then eaten for breakfast with lavash (Armenia's flatbread), pickles, greens and radishes, all washed down with considerable quantities of vodka, ideally mulberry vodka, in a series of toasts.