Author's take
The Alpe-Adria Trail is an epic long-distance hiking route, stretching some 750km through the mountains of Carinthia, Slovenia and northern Italy – from the foot of the Grossglockner (at 3,798m, the highest peak in Austria and the Eastern Alps), to Muggia near Trieste on the Adriatic coast. Over its meandering course, it takes in spectacular, unspoilt mountain scenery, alpine lakes, deep gorges, rocky karst and rolling coastal hills. The route passes through a whole raft of specially protected landscapes – from national parks and nature reserves to UNESCO biosphere reserves – and visits a succession of compelling historical sites, from the UNESCO-listed medieval city of Cividale, to remote pilgrimage churches, and the haunting relics of the Isonzo Front from World War I, still eerily resonant to this day. And there's hardly anyone walking it, despite excellent transport and accommodation – so, at least for now (and unlike many of the better-known trails in the region), you'll often have the views to yourself. The route is split into 43 stages (including a six-day circular route) and can comfortably be walked in six weeks – although it's possible to get through the whole thing in not much more than a month, allowing closer to six weeks to cover the route will be more rewarding and allow you the occasional day off from hiking, either to put your feet up, visit local cultural and heritage sites, or (if you're still full of energy) jump on a mountain bike or paddle off in a kayak. There's a huge amount of scope for lingering and exploring further – mountain peaks and architectural gems, alpine railways, wine cellars and traditional festivals – without even venturing very far from the main trail, often without leaving it at all.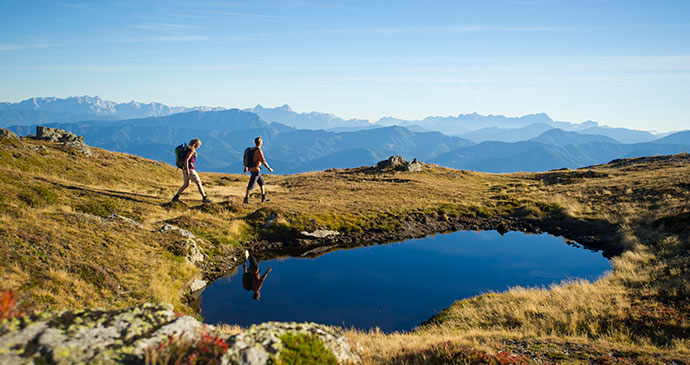 Mountain tarn at Millstätter Alpe (Stage 13) © Franz Gerdl, Kaernten Werbung
Stages average around 20km a day, sometimes more or less – the longest stage is over 27km, the shortest less than 11km (these short days can often be combined with the preceding or following stage to cut down the overall number of days required to complete the route). Depending on the terrain, stages may have up to 1,500m or so of ascent and/or descent in a day in Alpine areas (1,000–1,300m is more usual), or less than a 100m of ascent and descent in lowland areas, and you can expect hiking times of between 5 and 7 hours a day. A high point of between 1,800m and 2,200m is usual for Alpine sections of the route such as Nockberge, sometimes marginally higher (Stages 1 and 16).
Along the trail you'll follow a mixture of paths and 4×4 tracks, with some sections of walking on asphalt roads inevitable; at times it shares the trail of other long-distance hiking routes, such as the Via Alpina. Trail markings are generally good (better in Alpine areas than along the coast), and there's also a very useful app which includes detailed mapping for the whole route. There's a summary of stages, including distance, ascent and descent, on pages 23–4.
This is never really a wilderness hike in the true sense – the route has been chosen to make it fairly easy and accessible to all, with stages finishing where there is accommodation in the form of a pension, hotels or a mountain hut rather than charging off into the wilds completely. That means there's no need to carry a tent (nor will you find very many campsites where you could pitch one, and wild camping is generally prohibited, so you'd do much better to leave camping gear at home and enjoy carrying less), or any more food than a few snacks and sometimes a picnic lunch. It's a great walk for families, with only very few spots which could be more challenging for younger kids, such as a few swing bridges.
And despite the route passing close to some major population centres such as Trieste, it manages to remain, for much of its length, wonderfully green and remote. The terrain is extraordinarily rich for wildlife and plants – from lammergeiers and marmots in the Hohe Tauern, to Alpine butterflies and orchids in the Julian Alps.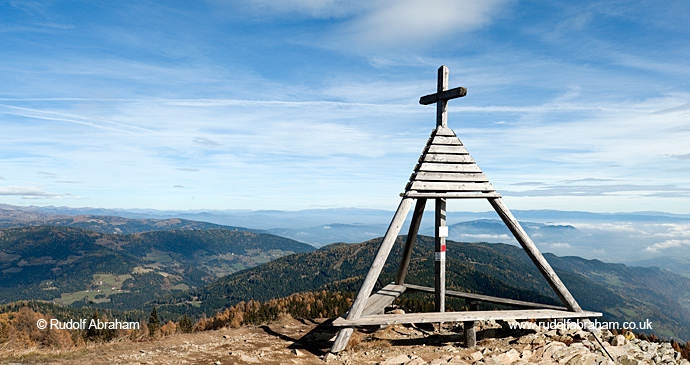 Triangular bench on Gerlitzen, on the route down to Ossiach (Stage 19) © Rudolf Abraham
Accommodation standards along the trail are good – all the places recommended in this guide with a  symbol are excellent – and booking (and if you require them, arranging transfers) is made exceptionally easy through the Alpe-Adria Trail booking offices. Food is another highlight of the route, dipping in as it does to the culinary traditions of the mountains and the Mediterranean, from heavenly Nudeln and hearty peasant stews to exquisite pasta dishes and glisteningly fresh fish, and passing through some exceptionally good winemaking areas.
There's convenient access by public transport, making it just as easy to dip in and out of the route – say, splitting it into three or more two-week trips – as walking the whole thing in one go. The route is intended to be walked from north to south, that is, finishing in Muggia – although if you really wanted to it could also be walked in the opposite direction, with more ascent, slightly less clear trail markings and without the inexplicable pleasure of fi nishing by the sea.
As well as all its spectacular and diverse scenery, awe-inspiring vistas, heritage sites, fantastic wildlife and fl ora and foodie comforts, one of the great strengths of the Alpe-Adria Trail is that it highlights just how much, culturally, this Alpe-Adria region – spanning the borders of three European countries – has in common. Which in the increasingly polar Europe of today, is something I find enormously welcome.
Author's story
I first visited the ripple of mountains at the corner of Austria, Slovenia and Italy, and hiked along paths which would later become sections of the Alpe-Adria Trail, back in the late nineties and early noughties, when living in Zagreb, in neighbouring Croatia. At the time Ljubljana was not much more than a couple of hours away by train, Trieste was an easy day out which required little more incentive than the prospect of sipping coffee on Piazza Unità, and the Julian Alps were a favourite and seemingly inexhaustible local playground.
I have now been visiting, writing about and photographing this part of Europe for over 15 years. While working on this guide I walked the Alpe-Adria Trail over several trips between April 2015 and January 2016, in different seasons, different lights – and found these trails had lost none of their beauty in the intervening years.