Eating and drinking
Hiking the AAT takes you through a wonderful culinary landscape, earthy yet refined, with plenty of delicious local and regional dishes to try.
Carinthia
Carinthia's signature dish is Kärntner Nudeln – something like giant, half-moon-shaped ravioli, filled with mashed potato, curd cheese, fried onion, garlic and herbs (including mint), pinched neatly along the edges and served smothered in melted butter. I confess to being completely addicted to these, and will indulge in them at any available opportunity. For vegetarians Kärntner Nudeln will be especially welcome (though you might want to make sure they don't come scattered with bacon shavings). There are versions with a meat filling as well (Kärntner Fleischnudeln), or sometimes other vegetables such as pumpkin; but the traditional potato and curd cheese version is pretty hard to beat. For dessert there's the rather heavenly Kärntner Kletzennudeln filled with dried pear, cinnamon, honey and nuts.
Game is popular in upland areas of Carinthia including the Möll Valley (Stages 1–11), there are seasonal dishes such as goose (eaten in October and November, if you're lucky enough to be staying at Herkuleshof on Danielsberg (Stage 8) at that time), and duck is a signature dish at Metzgerwirt in Radenthein (Stage 14). Glockner lamb is a specialty of the upper Möll Valley, the animals having fed on a diet of alpine herbs high up the valley sides, just below the snow line. There's some excellent freshwater fish – locally caught trout at Falkerthaus (Stage 15), char (de Saibling) and lake trout from the Millstätter See (Stages 12 and 14) and the Ossiacher See (Stages 19 and 20).
Slovenia
In Slovenia you can try ričet, a rich, warming stew made with smoked pork and beans along with other ingredients. Along the Trenta and Soča valleys (Stages 23 to 36), you can feast on freshly caught trout (though what you're served won't be the endemic Soča trout, which is an endangered species). Kranjska klobasa is a local sausage from the Kranj region, made with pork, beef and bacon fat – the traditional production of which is inscribed on the UNESCO List of Intangible Cultural Heritage.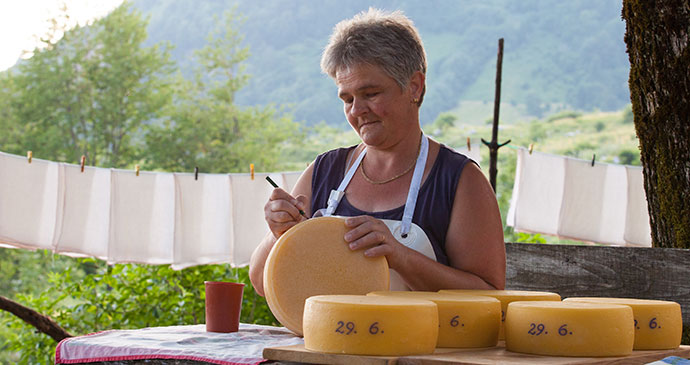 Tolminc cheese – a Slovenian speciality © Slovenian Tourist Board Archive
You can sample some local cheeses in the Soča Valley, too, including Bovški sir, a sheep's cheese that has been made in the area around Bovec since the 15th century (Stage 24), and Tolminc, a hard full-fat cheese from Tolmin (Stage 26). Both of these cheeses have been awarded Designation of Origin status. Traditional curd cheese (skuta) is often served with boiled potatoes (čompe).
Italy
In the mountainous northeast around Tarvisio (Circular Route Stage C4 and C5) and in the upper reaches of Valli dei Natisone (Stages 27 and 28) you'll find plenty of dishes with game or wild mushrooms, and chestnuts feature prominently in recipes, too. In contrast, along the coast seafood dominates menus, especially at Villaggio del Pescatore (Stage 33) and in Muggia (Stage 37). Exquisite pasta dishes are ubiquitous.
Accommodation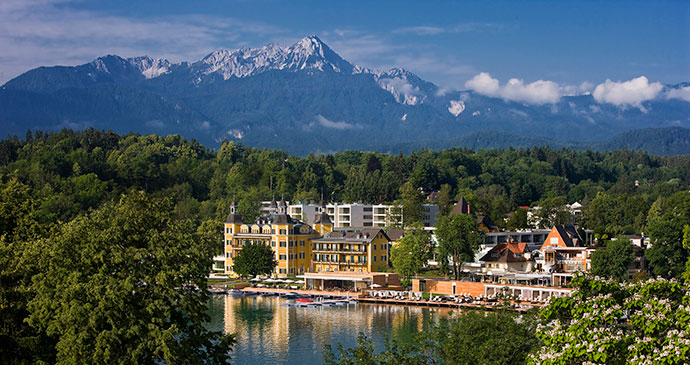 The upmarket Schlosshotel Velden (Stage 20) was once a 16th-century manor © Wörthersee Tourismus
Accommodation along the AAT ranges from small family-run guesthouses and simple mountain huts to four-star hotels and spa resorts. Accommodation can get quite booked up in July and August, so booking ahead is strongly advised – particularly where there are no other accommodation options, for example when staying at a mountain hut or in a small village. Not booking and just turning up will likely mean you'll need to continue for some distance into the following stage to find a (possibly far less attractive) alternative.