Visas
Getting there and away
Getting around
Visas
Citizens from EU countries, the USA, Canada, Australia, New Zealand, Mexico, Israel, South Korea, Argentina and Brazil do not require visas to enter Portugal. Nationals of Australia, Canada and the USA can stay for up to 90 days without a visa. EU nationals can stay for an unlimited period, but must register with the local authorities after three months. After the UK leaves the European Union, documentation requirements for UK citizens may change. Check before travelling.
Getting there and away
The Alentejo is easy to reach. Lisbon is served by regular direct international flights with TAP from destinations in North and South America, Asia and European capitals. Australasians will need to change planes in London or another European capital. There are flights into Faro from UK, German and Irish airports, and Badajoz in Spain (which is just 15km from Elvas) has connections to other destinations in Spain.
Lisbon airport has car rental offices on the ground floor of Arrivals. Buses 208 and 705 connect the airport to the Estação Oriente railway station for trains to Évora and Beja. Badajoz Airport has connections only with other cities in Spain and is linked to Évora and Elvas by regular buses. There are car rental booths in Faro Airport but no buses from the airport to the Alentejo. You will need to take a taxi to Faro bus station, from where there are onward connections to cities in the Alentejo.
Getting around
By bus
The Alentejo has an extensive intercity and local bus network. Intercity buses are run by Rede Expressos, whose site has timetable and price information in English. Local buses run on weekdays only, on an extensive network that covers even the smallest villages. Information is available from Rodoviária do Alentejo. The website, while in Portuguese only, is easy to use. Click 'Ver Horarios' to see PDFs of timetables. Bus prices are less than half their equivalent in the UK for a similar level of comfort. Some buses have toilets.
By train
Évora, Alcáçovas, Alvito, Cuba and Beja are connected to Lisbon's Oriente station by four intercidade (intercity) trains daily. For information contact Comboios de Portugal. Tickets are available through travel agents or in railway stations and do not need to be booked in advance except on public holidays. First class (primeira/conforto) is more spacious with better seating and more storage space than second class (segunda/turística). Fares are low, with a ticket between Lisbon and Évora costing around €17 one way/€30 return in first class and around €13 one way/€22 return in second class.
By car
The best way to get around the Alentejo is by car, as this affords access to the smaller villages, the beaches, and out-of-the-way castles and natural attractions. Portuguese roads are excellent and far emptier than those in the UK. Motorways have toll booths, so be sure to carry loose change with you. Streets in Alentejo towns were built for people or horses by the Moors and can be very narrow. Avoid driving in town centres if possible.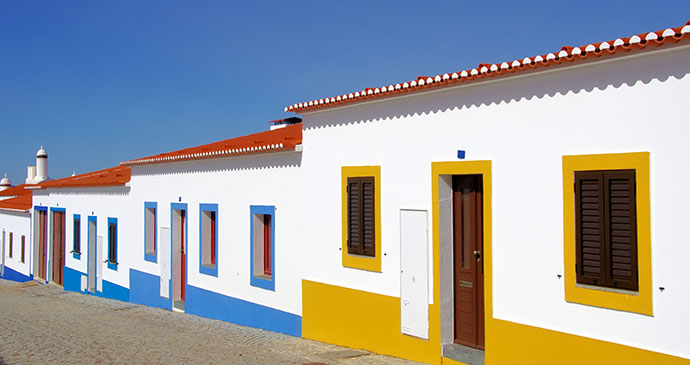 Hiring a car is a great way to access remote towns and villages in Alentejo © Inacio Pires, Shutterstock
With 62 road traffic deaths per 1,000,000 in 2017, Portugal is higher than the EU average, but safer for drivers than Romania (with 98), but less safe than the UK (with 27). Drive on the right-hand side of the road, giving way to the left at roundabouts. Speed limits are 120km/h on motorways, 90–100km/h on highways, 30–50km/h in towns. The legal alcohol limit when driving is 0.05mg.
Child safety restraints are mandatory for all children up to 12 and under a height of 1.5m, who are permitted to travel in the front seat only if the proper restraints are in place and the airbags switched off. Cars with no seat belts in the back seats can't carry children under three years old.
It is mandatory to carry your driving licence, vehicle registration document (V5) and certificate of motor insurance. Fines have to be paid on the spot; most police vehicles have a portable credit/debit card machine. Failure to pay on the spot will result in the retention initially of the documents (for which you will receive a receipt), and if the fine is not paid in three days, of the vehicle.
Car hire
Rental costs with unlimited mileage start at around €50 per week and are often cheaper midweek off season when booked ahead online. The major players all work in Portugal and have offices in the airport at Lisbon, which is the best place to hire for choice and prices. There are also car rental offices in Évora and Beja.