The author's take
The Alentejo is that bit of Portugal you'd do well to avoid. There's nothing here worth seeing. You're really far better off spending a few days in Lisbon and then whizzing down the motorway to those glorious, crowded beaches along the Algarve.
So off you go. And be sure to keep that foot hard on the accelerator pedal as you leave Lisbon airport, those eyes glued to the road. Firmly glued, please. Don't look right or left. Ignore that castle on the hill, those crumbling Roman ruins, that palace hotel, those nesting storks, the soaring eagles, those lonely strands of empty sand.
Yes, and ignore the World Heritage Sites too.
In short, leave it all behind. As an expert on the region I can assure you that you'd be wise to do so. I've been wandering around the Alentejo for years now. Just for work, of course. And I can state with conviction that I can't stand those Baroque churches encrusted with gold and covered with intricately painted azulejo tiles. I am tired of the ground-breaking Renaissance art, the turbulent history, the Moorish forts and Phoenician towns, the winding rivers and cork oak forests where lynx and wild boar bask in the warm afternoon sun. And those medieval villages where you can hear a footfall on the cobbles, or the snore of an old man in a cloth cap dozing on his doorstep.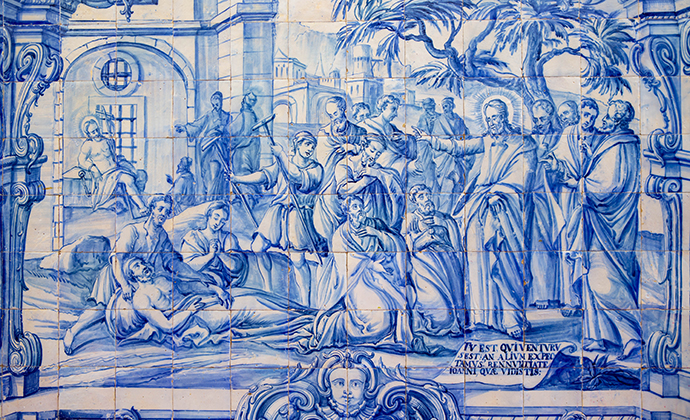 Intricately decorated azulejo tiles adorn many of the Baroque churches in Alentejo © Alex Robinson
The meadows make me sneeze. The butterflies are too colourful. The air's too fresh, the stars too bright. And the wine is dreadful. So dreadful that the locals refuse to export it. 'We'll drink it all ourselves,' they say, 'to save foreigners the bother'. After all, who wants rich, earthy reds, bursting with fruit, or tangy, crisp whites as fresh as a mountain stream?
And they keep those juicy fat olives and creamy cheeses for themselves too, those lightly toasted fragrant vanilla custard tarts, those gamey stews and seafood risottos. And those fish that are pulled straight from the sea and served before they've even been wrapped in plastic and sealed with a price label.
Unlike most of Mediterranean Europe the Alentejo is, I am afraid to say, positively underdeveloped. Even unspoilt. Rather than chain hotels with sparkling new wood veneer, accommodation tends to be in converted palaces and medieval castles filled with beautiful antiques and priceless paintings. Service is untutored – worryingly free of technical courtesy and filled with uncontrolled warmth. And the entire region is completely free of shopping malls. Instead, the cobbled streets that wind through whitewashed little towns and villages are lined with locally owned small shops where produce is made mostly by hand to centuries-old traditions.
It's all very off-putting. So follow your instincts – pass right through en route to busier places – to throw down your towel by the pool, sip that sun-warmed beer and enjoy those interminable tracts of purpose-built condos by the beach.
The author's story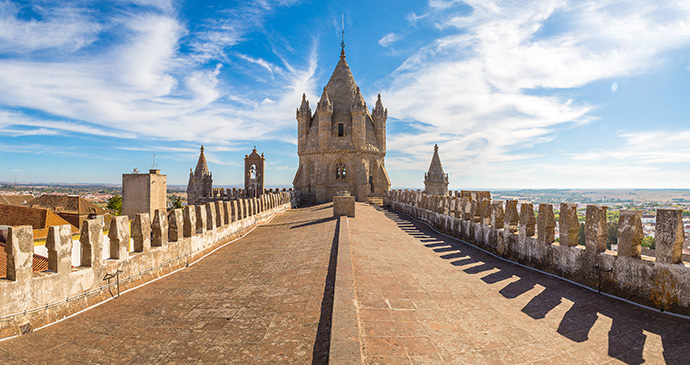 The massive masonry and squat pinnacled lantern tower of Évora Cathedral dominate the sky © S-F, Shutterstock
I discovered the magic of Portugal through a handful of serendipitous moments. A free stop-over en route to Caracas – courtesy of the national carrier TAP – introduced me to the beautiful backstreets of Lisbon, with their cascades of cobbles, their fado cafés and fabulous funiculars. A photography job in Tomar led to a chance encounter with an impossibly friendly professor who gave me a free guided tour of the occult sites of the Templar Knights in his rickety old Renault, before handing me the keys to his beach house in Nazaré. 'Post them back through the letterbox when you go tomorrow', he said, before leaving me on the doorstep and driving off back to Tomar.
And later on my way to Brazil I visited Évora, where I found myself in a brightly painted café. As I sipped a thick bica espresso, the sweetest, saddest music began to play – lilting acoustic guitar, a harpsichord and a voice of tragic, limpid beauty which sent the hairs on my arms tingling. I had to know who was playing. And so delighted was the owner by my enthusiasm for Madredeus that she promised to show me Évora the next day – driving me to stone circles, the olive groves and a string of beautiful castles, the CD playing in the car stereo all the way.
I've been visiting the Alentejo ever since. And on every visit I've thrown myself into the present moment, planning little but a route and allowing the Alentejo to do the rest. It never disappoints. Every visit has brought some special serendipity – an invitation to meet a faith healer who reset the bones of my dislocated shoulder while chanting Ave Marias, a conversation in a bar leading to the discovery of a shipwreck on a lonely beach just as the sun melted into the sea, a meeting with an old widow sitting in a lonely village topped by a crumbling convent, its azulejos encrusted with vines, its roofless chapels echoing with birdsong. She pointed to the rocky hills around and told me in all earnestness that when she was a girl a family of werewolves lived there. Hidden behind a chicken coop at dusk when one of the brothers came out of his house, she'd even seen him change – twisted, deformed and then running, dog-like, into the trees, salivating at the rising moon.