Eating and sleeping
Accommodation
Eating and sleeping
Food
Most restaurants in the Alentejo offer Portuguese or regional dishes; international food can be hard to come by. But the Alentejo – which is known as the breadbasket of Portugal – is one of Europe's undiscovered culinary destinations, with a strong regional cuisine and some of Europe's finest wines. Alentejan food has more verve than most Portuguese fare, with a bolder use of herbs like coriander and a broad array of dishes. Dishes are full and strong flavoured, and are served in generous portions. Vegetarian options can be hard to come by.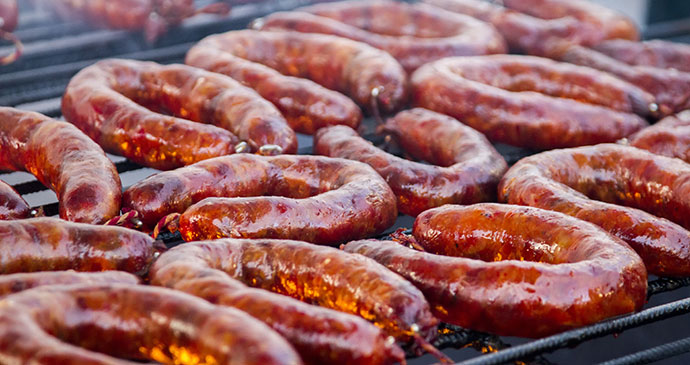 Chouriço sausages are flavoured with the herbaceous fodder and nutty acorns upon which the black pigs graze © Mauro Rodrigues, Shutterstock
Alentejo cuisine developed out of local resources. With fertile soils, the region has been used for growing olives, vines, cork, wheat and barley since Roman times. Acorns form the cork and holm oaks, grains and the thin grass growing on the plains and slopes provide animal fodder for sheep, some cows and pigs, including the uniquely Alentejan black pigs that forage semi-wild. The Alentejo's woodlands, pastures and river valleys are home to game, including wild boar (javali), hare, partridge, quail and deer. The meadows are rich with wild herbs and gardens grow bushes of scented rosemary, thyme and lavender, alongside the reddest, plumpest tomatoes you'll ever see.
The Alentejo is renowned in Portugal for its olive oil and bread, its goat and lamb and – perhaps most conspicuously – its pork. Many products are prepared from Alentejan pork or lamb. The presunto (cured ham) is as fine as Spanish jamón serrano or Italian Parma ham. Chouriço sausages are flavoured with the herbaceous fodder and nutty acorns upon which the black pigs graze. Dishes are rich and flavoursome, designed for feeding workers on the land. Other dishes are served with thick bready sauces, such as migas (made from fresh olive oil, breadcrumbs and herbs) or açorda (a garlicky bread-thickened, cilantro-infused soup served so hot that the eggs broken into it poach on contact). In the hills locals harvest chestnuts in autumn that are used to flavour soups and game dishes.
Towns and villages like Serpa, Niza and Évora are famous for their creamy sheep's milk cheeses. Queijo da serra is sweet, soft and delicious as an appetiser. Queijo de Évora is a stronger, more mature cheese, with a mouth-wateringly peppery taste that goes well with a rich Alentejo red. Queijo de Serpa is the best of the lot – rich and creamy with a full, nutty flavour. On the coast the seafood is as fresh as you'll find anywhere in Europe and it comes in great variety. Dishes include ameijoas à bulhão pato (clams in white wine and fresh herbs), arroz de lingueirão (a kind of risotto stew made with razor clams), choco (cuttlefish), delicately flavoured dourada (gilthead bream), and white fish like pescada (hake) and robalo (bass).
And then there are the convent desserts made in every other small town or village from recipes invented in the convents and monasteries. Such delicacies include encharcada (sweet chestnut mousses made from sieved egg yolks swirled into a skillet of boiling sugar syrup), elvas da sericaia (baked on a traditional tin plate and served with ripe plums), or pão de rala, a cake made with almonds and pumpkin, first made by the nuns of St Helena do Monte Calvário.
Drink
The Alentejo has some superb, inexpensive wines – from crisp, light whites that soften the summer heat to hearty, full-bodied reds for washing down those gamey autumn and winter dishes or sipping with a Serpa cheese.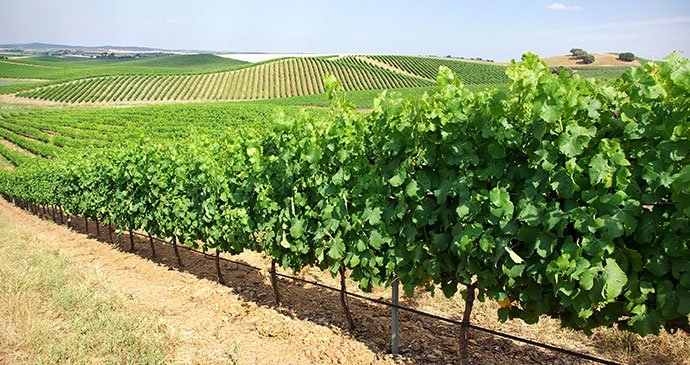 There are numerous vineyards in Alentejo, each creating wine with a distinctive, regional character © Inacio Pires, Shutterstock
Portugal has the second largest number of indigenous grape varieties in the world, many of which are grown in the Alentejo, and which impart their distinctive, regional character to the wines. They include Antão Vaz (perhaps the best white grape in the region, with good acidity and tropical fruit flavours), white Diagalves, Aragonez (aka Tempranillo, the most widely planted red), Alfrocheiro, Castelão and Trincadeira. Blends are common, and one of the commonest is of Aragonez, Castelão and Trincadeira – producing a deep, fruity red.
Accommodation
Whether you're lording it in luxury in a palace or royal castle, staying in a traditional farm house set in flower-filled meadows or settling in to a Baroque, azulejo-bedecked bedroom in a converted 17th-century monastery, the Alentejo is replete with delightful accommodation options. Rates in Portugal include breakfast unless stated otherwise by the hotel.
Pousadas
After the collapse of the Estado Novo, the Portuguese state sought to recuperate many of the beautiful monasteries and castles which had been left to crumble and decay after their appropriation by the republic in the 19th century. Converted into hotels, the pousadas were the Portuguese counterpart of the Spanish paradores, with luxurious rooms housed in some of the most beautiful historical buildings in Iberia.
The pousadas have now been sold off to the private sector. Many are run by the Pestana group, and they sit alongside a handful of independently owned heritage hotels as the best accommodation in the region. Expect to pay anything from €75 to €170 per night.
Hotels
Alentejo hotels operate according to the international star system. Rooms come in different categories. Normally an apartamento is an apartment room with a separate living and sleeping area and sometimes cooking facilities. A quarto is a standard room – combanheiro is en suite and sem banheiro is with shared bathroom. The Alentejo has some small and well-appointed boutique hotels.
Couchsurfing and Airbnb
Couchsurfing and Airbnb offer the latest alternative to hostelling or camping, with a homeshare exchange service whereby members offer their homes to other members visiting their city.
Camping
The Alentejo has an extensive network of campsites. See www.eurocampings.co.uk, www.coolcamping.co.uk and www.campingportugal.org for details.
Booking online
Aside from the usual online booking engines (which offer often excellent discounts), Wonderful Land is a good regional portal with a choice of mid-range rural and boutique hotels throughout the Alentejo and Portugal as a whole.