Visas
Citizens of most Western countries are not required to obtain Albanian visas in advance. Countries to which this visa-free system applies include all those in the European Union and EFTA, all of Albania's neighbours (including Serbia), Australia, Canada, Japan, New Zealand, the USA and Turkey.
Visitors to Albania are no longer required to pay an entry tax. The Albanian Foreign Ministry's website carries information in English about visa requirements, and information on Albanian embassies throughout the world.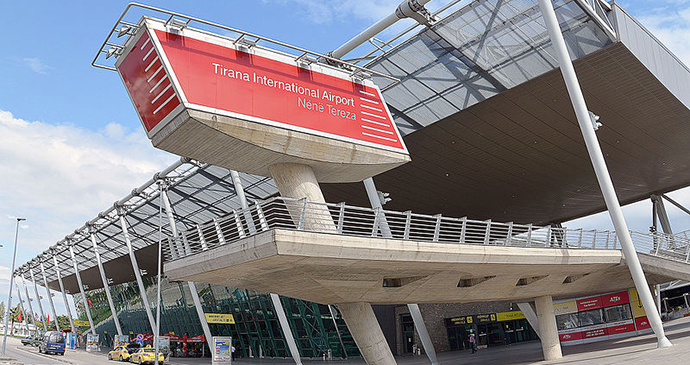 Getting there and away
By air
Tirana is currently Albania's only international airport. A second may open at Kukësi; it is likely that this will be used mainly by budget airlines. Budget airline Wizz Air will start flights from London Luton to Tirana in May 2018. There are also budget flights from the UK to Podgorica and Prishtina. British Airways has direct flights from London Gatwick to Tirana (TIA).
A full list of airlines that operate scheduled flights into Tirana, with their websites and the telephone numbers of their offices in Tirana, is available on Tirana International Airport's website. This also has real-time listings for arrivals and departures, details about flight schedules and other useful information.
By sea and lake
For many northern Europeans, the cheapest and most convenient way to get to southern Albania is to take a flight to Corfu and from there the hydrofoil to Saranda. The journey takes about 40 minutes.There is at least one hydrofoil crossing a day, all year round.
Albania has good sea connections with Italy. The busiest route is Bari–Durrësi, with several ferry companies operating throughout the year. The crossing takes about 9 hours. There are also ferries to Durrësi from Ancona and Trieste (18 and 24 hours, respectively), and to Vlora from Brindisi (8 hours overnight). Traghetti and Traghettiamo are two Italian Italian ferry websites that have details of all the routes between Italy and Albania.
Those fortunate enough to have the use of a private yacht will find their mooring options rather limited in Albania. The country's only marina (at least at the time of writing) is on the Bay of Vlora, at Orikumi. It is also possible to anchor or berth in Durrësi, Shëngjini, Vlora and Himara.
Official port fees and other information are available from the National Coastal Agency (Agjencia Kombëtare e Bregdetit). Sail Albania, based in Vlora, are port agents for Vlora and the Orikumi marina; they also charter yachts and motorboats. There are other maritime agents in Albania, though most of them focus on commercial shipping.
By land
Visitors who bring their own cars into Albania should ensure that their vehicle insurance is valid there. There is no longer a 'circulation tax'. Petrol and diesel are widely available everywhere except the most remote mountain areas. Liquid Petroleum Gas (LPG) is available at selected garages in cities and large towns.
Crossing into Albania by bus is usually a straightforward process. Finding out about these cross-border buses, however, can be more of a challenge. At Greek bus stations and tourist information offices, staff will usually deny the existence of any public transport to Albania. It is unclear whether this is because they are genuinely unaware of the many buses that travel between Greek and Albanian towns and cities, or are trying to prevent tourists from leaving their country.
There are no international passenger trains at the time of writing, although the line from Podgorica to Shkodra is open and used for freight.
Getting around
Car hire
Self-drive cars can be hired in Tirana, the airport and a handful of other locations. Car-hire rates have reduced substantially in recent years, making this an attractive option. Only Tirana Car Rentals currently offers the option of dropping the vehicle off in a different town from where it was picked up. For some of the routes, a small saloon will not be adequate. Some of the car-hire agencies have 4×4 vehicles available, although of course these are considerably more expensive.
Public transport
Albanians use three main methods of public transport between towns: buses, minibuses and shared taxis. Buses have about 40 seats and run to timetables. Minibuses have 10–15 seats and leave when they are full. Where both types of vehicle operate, the bus is cheaper and tends to take a bit longer, but is often more comfortable. Rural and mountainous routes are often not served by buses at all, only minibuses and taxis.
Buses and minibuses operate daily, except on some very remote routes where there is no service on a Sunday. The cost of a shared taxi is based on four paying passengers, including children and luggage if necessary. The trains are cheap, but they are so slow and infrequent that nobody uses them for any but the shortest journeys. There are no internal civilian flights at the time of writing.
Cycling
Cyclists will be spoilt for choice with all the ancient tracks across Albania's mountain passes and along remote valleys. Suitable bikes cannot be hired in Albania, except as part of an organised excursion or for day trips from Tirana.
Road surfaces are very variable and 'touring' or off-road tyres are essential. Albanian drivers are now becoming more used to sharing their roads with foreign cyclists and, in the main, they are reasonably courteous to them. However, it is safer as well as more enjoyable to travel as much as possible during the day and on roads with light traffic.