Eating and drinking
Accommodation
Eating and drinking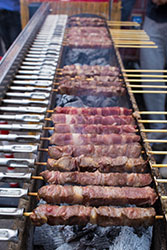 The food you find at street kiosks is usually of great quality © Francesco de Marco/Shutterstock
Many visitors to Abruzzo, both Italian and foreign, claim that the food is one of the highlights of their stay. Indeed, many of the region's fairs and festivals revolve around food, and eating is at the core of Abruzzo's culture.
Eating out in Abruzzo is quite a simple and hassle-free aff air: the quality of food and drink will be good to excellent anywhere you go. This is especially true of smaller towns. Furthermore, Abruzzo has a fine culture of casual eating alongside proper dining. The food that you encounter at street kiosks and bars is almost always of great quality. In fact, when visiting a town or village, don't hesitate to walk into a restaurant that looks more like someone's kitchen or living room than a posh restaurant; your meal is likely to be even more memorable.
So it's a lazy Sunday in Pescara, and you're keen to make the most of the region's gastronomic delights. Here's how:
Breakfast
Get up early and head to your local bar. There is one at every street corner, so you probably needn't go very far. Order a bomba and a cappuccino and do some people watching whilst sipping your coffee at the bar.
Lunch
Head to a restaurant, or, better yet, get invited to the home of a local. Here, enjoy a filling plate of sagne e fagioli. After your hearty meal, sip a genziana liqueur.
Afternoon snack
At about 17.00, take yourself to a pasticceria (patisserie) for an espresso accompanied by two pizzelle filled with a mixture of jam and chocolate spread such as Nutella, a snack favoured by the Pescaresi.
Dinner
Find a trattoria for the best arrosticini in the region. It is very common to eat at least 20 of these, accompanied by toasted bread with a dash of oil. Follow your meal with a saffron liqueur.
Vegetarians
Even though a recent survey claimed that 7% of Italians have become vegetarian, the idea hasn't really penetrated the popular conscience yet, especially in the rustic Abruzzo. Though vegetarian restaurants exist, and many others in the cities can offer a vegetariano choice, in many places you're going to be stuck with a lot of tomato and mozzarella salads.
As for vegans, if you tell an Abruzzese you are a vegano, chances are he won't have the faintest idea what you're talking about. But things are looking up; Abruzzo Vegan has a short list of vegan restaurants and food shops in the region (in Italian only).
Accommodation
There is certainly no shortage of accommodation in Abruzzo. The domestic tourist market, as well as the slow stream of international tourists, has awakened many Abruzzesi to the need for accommodation, and hotels, bed and breakfasts and pensioni are popping up quicker than you can say 'vacancy'. In fact, even just ten years ago the situation was entirely different, particularly in the countryside, where finding a night's rest could be a chore unless you had your own transport. Now, while you won't be spoilt for choice in some of the smaller rural villages, this is no longer the case, especially in the developed coastal areas.
Owing to the popularity of said coastal areas during the months of July and August, it pays to book well in advance. This is a must for the entire month of August, when the whole country shuts down and grinds to a halt, Italians all over the peninsula stop pretending to work and the beaches fill up quickly. The mountain areas can also be a popular place to spend the holidays and, whilst not jam-packed, may present problems to those who have not pre-booked. June can often be just as hot as July but then, as with the rest of the year, accommodation is readily available.
The star-rating system seems to mean very little in Abruzzo, yet it does give an idea of what type of accommodation you might expect, especially at the lower end of the scale. A onestar hotel in the cities may be an indication of very simple, sometimes shabby rooms with a bathroom that's shared, at times, among multiple rooms. However, you will find that many one-star establishments in the villages and countryside are often cleaner, friendlier and better equipped than two- or three-star hotels in the cities. While there are very few five-star establishments, expect an excellent level of service whenever you encounter four stars, particularly along the coast. Many three-star hotels offer the same level of service and amenities that you would expect from a four-star establishment but at more attractive prices.
Hotels
A great many hotels in Abruzzo offer three types of accommodation: full board, half board and bed and breakfast. Unless an establishment's website clearly specifies different prices for the accommodation options it offers, assume it is a standard case of room and breakfast. Full-board packages include your accommodation and three meals (breakfast, lunch and dinner), while half-board includes only two meals (breakfast and either lunch or dinner). These options are usually very reasonably priced and a good way to avoid eating all your meals out, which can become expensive. Note that in some beach and mountain resort hotels, half- or even full-board is mandatory.
A decent three-star double room (including breakfast) in a city location will set you back around €50–80, depending on location and season. In rural areas, you might come across 'diffused hotels', such as the one in Santo Stefano. Such establishments usually have a central administration office/reception area, with rooms 'diffused', as the name suggests, across a particular town. They essentially function as hotels though there is the added benefit of more privacy and, usually, larger rooms or apartments.
Pensions
Pensioni, as they are known in Italian, are essentially guesthouses (usually run by a family) offering room, shared bathroom and breakfast. A no-frills option, these can be a great alternative to the pricier hotels and often present the chance to meet local people. A room in a pension can be as cheap as €30 for two people.
Bed and breakfast
Traditional bed and breakfasts are not common in Abruzzo. There are a few scattered around, particularly in the countryside, and these usually offer friendly accommodation and a great, hearty breakfast. A room plus breakfast in a rural location is often good value for money and will set you back around €50 – more expensive than a pension, but usually rather nicer too.
Hostels
Hostels are scarce in this part of the world; Abruzzo has only a very few, with prices of €20–25 per person per night.
Apartments
Away from the coast, there are not many opportunities to rent apartments unless you know someone who has an empty place. Along the coast, there are a variety of private apartments for hire and some of the larger hotels offer apartments and suites at a fixed weekly price. As they are self-contained, these usually don't include breakfast. In places like Montesilvano, which has become increasingly popular with French and German tourists, such apartments can cost around €350 per week for two bedrooms/four people.
Agriturismi
Agriturismi (singular: agriturismo) are essentially farmstays, and you will find these dotted all over regional Abruzzo. They can be quite varied in their accommodation options, which can range from hostel style to bed-and-breakfast style. Some are very rustic country establishments; others are quite sophisticated with swimming pools and all mod cons. Be aware that owners are unlikely to speak English: as a generalisation, these establishments are run by older locals.
Rifugios
In mountainous areas, you'll sometimes come across isolated rifugi (singular: rifugio), which are ideal for walkers. These vary from the simplest of mountain huts, offering dormitory accommodation and basic meals, to purpose-built places with plenty of mod cons – and higher-than-expected prices that reflect the high costs of access.
Camping
Given Abruzzo's popularity with trekkers and hikers, not to mention the three national parks, there is an abundance of campsites and, to a lesser extent, caravan parks all over the region. Most have good facilities. If you're hiking, you can expect to pay around €5–10 for a small tent for two people.