Visas
Getting there and away
Getting around
Visas
Citizens of the EU and most other European and American countries (except several ex-Soviet and Balkan states) require only a passport for visits of up to 90 days to Uruguay. The same usually applies to Australians and New Zealanders, while most African and Asian nationalities require visas in advance.
If you wish to extend your stay for a further three months, contact the Dirección Nacional de Migración (National Office of Migration – in Spanish only) in Montevideo or departmental capitals – but it's generally easier to leave the country for a night and return. If you wish to settle in Uruguay, contact the Inspectoría de Migración, although it's really better to discuss this first with the Uruguayan embassy in your home country.
Arriving by plane, you'll be given two forms for Immigration and Customs; they are currently in Spanish only but are not difficult to fill in (just remember that your apellido is your family name). You'll be given a white form to keep with your passport, but if this gets lost it shouldn't be a problem as long as you have the correct stamp in your passport. Immigration queues are dealt with pretty fast, and there are special desks for the disabled and pregnant and those with babies.
Getting there and away
By air

Most visitors from Europe will naturally arrive by air. From Madrid, Iberia flies direct five times weekly to Montevideo, code-sharing with sister airline British Airways. Air Europa also flies three times a week from Madrid, and 2016 even saw seasonal non-stop flights from London Gatwick, though it's unclear if these will continue. Air France–KLM stops in Montevideo five times a week on its Paris–Buenos Aires flights.
By ferry

Several companies operate ferries between Argentina and Uruguay. The best known is Buquebus, which runs both fast ferries and traditional slower ships from Buenos Aires. These no longer go directly to Punta del Este, but connecting buses go there from both Colonia and Montevideo. Fast ferries reach Colonia in an hour from Buenos Aires or Montevideo in 3 hours, while slower ships are scheduled to take 3 hours to Colonia. Both types of vessel carry cars. The fast ferries are quick enough but rather cramped, with lots of over-excited children running around, no access to the deck and a disproportionate amount of space set aside for first-class and primera especial accommodation – totally unnecessary on a 1-hour crossing, but an easy way to part Argentines from their money.
By bus

Although it's a long way around, buses do run from Buenos Aires to Montevideo and Punta del Este, offering an overnight journey at a far lower cost than Buquebus. Leaving between 21.30 and 23.30, they take 8 hours and charge US$55 each way (US$45 between Buenos Aires and Fray Bentos or Mercedes) or US$70 for a cama (a seat that reclines to form a bed). Bus de la Carrera, Cauvi and General Belgrano all run to and from the Tres Cruces terminal in Montevideo, and General Belgrano also serves Punta del Este.
Getting around

By car

Uruguay has excellent infrastructure, with modern main roads (rutas nacionales) and bus stations. Many minor roads (caminos) are unsurfaced but decently maintained, though you should be prepared for pot-holes on some interior routes, even major ones. The main roads from Montevideo to Colonia and Punta del Este (Ruta 1 and the Ruta Interbalnearia, abbreviated to IB) are toll roads, and there are tolls on other main roads, often at departmental boundaries; these are fairly inexpensive at about US$3. Payment is accepted in Uruguayan or Argentine pesos, Brazilian reals or US dollars, but change is given only in Uruguayan pesos.
By train
Inside a Uruguayan train © Sean Connoly, shanboqol
There are very limited passenger train services, on just two lines in the Montevideo hinterland. Passenger services have been suspended altogether at various times in the past, and there are currently no Sunday trains. Fares are very low, but the service is too infrequent to be very useful, especially if you want to head out from Montevideo in the morning and back in the evening. However, special trains are put on for passengers from cruise ships visiting the Juanicó winery.
By bus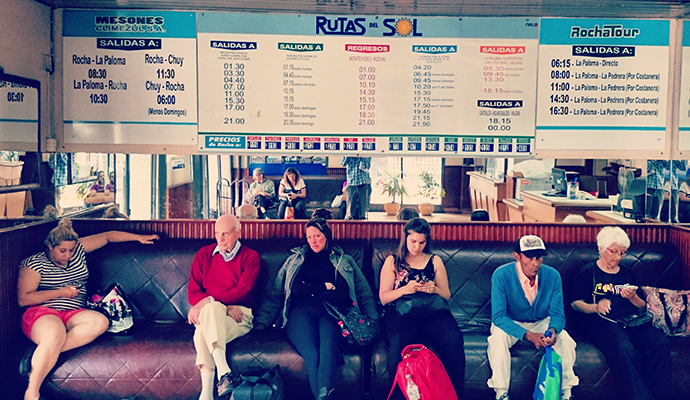 Locals waiting for the bus © Sean Connolly, shanboqol
Being a relatively small country, Uruguay does not generally have separate systems of local and long-distance buses, and most interurban buses will stop to pick up passengers who flag them down by the roadside. Standing passengers are allowed, but a point may come at which no more will be picked up. However, at busy times one departure will in fact consist of several buses leaving at the same time, some of which will omit stops at certain towns, as well as roadside pickups (check your ticket carefully to see which one you should be on).
By bicycle

There's quite a lot of cycling in Uruguay but (apart from a few clubs of lycra-clad road racers with high-tech gear) it's very much of the popping-around-the-corner variety, almost always without panniers or lights. Many bikes are of the 'beach cruiser' type, with curved double top tubes designed to look a bit like a motorbike – some even have fake fuel tanks, to appeal to boys. There are a few mountain-bikestyle machines, but they're really pretty cheap and not much use for serious cycling.