Author's take
Suriname is an odd little place. Geographically, it forms part of South America, and though quite large by European standards, it is actually the smallest country on that immense continent. Politically, it looks more towards the Caribbean, or even to the Netherlands, than to the rest of South America. Indeed, as the only Dutch-speaking country on the American mainland, supporting an ethnically diverse population of predominantly West African, Indonesian and Asian descent, Suriname is emphatically not Latin American in character, nor does it seem to sway to a calypso beat. It is just, well, odd – a real one-off kind of place, individualistic, singular, and utterly intriguing.
Suriname has three main attractions. The first is its characterful multi-ethnic capital Paramaribo, whose historic inner city has been inscribed as a UNESCO World Heritage Site on account of its unique Dutch-Creole architecture, a style epitomised by the spectacular Cathedral of Saint Peter and Paul, which is reputedly the largest wooden structure in the western hemisphere. This wealth of colonial architectural gems aside, Paramaribo, set on the west bank of the Suriname River, is also a very relaxed, safe and enjoyable city, noted for its lively waterfront bars and cosmopolitan culinary scene.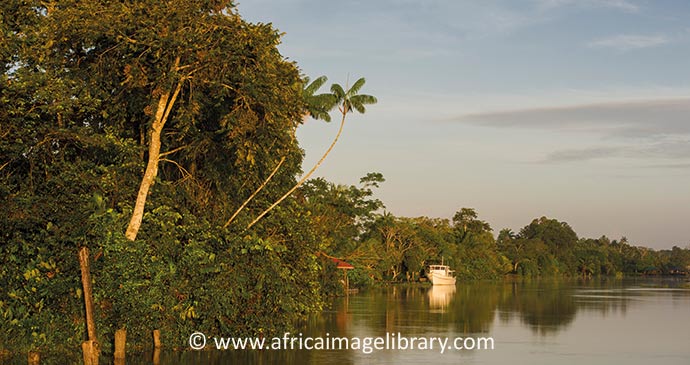 Saramacca River © Ariadne Van Zandbergen
Suriname's second key attraction is the coastal hinterland around Paramaribo. True, this murky-watered, mangrove-lined stretch of Atlantic coastline is somewhat deficient when it comes to conventional beach resorts but it has a lot to offer wildlife enthusiasts. The Surinamese coast includes some of the world's finest and most reliable marine turtle-viewing sites, particularly at Matapica and Galibi, while the likes of Bigi Pan and Warappa Creek offer superlative aquatic and marine birdwatching, and dolphins are regularly encountered in the Suriname Estuary downriver of Paramaribo. There are also some fascinating cultural and historic sites within easy day-tripping distance of the capital, ranging from the brooding ruins of the old Sephardic settlement of Jodensavanne and the solid bastions of Fort Nieuw Amsterdam to isolated Marron villages such as Santigron and Berlijn. Last but by no means least among Suriname's attractions is the immense tract of pristine rainforest that swathes the interior. This vast and thinly inhabited wilderness, a northern extension of the Amazon jungle, is home to an untold wealth of wildlife, ranging from secretive, solitary jaguars to inquisitive and sociable squirrel monkeys, from the outsized psychedelic macaws that screech overhead to the iridescent Morpho butterflies that flutter beguilingly along the forest tails. The interior is also home to a small number of astonishingly remote villages. Some, such as Palumeu and Kwamalasamutu, are inhabited by Amerindian peoples whose tenancy stretches back to the pre-Columbian era. Others, most notably along the Upper Suriname, were established by the Saamaka, Paramacca and other 'Marron' descendants of escaped slaves who still retain a strong West African cultural identity.
Largely untrammelled by roads but penetrated by a series of long, wide navigable rivers, the jungle of the deep interior is accessible only by light aircraft or by motorised dugout boat. Flying in is the more efficient approach, and though relatively costly, it does provide passengers with a magnificent grandstand aerial view over an endless canopy tinged a hundred shades of green. But exploring the interior by boat – whether it's the three-hour approach to Raleigh Falls up the Coppename River, or a longer lodge-hopping excursion up the Upper Suriname and Gran Rio – is the stealthier and more adventurous option, leading to a feeling of total immersion in this mesmerising landscape.
Although few visitors to Suriname would want to miss out on at least one excursion into the deep interior, those with limited time, money or tolerance for basic travel conditions will find plenty of opportunities to explore slightly tamer tracts of jungle closer to Paramaribo. At the most luxurious end of the scale, the superb Bergendal Eco-Resort lies on the Suriname River little more than an hour's drive from the capital on a good, surfaced road. More affordably, Peperpot Nature Park and Brownsberg Nature Park provide equally alluring but very different opportunities to see colourful forest birds and monkeys in their natural habitat.
Suriname is in fact so thinly populated that almost every settlement or resort outside the capital in fringed by some unexpectedly wild forest and/or swamp habitats. Despite all this, tourism to Suriname is still in its infancy. True, there is no shortage of midrange to upmarket hotels in the capital, which also has a lively restaurant scene, but mostly these cater towards business travellers and Dutch-based visitors with strong family connections to Suriname. Further afield, facilities are generally rather basic (a few notable exceptions such as the Bergendal and Kabalebo resorts notwithstanding) and exploration is almost always in the form of day or overnight trips out of the capital to a specific site in the hinterland of Paramaribo or the deep interior. But much of the country is also open to independent travel, whether it be cycling, bussing or self-driving through the developed coastal belt, or lodgehopping with the taxi-boats that service the remote villages of the Upper Suriname.
Indeed, like so many countries with a small nascent tourist industry, Suriname makes for a fabulously rewarding travel destination – safe, relaxed, unaffected, friendly and easy to get around!
Author's story
As I write the last few sentences of what will soon be the first English-language guidebook dedicated solely to Suriname, it hardly seems possible that as recently as six months and four days ago, I was scarcely aware that the country existed. Sure, the name Suriname would have been vaguely familiar in a sort of Siam, Upper Volta or Timbuktu-ish kind of way. But – in hindsight and rather embarrassingly – I doubt that I'd have known for sure that it was an extant country, or been able to say with confidence what continent it lay on. That changed within a matter of hours just over six months ago when Suriname was mentioned among half a dozen other possibilities in a 'what next' email from Bradt's commissioning editor Rachel Fielding. It leaped out from the shortlist straight away, for several reasons, most of which boiled down to one apparent paradox: Suriname was clearly a country with plenty to offer travellers and yet it was largely ignored by English-language guidebook publishers. So much so that trying to figure out how to reach most sites of interest as an independent traveller seemed near impossible without actually visiting them.
Within a few hours of receiving Rachel's fateful email, I was sold. Suriname sounded like exactly the sort of rewarding but under-documented country to which I most enjoy writing guidebooks. A week later, I'd taken on the commission. And a few weeks after that, my wife Ariadne and I were disembarking at Zanderij, the start of a five-month period of travel and writing during which Suriname has dominated my every waking thought. It's been a wonderful journey, on every level, and I only hope that this book will encourage more non-Dutch speakers to visit and explore what is a thoroughly fascinating country.