Climate
When to visit
Highlights and suggested itineraries
Climate
The climate of most of Paraguay is subtropical. According to the official dates, spring is 21 September to 20 December, summer is 21 December to 20 March, autumn is 21 March to 20 June and winter is 21 June to 20 September. Although there can be long periods of drought, fatal for the crops, there is generally a good level of rainfall, producing a very green landscape. The rain most typically falls in violent thunderstorms, which are not infrequent.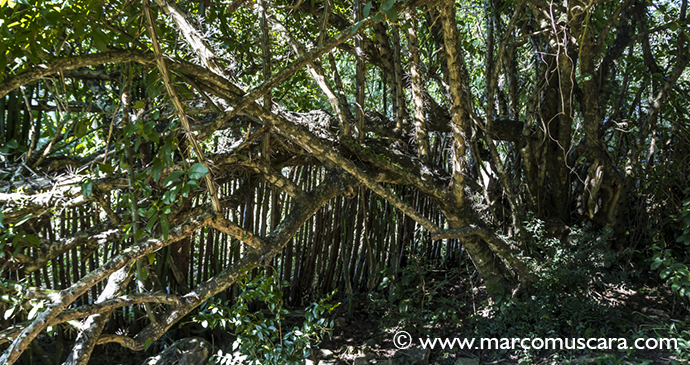 The climate of most of Paraguay is subtropical and at any time of year you are likely to have good, sunny weather © Marco Muscarà
The average maximum temperature is 36°C in January (the hottest month) in the Chaco (Mariscal Estigarribia), and 32°C in Encarnación (the most southerly city). The average minimum in those two places in January is 23°C and 20°C respectively. In July (the coldest month) the average maximum temperature is 26°C in Mariscal Estigarribia, and 21°C in Encarnación. The average minimum in those two places in July is 12°C and 9°C respectively.
When to visit
Visiting Paraguay at any time of year you are likely to have good, sunny weather. However, some months are a bit unpredictable, so if nothing else is determining the time of your trip, here are some factors to bear in mind. December to February are the hottest months and June to August are the coldest ones. By the middle of September the cold weather is over. If you are looking for temperate weather, therefore, the ideal time to come is between September and early December (before the fares go up for the pre-Christmas rush) or between late February and May.
Over Easter would be ideal if it were not the time when all the Paraguayans are enjoying their holiday of Semana Santa, which is Maundy Thursday to Easter Sunday. Easter Monday is back to work. Book your hotel ahead for those crucial three days if you want to be in Paraguay over Easter, and be prepared for everywhere to be closed. If you cannot come in spring or autumn it is up to you to decide if you prefer to be hot or cold. Paraguayans have a long summer holiday from December to February, and in January those who can afford it tend to go to the Brazilian beaches, or to the Paraguayan beaches of San Bernardino, Villa Florida or Ayolas.
Educational institutions also have a short winter break in the first fortnight of July (la quincena de julio). The weather in July is very variable: it can be as agreeable as an English summer, but there is also the risk that it may be unpleasantly cold, and with every year's increasing climate change, the cold snaps of winter are becoming more frequent and more bitter. The old wisdom used to be that July was a good month to come, because it would not be too hot (average temperatures in Asunción in July are 10–22°C), and that if there was cold weather it would last only three or four days. With climate change, that needs to be re-assessed. June and August are generally all right, but cannot be guaranteed.
Highlights and suggested itineraries
A 'classic tour' of Paraguay might go something like this: fly into Asunción; a day or two in Asunción; a day or two doing part of the Circuito de Oro; a day or two going south to visit the museums of Jesuit-Guaraní art in Misiones, perhaps stopping at a few places on the way; a day or two to get to and visit the ruins of Itapúa; a day to get to the Iguazú Falls (ideally travelling through Argentina); a full day at the Iguazú Falls; then fly out from Foz. Alternatively, return to Asunción for the flight out, crossing over the middle of Paraguay, and perhaps taking a day or two to visit Villarrica and Caazapá, or more towns on the Circuito de Oro.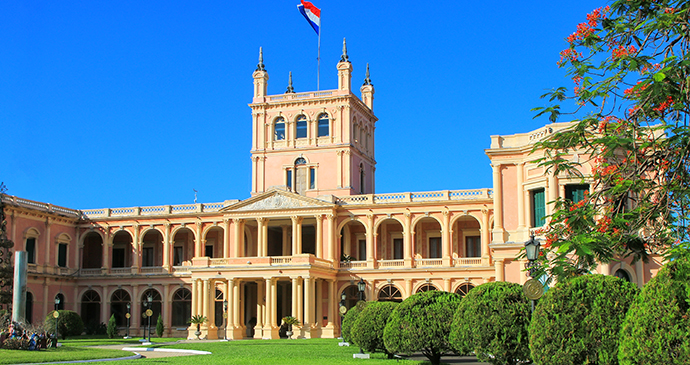 As the capital, Asunción brings together the best artistic and intellectual life of the country © Don Mammoser, Shutterstock
Within the central area of the country you can stay at estancias (country estates): these are little paradises, and it is a lovely idea to try to build in one full day at one of these. People with an adventurous streak may want to go to Concepción, the Río Paraguay, and perhaps even the Pantanal, but that all takes time: you should allow at least a week for going to the Pantanal, and plan the dates carefully to see if it can, in fact, be accomplished in that time.
Even getting to the well-presented Bosque Mbaracayú nature reserve is complicated and time-consuming. It is a more feasible idea for nature lovers, and just as beautiful, to make an excursion of a day or two to the wetlands of Ñeembucú after visiting the Jesuit museums of Misiones and before visiting the ruins of Itapúa.
The hardier travellers who want to go on to another country after Paraguay may want to travel overland to Bolivia by bus (which is not very expensive), crossing the vast expanse of the Chaco desert; others with more financial resources and more time will want to see more of the wildlife of the Chaco by paying for a driver-guide. Those interested in the Reductions can make the excursion to the Argentinian missions (a day or two) and to the Brazilian missions (four days or more). A longer trip to a less frequented area would take you to the park of Cerro Corá, in the extreme northeast, taking upwards of three days, at least.
Almost everyone wants to see a little of Asunción, a little of the Circuito de Oro, a little of Misiones, the Reductions, and the Iguazú Falls. But it should be remembered that you can also do a tour of Paraguay using Foz do Iguaçu as your base, and never setting foot in Asunción. Since there are no direct flights to Paraguay from other continents, you will be making just one change at São Paulo in either case.
It is worth bearing in mind when planning your trip the time difference in the south American countries. Brazil adopts daylight saving time so is 1 hour ahead of Argentina during their summertime, from the first Sunday of November to the third Sunday of February; otherwise it has the same time as Argentina, which does not change its time. Brazil is normally 1 hour ahead of Paraguay, but the dates of daylight saving time do not quite line up.