Visas
Getting there and away
Getting around
Visas
Visitors from most EU countries (including the UK) do not require visas, but they are required for visitors from most African countries (but not South Africa or Morocco), and some Middle Eastern countries (but not Turkey, Jordan, Lebanon or Egypt), and some Asian countries including China (but not Japan, Korea, Vietnam, Indonesia or the Philippines). Nationals of Canada, the USA, Australia, New Zealand, Russia and Taiwan can buy what is called a visa de arribo when they arrive at Asunción airport: the price depends on the country of origin but currently varies from US$100 (Taiwan) to US$160 (USA). Check with your local Paraguayan embassy or go to www.migraciones.gov.py, select Interés General, and you will find there a link to a list.
Do not forget that you will probably be going to the Iguazú Falls, which are just outside the Paraguayan boundary, so you need to think about Argentina and Brazil as well. Argentina does not require a visa for visitors from most EU countries (including the UK), Russia, Australia, Canada, the USA or most of South America. Citizens of the USA, Canada and Australia used to have to pay a 'reciprocity fee' online before they arrived at the Argentinian border (up to US$160 depending on country of origin) but this has been suspended, supposedly temporarily; you should check with the local embassy before you travel.
Brazil does not require a visa for visitors from most EU countries (including the UK) and Canada. Be sure to check with the Paraguayan Embassy in your country before departure. A normal tourist stamp when you enter the country will last for 90 days. If you want to spend longer than this in Paraguay, you can renew the stamp once for a further 90 days quite easily by going to Migraciones in Asunción and paying a fee (currently Gs340,185 or approximately US$60). There is no problem about doing this: Paraguay likes to have foreigners in the country who bring in money, and likes to collect fees from them, but they may ask you to come back the next day to collect your passport, which could be a nuisance if you are not staying in Asunción.
Alternatively, you can over-run your time and pay a small fine when you leave the country (currently Gs235,515 or approximately US$42, so this is the cheaper alternative, illogically). A third option is to make a short trip over the frontier and get a new stamp (but if you go to the Iguazú Falls make sure they actually do stamp your passport, as they will prefer to wave you through without doing so, and then you will be fined on departure from Paraguay).
Getting there and away
By air
Paraguay is a cheap country to holiday in, but is not a cheap destination to fly to, because there are no direct intercontinental flights other than Air Europa from Madrid. People usually change in São Paulo. Buenos Aires is also an option for changing, particularly if you are coming from Australia. The name of the international airport in Asunción is Silvio Pettirossi.
The flight schedule is always changing, so you need to check on the situation when your time comes to travel. Air traffic to Asunción has increased dramatically, with now more than 50 operations per day, despite the fact that American Airlines, which had left Paraguay and then returned, have now left again. The Bolivian airline, Amaszonas (no, it is not a misprint), has grown very fast since it began selling e-tickets in 2005, and is now one of the principal airlines serving Asunción. Air Europa have announced that due to good passenger numbers they will increase the frequency of their flights to Madrid to daily, by 2019. GOL has diminished with regard to Paraguay, but is in the process of changing its image from a low-cost airline to a quality one. BQB has closed down. LATAM is the new amalgamation of TAM with LAN.
If you are travelling via Buenos Aires, note that there are two airports: Ezeiza and Aeroparque.There are also two airports in São Paulo: Guarulhos and Viracopos/Campinas, with Amaszonas flying into the latter. If you are travelling from London, the route preferred by most people at present is either LATAM via São Paulo (daily), or Air Europa from Madrid (twice weekly, Mon & Thu) starting from London Gatwick.
By bus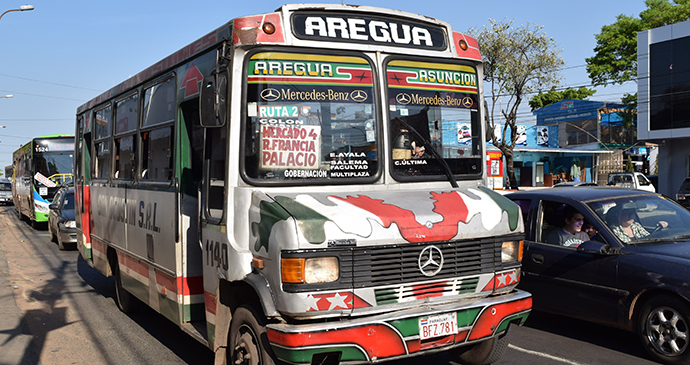 In Paraguay, you can get almost anywhere by bus, if you have enough time and patience © Tateyama, Shutterstock
From Buenos Aires
Only one-third of the people entering Paraguay arrive at the airport. The majority are Paraguayans, coming from Buenos Aires by bus. If you wish to do the same, don't assume that you will save money by flying to Buenos Aires and taking the 18-hour bus to Asunción instead of getting a second flight. You might save a little on the flights, but by the time you have taken into account your costs of getting in from the airport, taxis, tips, extra luggage charges and your lunch in Argentina while you wait for the evening buses, as well as the fare in a coche cama or semi cama, you will might well be spending more overall.
And although you can do the journey out to Paraguay by spending one night on the plane and the next on the bus, to return from Paraguay you will almost certainly need a night in Buenos Aires to be sure that delays at the frontier do not cause you to miss your flight, so this cost needs to be factored in as well.
From São Paulo
From São Paulo to Asunción is a longer bus journey – about 22 to 26 hours. Buses typically leave the bus terminal, Rodoviária Tietê in the evening, around 18.00. The bus terminal is on the metro line so it is easy to get around. You have a choice of three bus companies for the journey from São Paulo to Asunción. The Brazilian bus company is Pluma, which runs four times a week and costs approximately Rs250 or US$68. With Pluma you stop to buy your meals on the journey, which is quite nice because the eating places are good and you get halfhourstops to stretch your legs, but you need to calculate for this when working out the fare. There are two other companies, Paraguayan ones, that provide food on the bus (servicio a bordo) and so complete the journey in less time: Nuestra Señora de la Asunción leaves São Paulo at 15.00 daily (and leaves Asunción for the return journey either at 08.00 or 14.00). The second company, Sol,leaves Saõ Paulo at 18.00 daily and arrives in Asunción around 13.00 (except for Saturday when it leaves São Paulo at 13.00 and arrives in Asunción around 09.20on Sunday); Sol costs Gs350,000/US$63, food included. For the return journey it leaves Asunción at 07.00 daily and arrives in São Paulo around 03.25, hardly a good time to arrive anywhere.
From Bolivia
Buses from Bolivia to Asunción leave from Santa Cruz, going through Villa Montes en route, near the Paraguayan border. This journey is only for the hardy or the impoverished, and you may find the bus stuffed with cargo that can take up not only the luggage room but the aisles leading to the toilets as well. Stel Turismo, Río Paraguay and Yacyretá are all the same company for this route.
By boat
Ferries from Argentina
There are a number of ways that you can cross from Argentina to Paraguay across the Río Paraguay or the Río Paraná – in addition to the principal bus routes from Clorinda to Falcón, and Encarnación to Posadas.
Overland
There are surprisingly few crossing points overland into Paraguay. Between Argentina and Paraguay there is always a river to cross, and between Bolivia and Paraguay there is the almost impassible Chaco desert.
Between Brazil and Paraguay, from Salto del Guairá southwards there is the River Paraná to cross (with bridge crossings at Foz do Iguaçu into Ciudad del Este, and at Guairá into Salto del Guairá). Continuing north from there, there is the barrier of the cordillera, which again makes crossing difficult. It continues until you reach Pedro Juan Caballero, where it is so easy to cross to and from Ponta Porã, Brazil, that it happens to you in the middle of the street before you have realised.
After that the frontier follows the Río Apa, but you can cross over the river from Bela Vista, Brazil, to Bella Vista, Amamby (not to be confused with Bella Vista, Itapúa). On the Río Paraguay, Paraguayan boats will stop at Porto Murtinho, Brazil, which is another easy way to get from one country to the other.
Getting around
By bus
As Paraguay is a poor country, where only a minority have cars, it is fair to assume that you can get to anywhere by bus, if you have enough time and patience. Travel by bus can be tiring and uncomfortable, but it gives you more of a feel of the country to be travelling with the local people. The website of the bus terminal in Asunción is some help with finding how to get to places, but it would be wise not to depend solely on this, as it may not be up to date.
Paraguay has the worst road infrastructure in South America, according to a 2014 report by the World Economic Forum, and in addition many buses are old and uncomfortable, so bus travel is always likely to be a bit penitential. But a few of the companies travelling to the interior now have more comfortable buses with reclining seats, and the number of asphalted roads has increased very substantially since 2000.
By taxi
If you want to travel a bit more comfortably and conserve your energy for where you are heading, there are a lot of private transport companies that can hire you a car or minivan with a driver. Vehicles hired from Asunción for the benefit of tourists can generally be relied upon to have air conditioning and insurance, though it is worth checking. Taxis in the interior of the country are not generally insured, and very few private cars are insured.
Car hire
If you want to go for self-drive car hire, there are good international companies in Asunción, and also in Ciudad del Este, and one now in Encarnación, but nowhere else in the country. Unfortunately, if you want to hire a car over the border in Posadas or in Foz do Iguaçu and bring it in to Paraguay, you will probably find that the small print does not allow it.
By air
If you want to fly, there are a few domestic flights. You can fly to Ciudad del Este by Amaszonas, which will get you a little more quickly to the Iguazú Falls, if you are not planning to visit anywhere along the way. There are two flights a day and it costs around US$200 return. Sol also operates flights to Encarnación to and Pedro Juan Caballero. There is also a service to towns on the Río Paraguay, which operates three times a week, run by SETAM, the Servicio de Transporte Aéreo Militar. You can charter a plane, though you are unlikely to want to do that, even if you are rich, unless you are going to the Chaco.